Receipts
No one has ever flip-flopped harder or faster than LeBron James on the NBA play-in tournament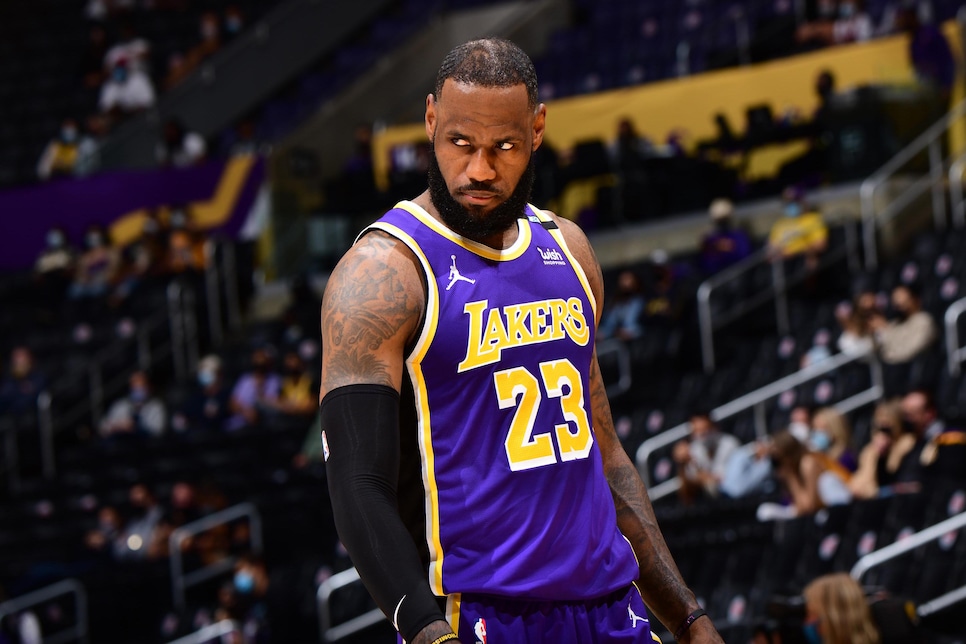 Late last summer, with the NBA scrambling to restart the engines, finish the regular season so the local TV money could kick in, and find a way to make a single-site playoff bracket seem interesting and legitimate, the league instituted a radical new idea: A play-in game between the two lowest seeded teams in each conference—not unlike the MLB's single-game Wild Card format. Under the circumstances, it was fine and fun and in the end the best team, the Los Angeles Lakers, won regardless of the changes.
Inspired by that high-stakes format (and perhaps as a dry-run for Adam Silver's long-mooted mid-season NBA cup tournament) the NBA decided to expand the structure for the 2020-21 playoffs, fattening the play-in tourney to three-games for each conference. In round one, the seven seed will play the eight seed while the nine battles the ten. The winner of the seven-eight matchup will earn the seven seed and an automatic berth, while the loser falls into the play-in game against the winner of the nine-ten matchup for the eighth and final postseason spot.
It sounds simple enough, but the reaction, especially from teams who now sit on the bubble with May 18th fast approaching, has been mixed to say the least. After losing six of their last seven games—including Sunday night to a shorthanded Raptors squad—one such team is the Los Angeles LeBron Lakers. In free fall and sitting in the Western Conference's seventh position, the Lakers run the very real risk of not making it to the big show at all given the new play-in structure and, as you've probably already guessed, LBJ is not happy about it.
Unfortunately for LeBron, the guy "who came up with that sh*t" is LeBron.
How you read this depends a lot on how you feel about LeBron. It's VERY possible that Sunday's quote was taken out of context and was actually just LeBron making a self-deprecating joke at his own expense. Tough to tell from just looking at some pixels forming the shape of letters on a phone screen.
If not, however, this might be the greatest flip-flop in sports history. Presidential candidates have lost elections for less, which is important because LeBron is 1000% going to run for president someday. LeBron Haterz, who somewhere along the way mistook not liking an NBA player for having a personality, would sell their souls to the Tim Donaghy to have you believe this is the case. There is no credibility on either side of the scenario. Everyone is wrong and everyone is right, and the definitions of both change based on what maximizes engagement and minimizes personal risk at each passing second. So go ahead and say what you want about the new playoff structure, but nothing could be authentically NBA than that.