Tough Scenes
Russell Westbrook got really salty at a reporter after playing arguably the worst 20 seconds of basketball ever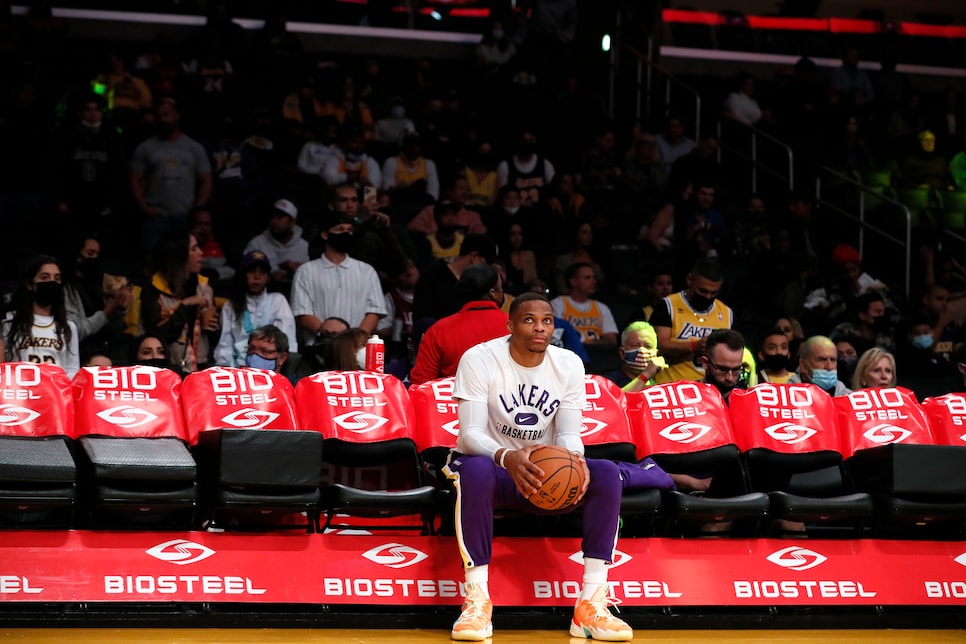 After one game, our Shane Ryan was ready to declare the Russell Westbrook-Lakers situation a failure. To be clear, Shane has a spotty track record declaring such things considering he declared Tiger Woods' career to be over a few years before the guy won the Masters. But Shane continues to be right on this one—and Thursday night's game was the best piece of evidence yet.
A quick look at the box score indicates Westbrook played an OK game. He took his usual too many shots (23) while making his usual sub-50 percent of them (10), and added six rebounds, five assists and four turnovers. Again, not bad. Although, it wasn't enough with LeBron James out to keep the Lakers from losing to the lowly OKC Thunder. Again.
Westbrook's former team now has two wins on the season, and both have come against LA. Both have also been particularly brutal with the Lakers blowing huge leads. But we're here to talk about what happened in the closing seconds once the Thunder clawed in front.
The Lakers still could have pulled this one out, if Westbrook hadn't played arguably the worst 20 seconds in NBA history. Seriously. First, down two, he forced the issue and lost the ball out of bounds. Then on the team's final gasp, the notoriously bad three-point shooter pulled up for a long 3 that clanged off the rim. And in between? He left Lu Dort completely unguarded for a back-breaking dunk.
Not surprisingly, Westbrook was asked about this rough sequence after. And also not surprisingly, the often cranky point guard got pretty salty with a reporter. Here's the clip that features both Westbrook's response as well as those 20 seconds of really, really bad basketball:
We're still just nine games into the season, and the Lakers, who obviously care a lot more about finding a groove for the playoffs, have a 5-4 record. But it's looking more and more like Shane may be right—especially when you consider how well the guys Westbrook replaced (Montrezl Harrell, Kyle Kuzma, Kentavious Caldwell-Pope in Washington and Alex Caruso in Chicago) have played so far. GM LeBron might want a do-over.