The Loop
Tiger Woods is totally, completely, unequivocally, and utterly done
ST. ANDREWS -- "Is Tiger Woods done?"
This is a question I have heard several thousand times over the past year and half, from well-meaning and tiresome people alike. Today I am pleased to report that I have a definitive answer:
Tiger Woods is done. Tiger Woods is finished. The version of Tiger Woods that is a once-in-a-generation golf talent now belongs entirely to the realm of memory.
Tiger Woods as a mediocre-to-bad professional golfer is the reality of the present, and, most importantly, the future. His performance at the British Open is more evidence that he's done, but in fact he was already done before the week began.
Tiger Woods being done is a metaphysical truth, and as such does not require additional proof. Just as a turtle cannot fly an airplane whether or not you strap him into a cockpit and wave orange pylons at him from a runway, so Tiger Woods is done whether or not you watch him on a golf course, being bad at golf.
There will never be another moment, from now until the sun burns up the earth and our future descendants run around screaming as they burn to ashes, when Tiger Woods will be a good golfer again. Long after our planet is gone, and the black holes consume our universe and existence as we know it is devoured in the expanding void and all meaning is lost to anti-matter, it will still be true that Tiger Woods was never a good golfer after 2013. Assuming time is a linear structure, Tiger Woods has ceased to be capable of golfing excellence, and will forevermore be done.
On the subject of time, the 2015 PGA Championship, which Tiger will not win, will be the last major championship at which the greatest golfer of our time will be less than 40 years old. There are some people who have won majors after their 40th birthday. Tiger Woods will not be one of them, owing to the fact that he's done.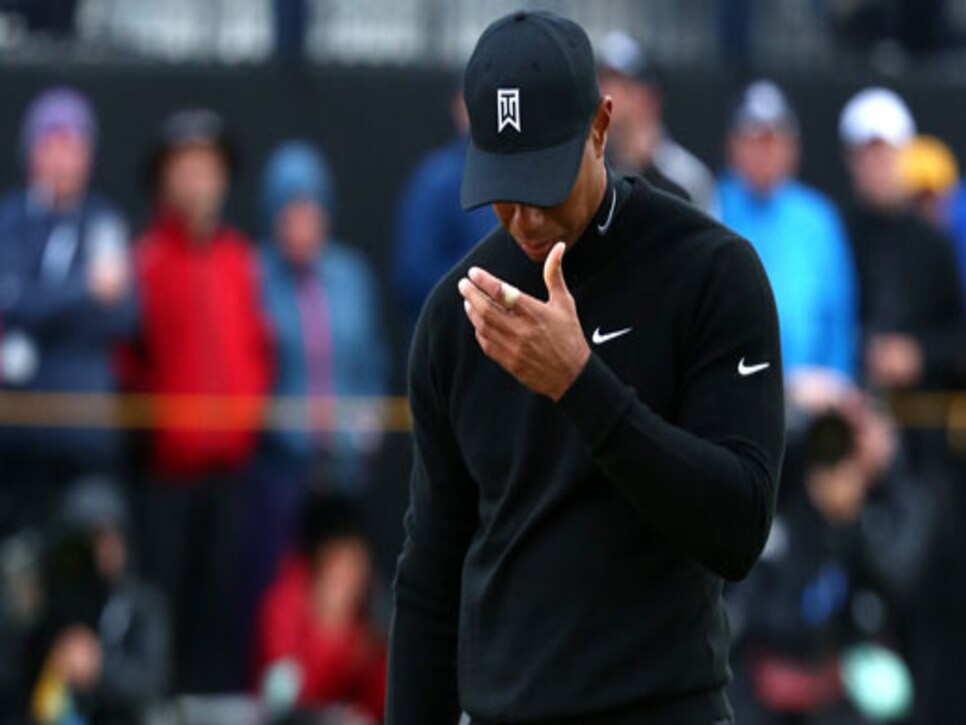 If Tiger Woods finishes 30th at a future event, and leads the field in some esoteric category, it will not mean he's back. If he tells us that some minute swing adjustment has him on the verge of greatness, it will not mean he's back. If he's about to play on some course where he's won before, against players with less experience, it does not mean he's going to win.
There is nothing about his past that gives him a psychological advantage over anybody. He will not tie or exceed Jack Nicklaus' major record. If there is a golfer in the future who wins 15 majors, he will beat Tiger Woods by exactly one major.
I would like to point out that there are many golfers who are not done. Jordan Spieth, age 21 and winner of back-to-back majors, is not done. Rickie Fowler is not done. Rory McIlroy is injured, but almost certainly not done. I just watched Hideki Matsuyama make seven birdies in ten holes. Based on that evidence, I'm ready to state that he, too, is not done. There are many others I could list who are young and great and not done, but I won't do that. You can look them up on the Internet.
Tiger Woods, though? Done.
Tiger is done for several reasons that we know and some that we don't. His national humiliation in 2009 probably didn't help, but then again, he wasn't totally done yet—as he is, beyond doubt, today. His injuries have not helped. In fact, he may be in a state of perpetual injury. His age—which, again, will only increase from this point forward, owing to the nature of time—will not help. And there's one more important factor that will also make things hard for him in the future: he's not good at golf anymore.
Someday, we may invent time machines, and then we can travel back to the year 2000. When we arrive there, Tiger Woods will not be done. Perhaps when we die, we'll get a chance to revisit our lives in some capacity, and we'll pass through that brief epoch when Tiger Woods was not done. Maybe we will eventually learn that life is a dream, or a simulation, and that Tiger Woods never truly existed, just as you and I and these words you're reading don't exist. In that case, Tiger will not be done, but nor will he be un-done. But until any of these things happen, Tiger Woods will remain done.
Tiger Woods has donned his last green jacket. He has sipped from his last claret jug. He has done the last things that people do with the U.S. Open and PGA Championship trophies, whatever those things are. He will not do those things again. Instead, he will duff and thin and hook and slice, and he will stare in frustration as better golfers that are not yet done hit shots that he can no longer hit, because he's done.
One day, he will retire, and it will be officially true that he's done. Today it is just metaphorically true, but true nonetheless.
Lastly, if Tiger Woods or anyone else says something different on the topic of him being done, you should understand that they are lying or misinformed. Into perpetuity, forever and ever, Tiger Woods is done.