Doomed From the Start
The Russell Westbrook-Lakers situation is already a failure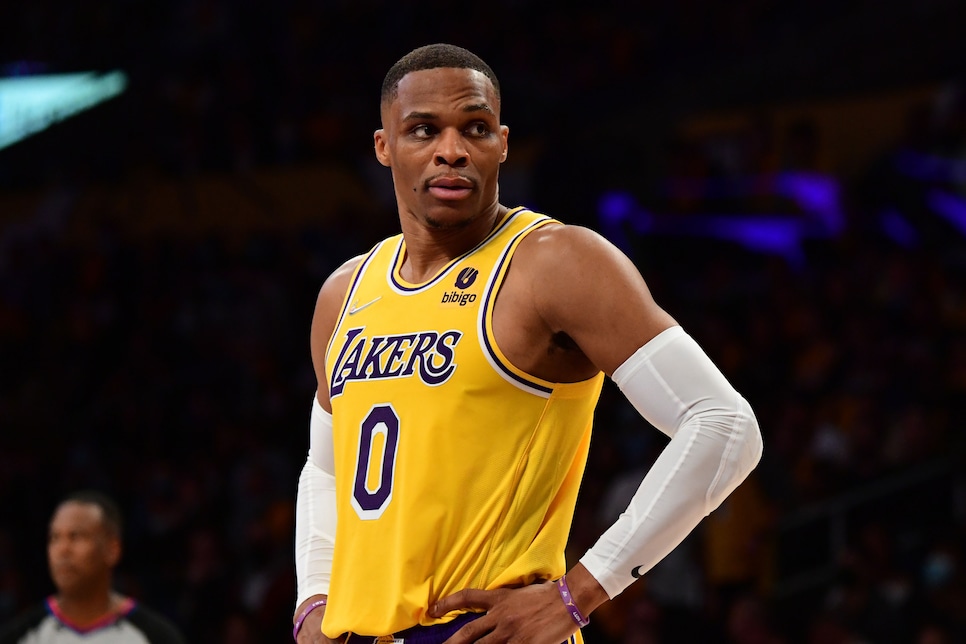 The NBA regular season kicked off yesterday, but we are already in the absolute thick of "deranged point guard" season. Kyrie Irving won't get a vaccine, and hence won't play, Ben Simmons was kicked out of practice and suspended about an hour after ending his holdout, and then we have the Russell Westbrook situation. There is always a Russell Westbrook situation, but this might be one of the most Russell Westbrook situations.
Tuesday night, in the season opener, the Lakers lost to the revamped and rejuvenated Warriors by seven points. That, by itself, is not a big deal, even though Steph Curry's evaluation of his own game was that he played like "trash." (Worth noting: the dude had a triple-double.) The big deal for the Lakers is what came afterward. This headline from ESPN says it all:
"LeBron James, Anthony Davis reassure after his struggles as Los Angeles Lakers drop NBA opener"
That one word, "reassure," tells you everything you need to know. Westbrook was bad, sure, going 4-13 from the field with an atrocious +/- of -23 in 35 minutes, and yes, he got roasted for literally everything, including a weird new penchant for pump-fakes...
...but hey, everybody has a bad game. The fact that he needs reassurance one game into the season says so much while seemingly saying so little. It says he was upset, but not in the good, competitive way somebody would be upset after a performance like that; not the kind of "upset" that means he's going to come back with a chip on his shoulder and play better than ever.
No, this is the kind of upset where his teammates had to try to make him feel better while he sulked:
"I told Russ to go home and watch a comedy," James said. "Do something that can put a smile on his face. He's so hard on himself. I told him, 'Don't be so hard on yourself. It's one game.'"
This is the kind of upset where his coach felt the need to lower everyone's expectations:
"Him more than anybody, it's going to be an adjustment period," Vogel said. "He's coming into our culture, our system. He's the new guy, and he's got to find his way. It's difficult, when you're used to being the guy who has the ball most nights, to be able to play off of others like Bron and AD. So it's just a little bit different for him."
This is the kind of upset where he came into the media room and gave clipped answers, clearly pissed to even be there:
Russell Westbrook might be the Most Interesting Human in the NBA of the last decade. At his best, he's a thrilling, edge-of-your-set point guard, but there have been questions about how he gels with other superstars from the very beginning. To bring him into a team with LeBron and AD never really made a ton of sense, because what is a guy like Westbrook, who lives for high usage and the big stats that entails, going to do when his team's two best players are eating up most of the touches? This is not a natural distributor of the ball—he's a volume shooter, a fearless driver, and above all an alpha male cut from his own mold. More than that, he might just be a guy who isn't suited to win a championship, since he's not especially strong at adapting to new systems or co-existing with other studs, and he's probably not good enough to lead a team on his own.
To ask Westbrook to form the latest "big three" in Los Angeles was always going to be too much of a good thing, and the nightmare for the Lakers now is that he's down on himself and already showing signs of a negative, borderline toxic attitude. What's going to make this all tougher to digest for Lakers fans is that their team was inches away from trading for Buddy Hield, the Kings shooting guard who would have been a perfect fit for this team.
Instead, they got a guy who can't shoot, and whose enormous skill set is a complete mismatch for his two co-stars. It's a major front office blunder, and it doesn't take a genius to see the truth—yes, it's only game one, but this experiment is already a failure. And unless things change drastically, the decision to bring him on in the first place is likely to waste another year in the career of LeBron James. Who knows how many he has left?