PGA TOUR
Russell Henley slays 54-hole demons, collects fourth PGA Tour victory in stress-free fashion
Winning on the PGA Tour is a satisfying feeling, but the manner in which it is achieved matters, too. And the way Russell Henley won the World Wide Technology Championship at Mayakoba on Sunday in Riviera Maya, Mexico sure felt fulfilling to the Georgia native.
Henley secured his fourth career PGA Tour title with a four-stroke victory over Brian Harman by overcoming nerves and demons and loads of past disappointment while holding a 54-hole lead. But with six shots in hand beginning the final round, Henley didn't need the fireworks he supplied the first three rounds as much as he needed to douse any hopes of his pursuers by limiting errors.
So it happened that a one-under 70 at El Camaleón Golf Course was more than adequate for Henley to win for the first time in five years and pick up a check for $1.476 million. Just as importantly, he converted for the second time in seven tries with a 54-hole lead, the other coming in his first tour title at the 2013 Sony Open in Hawaii.
"I just tried to learn from my past and my screw ups," Henley said with a chuckle after posting 23-under 261, tying Viktor Hovland for the lowest score in tournament history. "That's kind of what I took from the last two events from this season, and 'what am I doing wrong and how can I get better with it?' All those events I didn't close on, they hurt. And you don't know if you'll ever get to win another one. It's so hard out here. To come down 18 with a four-shot lead, it was just really cool. I don't know what to say."
Well, he said quite a lot with his play, especially when he opened 63-63 and then added a third-round 65. His tournament-record 191 total augured success; it marked the 18th time in tour history a player had posted a score at least that low through 54 holes. The previous 17 players went on to win.
"Yeah, it's tough. I don't sleep well on a lead," said Henley, 33, who entered the week No. 59 in the Official World Golf Ranking. "I need a lot more practice. I have no idea how Tiger did this 80-some times. It's tough for me just to kind of calm down. You definitely don't feel the same as when you're practicing at home, but that's the fun of it. That's why we play. We want to see what we're made of out here and get tested under pressure."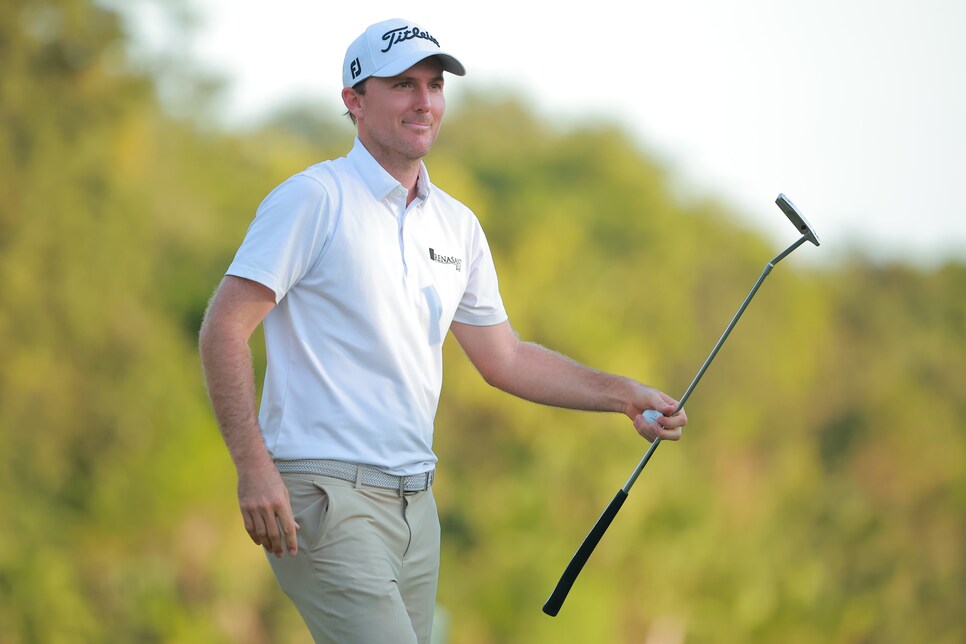 The key to victory came for Henley after he hooked a hybrid—there was mud on his ball—into the penalty area left of the green at the par-5 fifth hole and then missed a short par putt. The miscue, his first bogey of the week, dropped his lead to three over world No. 2 Scottie Scheffler, who came charging home with a nine-under 62, matching the low round of the tournament. Coincidentally, Scheffler, the reigning PGA Tour Player of the Year, held a six-stroke lead after 54 holes at the season-ending Tour Championship in August, only to lose to Rory McIlroy.
Henley seemed to reset after the error. "[Caddie Andy Sanders] just said, just shake it off and let's just keep doing what we're doing," Henley said. "And hit a great drive on the next hole and kind of felt like I can do this, I can keep playing well, that's just one hole."
The next three holes were textbook. Henley birdied each of them to restore his six-shot advantage.
The run started when he stuck a wedge from 122 yards to three feet, giving him a birdie all four days at the par 4. He followed by holing a 21-footer at the par-5 seventh, and then he sank a nine-foot birdie at the par-3 eighth. Henley carded a second bogey at the 16th—on his second all week—but by then his challengers had run out of holes.
Henley not only wanted to change the narrative on his final-round outcomes, but he went to Mexico searching a bit. His first two starts to the new season resulted in a missed cut at the Sanderson Farms Championship and T-45 at the CJ Cup in South Carolina. It didn't sit well with him, especially because he felt he had been playing good golf since his win in the Houston Open in 2017.
"I hope [the win] just keeps giving me confidence," he said. "It's just so hard to get in contention out here, first part, and then to close it out, it's a really hard deal. I feel like it gets harder every year. I'm just going to try to just pull from the fact that when I didn't feel super comfortable and I had a lead that I executed and I got it done."