PGA Tour
Scottie Scheffler benched the putter he won 4 times with on PGA Tour, and then he shot 62 with it at Mayakoba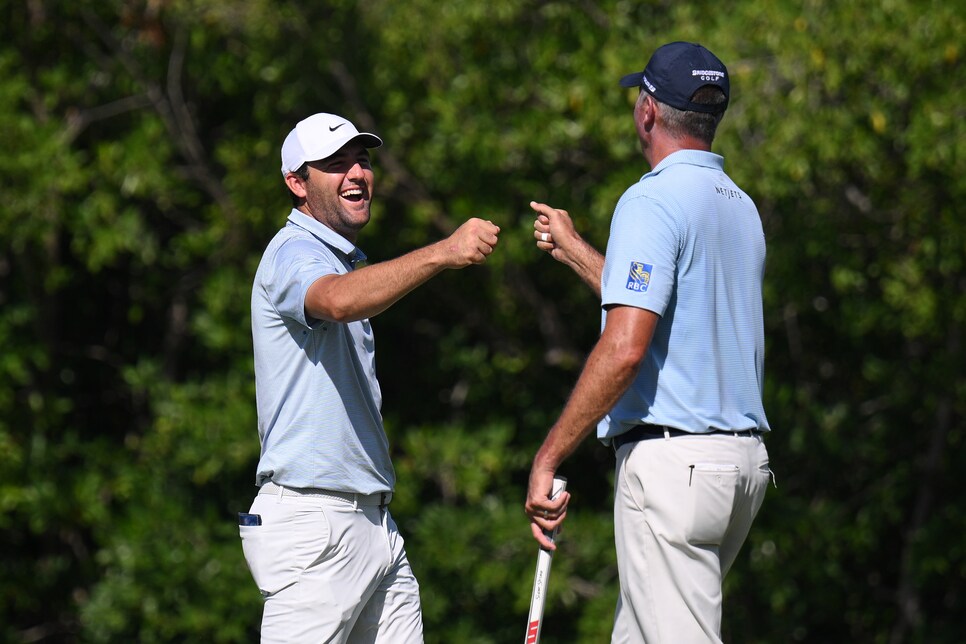 Scottie Scheffler celebrates with Matt Kuchar after making an eagle on the third hole during the final round of the World Wide Technology Championship.
Orlando Ramirez
Imagine winning four events on the PGA Tour in a single year and ditching the putter that you used in all of those victories. There are guys who would go the grave holding that flat stick.
On Sunday in the World Wide Technology Championship in Mexico, Scheffler scorched Mayakoba for a nine-under-par 62, and then said afterward that he went back to his old putter on the weekend—the one he used for four tour victories this past season, including the Masters.
"It never goes too far away," Scheffler told reporters with a grin.
The putter is a Scotty Cameron Special Select Timeless Tourtype GSS Prototype. On Sunday, Scheffler, who hit 16 of 18 greens in regulation, only needed to use it 25 times. The stat was boosted because he holed out a 108-yard approach for eagle on the par-4 third.
"Yeah, I went back to my old putter for the round [Saturday, in which he shot 68]," Scheffler said. "I think when I see so many putts go up to the cup and not go in, it was like, well, maybe I'll just make a change and see what happens. This is the time of year when I'll usually experiment with stuff. It's probably something I'll continue to fiddle around with, but I went back to something I'm really comfortable with and I putted well the last two days."
Mind you, Scheffler shot 65 with the other putter in the opening round, so it's not like he couldn't find the sweet spot with it. But that's how talented he is—that he can switch putters mid-tournament and have the "backup" catch fire.
Scheffler's strong round vaulted him 32 spots into a tie for third place at 18 under while the bulk of the leaders played out the final round. He was six shots back of leader Russell Henley.
"I actually played really good yesterday," he said. "I had a few bad breaks with mud balls, that probably cost me three shots during the round and definitely a lot of momentum. Today I got off to a good start, actually had a hole-out on No. 3 and just kind of got things rolling and played a good, solid round of golf."
The hole-out was a strange one. Just like Greyson Sigg's ace on Saturday that drew no cheers, Scheffler didn't know his ball got into the hole at No. 3 because he couldn't see the bottom of the flagstick. "We couldn't really see, couldn't really hear anything, nobody was clapping or nothing," Scheffler said. "So when I got up there, I was like, oh, man, it must have spun off the green. Then I checked the cup and it was in."
Relatable—for almost none of us.
Scheffler's last "official" start of the calendar year will be at next week's Cadence Bank Houston Open. In his only other start in the wraparound season, he tied for 35th in the CJ Cup.