FIRE PIT COLLECTIVE
It feels like Rose Zhang wins a lot more than she loses. So what happens when she doesn't come out on top?
Editor's Note: This article first appeared in Fire Pit Collective, a Golf Digest content partner.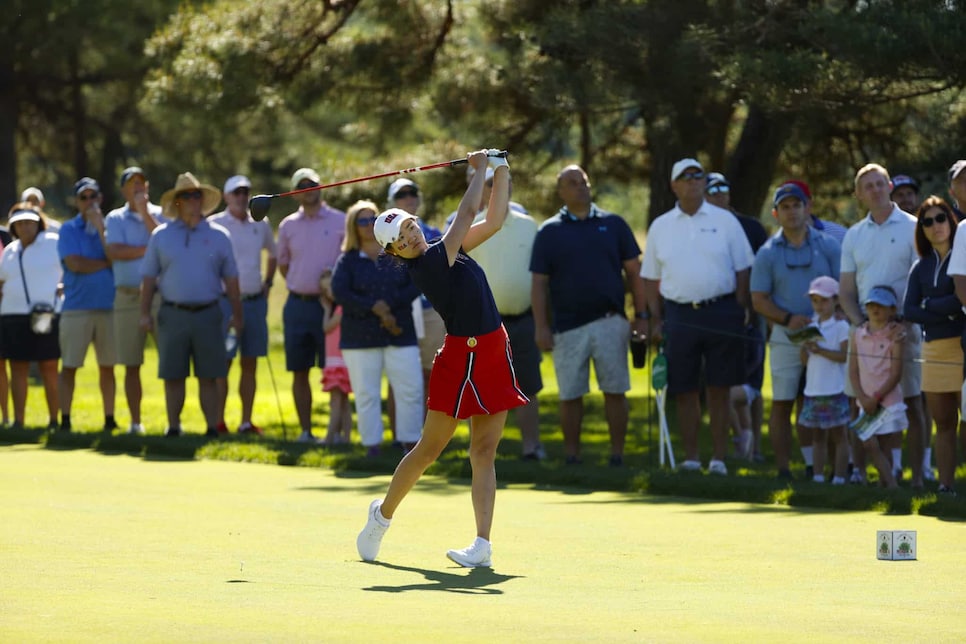 ARDMORE, Pa. — "Quite disappointing."
You'd never know it by looking at her in any tournament round, but defeat is never easy for Rose Zhang. Especially when she's playing on a team. On Friday morning at Merion Golf Club, when she watched Charlotte Heath sink an eight-footer to win Great Britain &Ireland's only point of the day, Zhang's heart sank. Nevertheless, she'll never get too high or too low, especially when the cameras are rolling.
The morning four-ball was the first loss in her Curtis Cup career. But would she tempt herself with the coulda, woulda, shoulda? No. That was the old Rose, who lived in a world of obsession. Because if she had stopped, she wouldn't be where she is, right? Her crippled wrist wrapped in tape and bandages would have never been able to raise her first USGA trophy at the 2020 U.S. Women's Am, the turning point of her rock star career. But like all wounds, it would heal quickly, and she'd be too busy to even remotely consider the idea of rest.
Zhang holds the trophy after winning the 2022 U.S. Women's Amateur (Photo credit: USGA)
Soon after her first USGA title, the follower counts, the media attention and the demands of life only grew. No longer was it Rose Zhang playing for herself or her family—an entire college program relied on her. As her brand power grew, her NIL valuation did too. But she "rose" to the occasion with grace, winning three times in a row in her Stanford freshman fall. The talk of perfection only amplified.
Winter break came, and despite being 400 miles away, she brought home a severe case of duck syndrome, a condition exclusive to the Stanford student body.
"Everyone looks like they're floating above water, but if you look underwater, they're flapping their feet really hard to stay afloat," Zhang says. She mistakenly hit herself in her left ankle, then someone accidentally dropped a dumbbell on top of her toe, making it "brutal just to walk." On top of that, she says the lifestyle adjustment of college simply burned her out. This was more than the U.S. Women's Amateur wrist injury. A hard, overdue lesson was in order.
"Growing up, I never really understood what rest meant," Zhang says. "I thought it just meant, 'Oh yes, we take a break but we still practice.'" She feels her upbringing as a first-generation American often leaned toward a nonstop mentality, calling the idea of a break a "culture shock."
Yet taking a rest evolved into a cautionary tale, as she watched other stars sustain short-lived careers as a result of burnout. "It doesn't affect your performance," she insists. "If anything, it helps. My game hasn't faltered too much." Wise words from the reigning NCAA individual and team champion, who can apply that to life in general.
But Stanford coach Anne Walker applied it to the team. She saw a similar situation of burnout in a freshman Rachel Heck after she won a national title. Walker stressed that if her players weren't taking care of their bodies, "it's basically just useless practice at that point."
One drill, in particular, is extremely revealing: 100 consecutively made four-footers. If she even misses one, she's back to zero. It's the type of discipline that births stars like Zhang: Do what everyone else won't. Now, working hard means resting equally hard.
Whether it's to herself or to others, Zhang's not a fan of saying no. That became a struggle when more than 400 DMs flooded into her inbox the night she captured the NCAA individual title. As time went on, the phenomena around Zhang only increased: more individuals than ever were engaged in the success of Zhang, the Stanford women's golf team, and women's college golf. In her hometown, she feels it the most. She's been crowned Irvine royalty, where she often has to decline multiple social engagements from resurfaced peers to requests from parents wanting to use her as a role model.
When the Curtis Cup afternoon foursome matches were filed, the pride of Irvine was paired with Heck to take on Charlotte Heath and Amelia Williamson, another set of teammates from Florida State.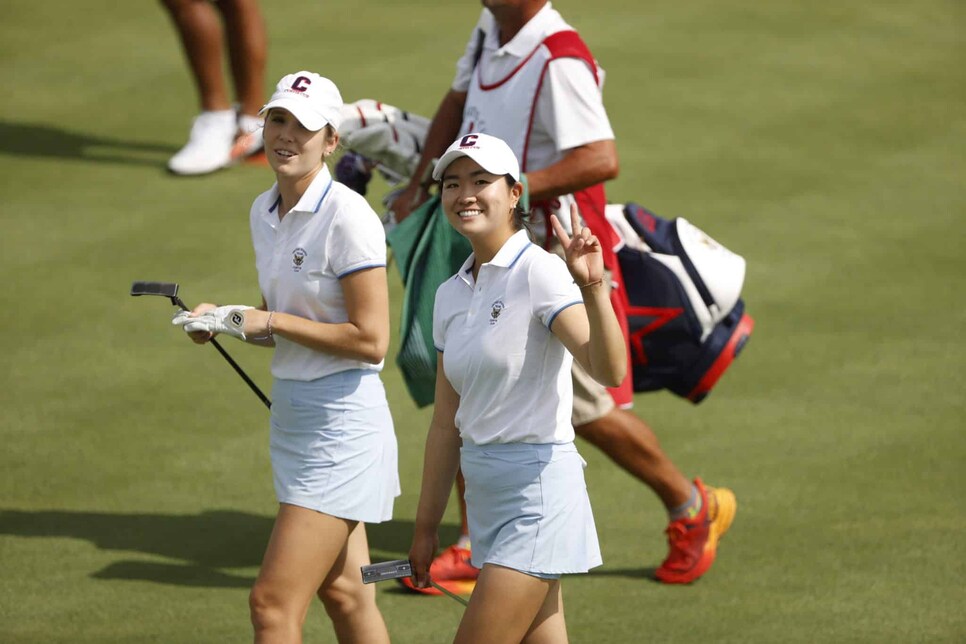 Stanford teammates Rachel Heck and Rose Zhang are together again this week playing for the U.S. at the Curtis Cup.
Rachel and Rose, off the tongue, sounds like something out of a '90s sitcom. Indeed, the "Friends" were "on a break" in the morning. Both of their matches went in different directions—Heck and Rachel Kuehn closed out a tight match 1 up, while Zhang and Emilia Migliaccio struggled, losing to Louise Duncan and Charlotte Heath, 2 and 1.
"I don't think I was quite comfortable out there," Zhang said. Indeed, the morning didn't showcase the classic Zhang. She was missing the finesse, the consistency, the fabric of her golf game when the unmakeable putts were completely makeable for Rose and Rose only.
She'd find herself again eventually, this time in the foursomes, right beside Heck, backs against the wall. But like any remarkable pair of superheroes, 2 down thru four, Heck set Zhang up with the assist to save par from five feet. Classic handshake. After trimming Heath and Williamson's lead, the Stanford teammates would never look back and found themselves singing, "I'll Make a Man Out of You" from Mulan, walking up to No. 16's treacherous green, juxtaposed and ready to clinch the final point of the day. Team USA would end Friday up 5-1.
On a team, Zhang thrives. Win or lose, when Zhang walks away from Team USA and returns to the usual isolating amateur summer, spending hours alone in the confines of her mind, a new Rose Zhang will emerge. "You're only hitting the ball for a good two minutes," Zhang says. "What are you gonna do when you have those five hours?"