Curtis Cup
Amari Avery almost turned pro a year ago, and now she can match Curtis Cup history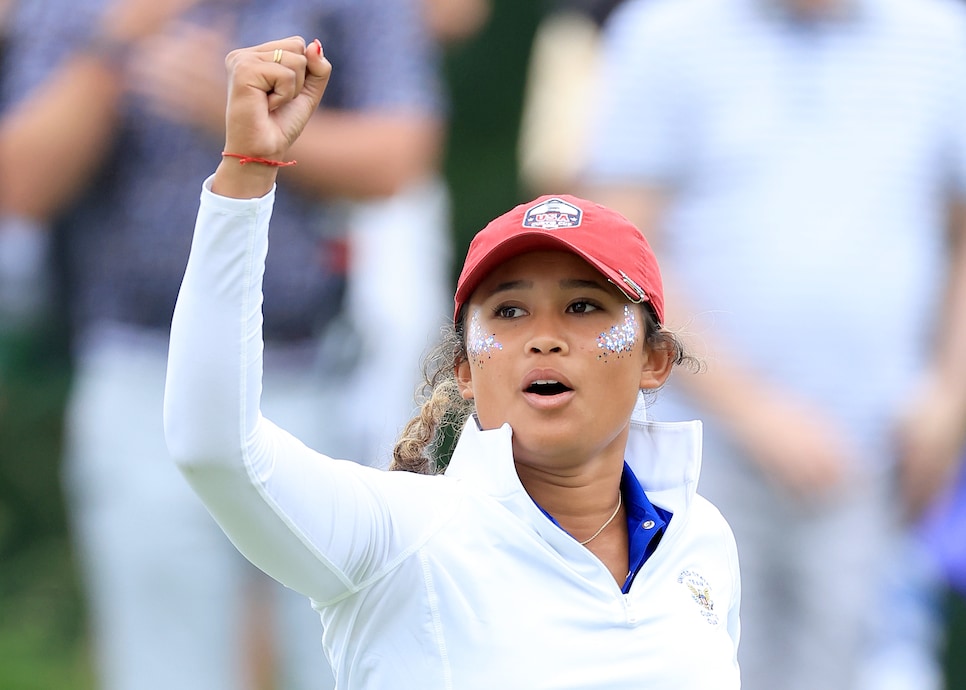 Amari Avery celebrates a birdie at the eighth hole in her match with Rachel Kuehn against Amelia Williamson and Emily Price of Great Britain and Ireland.
David Cannon
ARDMORE, Pa. — "It would have sucked to miss something like this," 18-year-old Amari Avery said as she stood on her tip-toes, desperately trying to catch a glimpse of her teammates Emilia Migliaccio and Latanna Stone as their Day 2 Curtis Cup match went down to the wire on Saturday.
"This is an experience of a lifetime," she said, soaking in her fresh 2-and-1 victory with partner Megha Ganne over Annabell Fuller and Hannah Darling in a thrilling back-and-forth fourball match.
Fortunately, Avery isn't missing out on anything—for her own sake, and for Team USA's. The Riverside, Calif., native may be a Curtis Cup rookie, but she's a force of both talent and fire on the stacked squad. With two more victories with teammates on Saturday, Avery holds an impressive 4-0 record as the Americans head into Sunday's singles matches with an 8½-3½ lead over Great Britain & Ireland.
After winning her afternoon foursomes match with Rachel Kuehn, when the Americans came back from 2-down through 11 and won 2 up, Avery has a chance to match history in an event she once never planned on playing. If the 18-year-old wins in singles on Sunday morning, she'll join Kristen Gillman, Bronte Law, and Stacey Lewis as the only women to go 5-0 in the Curtis Cup.
One year ago, Avery didn't even think she'd be eligible for the revered amateur event. For her entire golf career, the plan was all laid out: turn professional and forgo the opportunity to create a legacy in college or competitions like the Curtis Cup.
"I've always wanted to turn pro, and that's been my dream for forever," Avery said in a pre-tournament press conference. "But I don't see the point in rushing to get out there. I think it'll always be there. But this won't. This goes away at some point."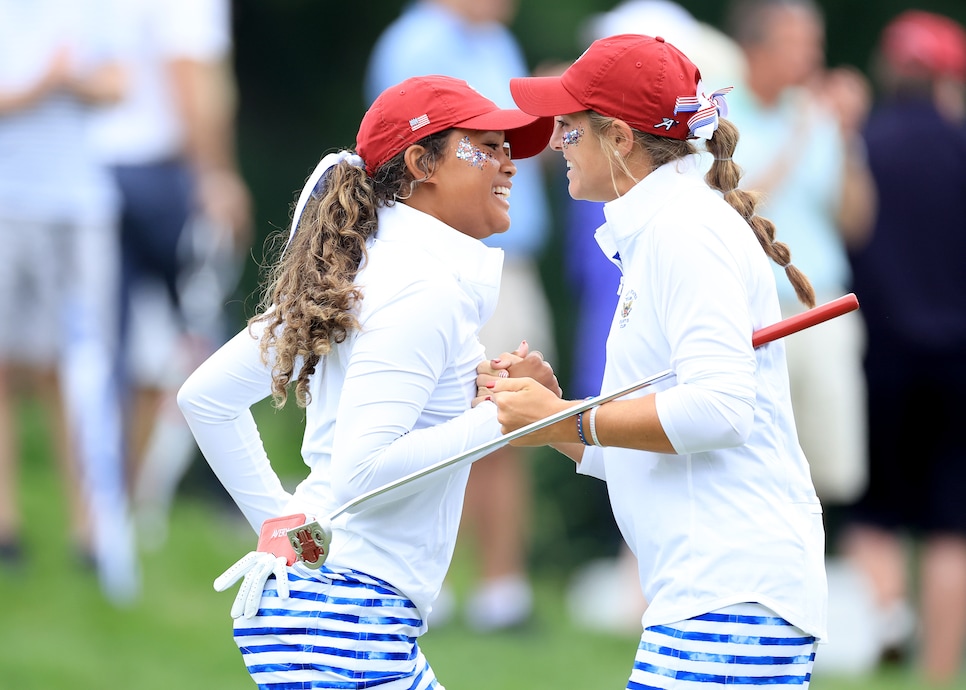 Amari Avery celebrates a birdie with Rachel Kuehn in their match against Amelia Williamson and Emily Price.
David Cannon
The pandemic was the determining factor in Avery's decision to hold off on the leap to life as a professional. When COVID hit, Avery and her father, Andre, re-evaluated the definitive path they had chosen and decided it may not have been the best one after all. In January, Avery started her collegiate golf career at the University of Southern California under coach Justin Silverstein.
"Our plan to go pro was kind of dumb. Turning pro is not easy. It takes a lot of willpower," Andre Avery said on Saturday after the morning play. "Experiences like the Curtis Cup can only make her stronger. To see where these other girls' heads are, to see where their games are. Obviously, it's going to help her with her collegiate golf, and especially with her professional golf some day."
Playing for USC and remaining an amateur golfer has done wonders for Avery's game. Silverstien introduced data and analytics to Avery's practice regimen, helping immensely in her effort to identify strengths and weaknesses. And before enrolling at USC, Avery started working with well-known swing coach Sean Foley. Since the day Avery decided to retain her amateur status, she's risen from No. 240 in the World Amateur Golf Rankings to 15th. A tie for fourth place at this year's Augusta National Women's Amateur contributed to her surge.
If Avery and her father seem familiar, it's because the two were among the families featured in "The Short Game," a 2013 documentary about junior golf. In the film, Andre declared his daughter the "Tigress." The young star has some striking parallels to Tiger Woods: They share the same birthday, they both were born to a Black father and Asain mother, and both of their fathers came from military backgrounds. And now, Avery has three college victories under her belt after her freshman year at USC, just as Woods had at Stanford.
Andre swears that Woods and his daughter have a divine connection. Although Avery might not like being called "Tigress," she sees the parallels and worships the 15-time major winner.
"Just last night she was wondering when she was going to get to meet Tiger or hear from Tiger," said Andre. "She said to me, 'What else do I have to do? I'm doing everything!'"
If Avery and the rest of Team USA keep up their solid play and exemplary camaraderie on Sunday, a congratulatory note may be in store from Woods. Finally.
Saturday's matches weren't short of drama. Migliaccio and Stone defeated Charlotte Heath and Louise Duncan in their morning fourball match, winning with a birdie on the 18th hole, the first time the pair went up on the day.
The afternoon wave of foursomes started with a defiant push from GB&I, but Team USA brought a burst of energy on the back nine. Rachel Heck and Rose Zhang came back from a 4-down deficit to halve their match, while Avery and Kuehn followed with a full point. Darling and Fuller, however, secured a victory for GB&I when Darling sunk a 20-foot par putt to end their match against Jensen Castle and Stone on the par-3 17th.
The schedule of eight singles matches will start at 7:30 a.m. ET on Sunday morning in an effort to avoid inclement weather. The U.S. needs to notch only 1 1/2 points to retain the Cup and two points to win it.