The Grind
Rose Zhang's amateur dominance, Jena Sims' spirited Masters scripting and a great omen for Tiger Woods
Welcome to another edition of The Grind, where we tried—and failed—yet again to get the kids into golf by attempting to get them to watch the Drive, Chip and Putt at Augusta National:
Sigh. But at least I learned that if I video something, my oldest daughter will say what I want to hear. Anyway, I'll keep trying. In the meantime, there's a lot to talk about as we head into Masters(!) week so let's get to it.
Corey Conners: Talk about a horse for a course. Or in this case, perhaps he's more like a Canadian Mountie. Anyway, Conners now has both his career PGA Tour wins at the Valero Texas Open. And for the first time, he's a winner as a non-Monday qualifier. It's the second time he's won with wife Malory watching along and this time, he even overcame her potentially jinxing him with the dreaded final-round TV spouse interview.
We also might have to be buying Tiger Woods this week at the Masters. Why? Because the last time Corey won the Valero was in 2019 and the next week, well …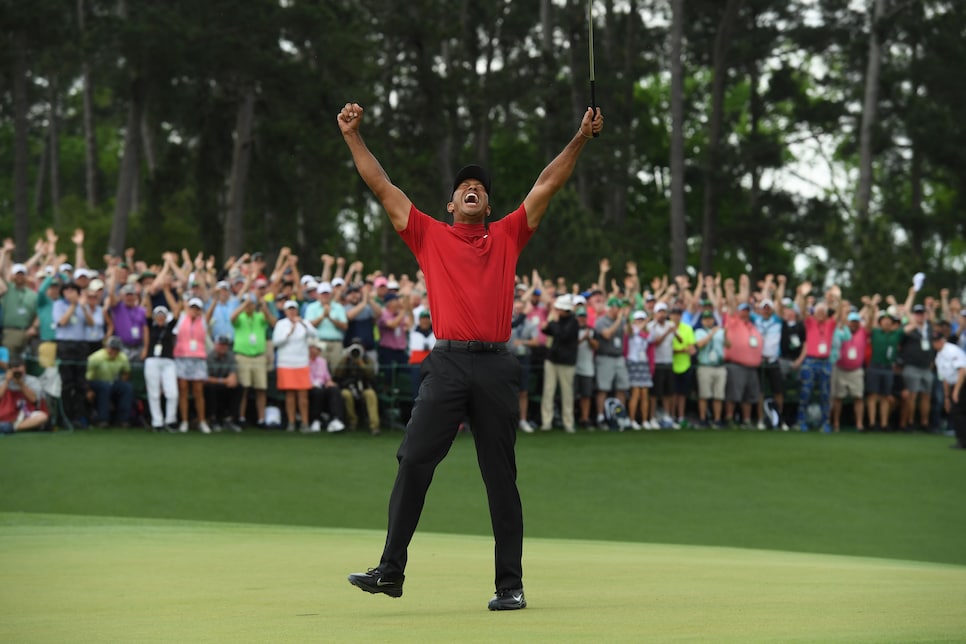 Rose Zhang: It wasn't pretty, but the Stanford sensation got the job done in a playoff of the Augusta National Women's Amateur after blowing a five-shot lead. That gives her an ANWA title, a U.S. Women's Amateur title, a U.S. Girls' Junior title and an NCAA title. And she doesn't turn 20 until next month.
Last month Rose broke Lydia Ko's record for the most consecutive weeks at No. 1 in the World Amateur Golf Ranking. And she's also won an absurd nine out of 16 career college golf. From guys like Rory McIlroy to Jon Rahm to Collin Morikawa, golf fans have been searching for the next Tiger for a couple decades. Looks like we should have been looking at the women's game instead. By the way, what a weekend for women's sports with Zhang and Caitlin Clark. Hopefully by the time they turn pro, my girls will actually watch them with me.
Brooks Koepka: He's BACK, baby! OK, so we're going to need to see Koepka do a little more than win a LIV event in Orlando, but the four-time major champ is certainly in a much better place than he was a year ago when he missed the cut at the Masters and filmed that depressing episode of "Full Swing."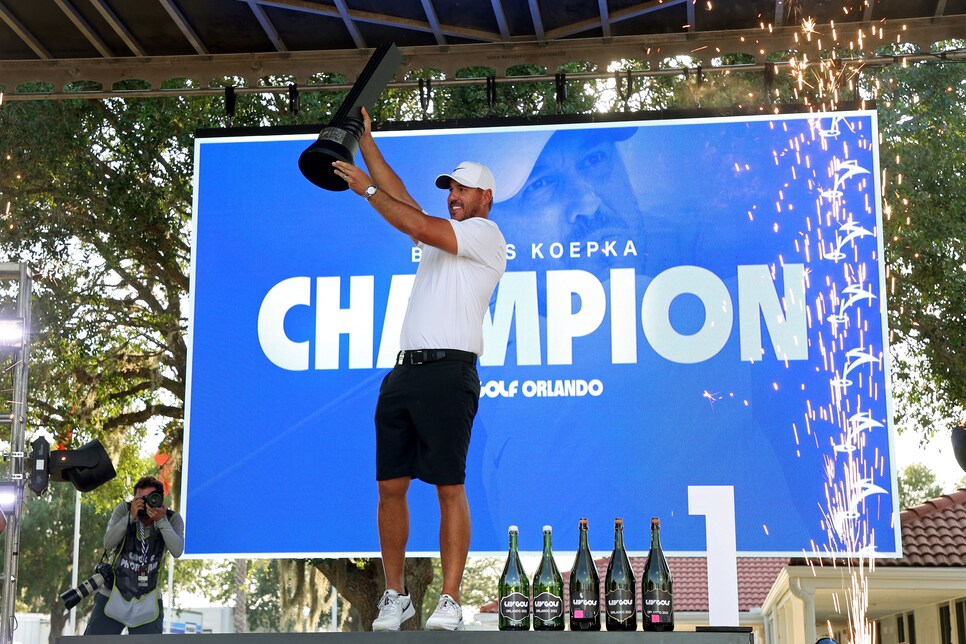 For what it's worth—and again, it's tough to tell what it's actually worth other than another $4 million check—Koepka is the first golfer to win two LIV events. "Look at everything I've been through. I'm finally healthy, man. It's nice to play some good golf." Uh-oh. Sounds like Netflix might need to do a follow-up episode for Season 2.
Patrick Rodgers with a lead: Incredibly, the only person who has won at nearly the rate that Tiger and Rose won at Stanford remains without a PGA Tour win. In his 235th career start, Rodgers squandered another golden opportunity, this time at the Valero Texas Open. His Sunday 73 the worst score of anyone finishing in the top five, Rodgers is now 0-for-4 with a 54-hole lead.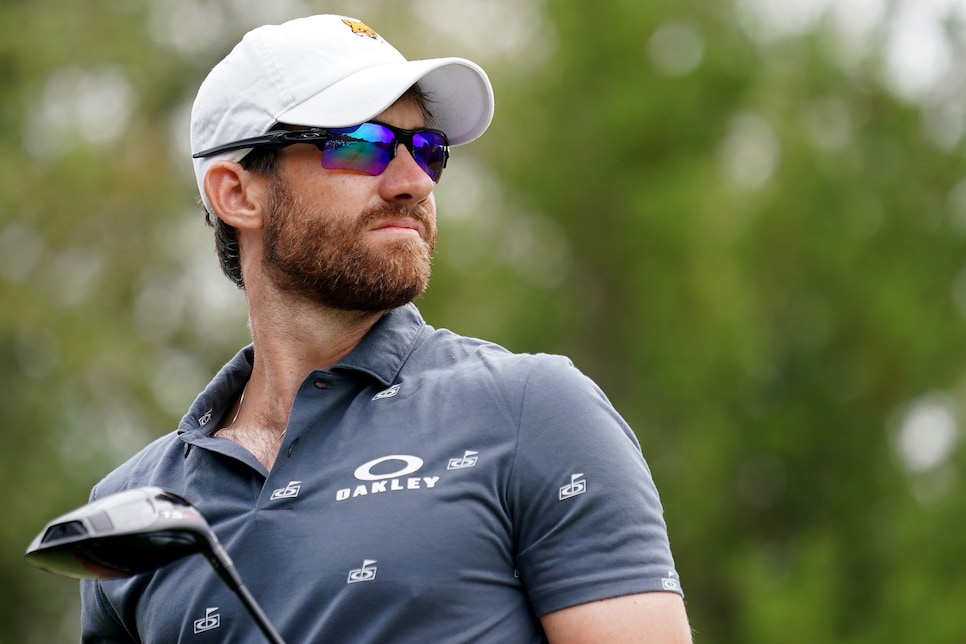 Corey Conners' putting: How good of a ball-striker is Conners? Well, he won despite doing stuff like this in the second round:
Conners has never finished a season ranked better than 112th in strokes gained/putting (he's finished 176th or worse three times), but for this week he was 41st. Out of the 71 players who made the cut. And when you can flush irons like he can, sometimes that's all it takes.
Sam Stevens getting daggered: What a valiant effort by this PGA Tour rookie to grab the final Masters invite, but it was not to be. Despite a T-3 in the D.R. last week and a runner-up to Conners by a stroke in San Antonio after a Sunday 66 that included two eagles, Stevens will not be going to Augusta National next week.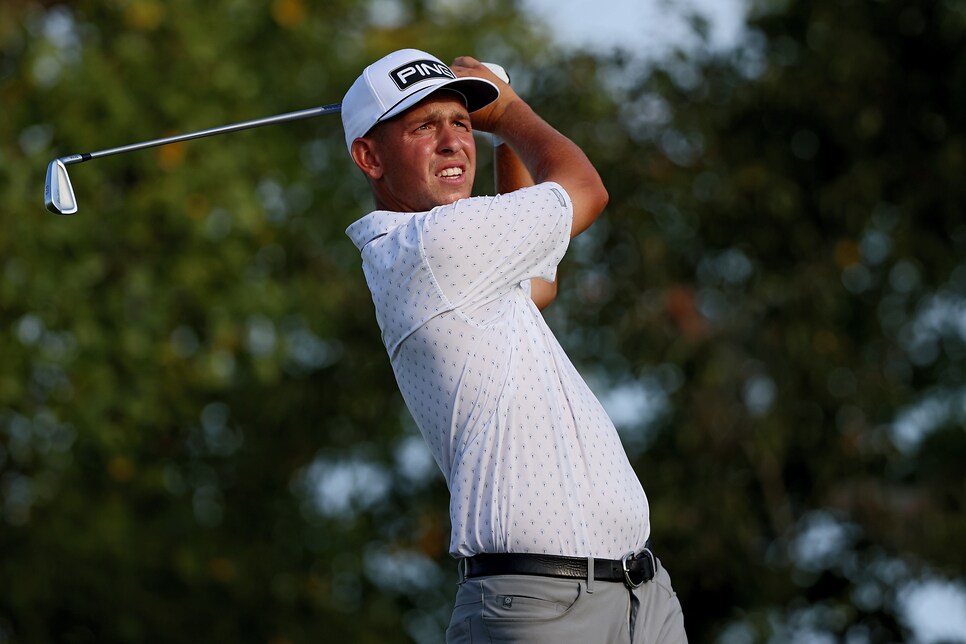 In fact, no one earned a final Augusta National spot thanks to Conners, who was already qualified, winning. It's a tough ticket, but it would have been cool to see someone earn a last-minute trip. Oh well. Hopefully there's still time for Sam to order that "Taste of Augusta" feast from the Masters website for when he watches from home.
The Masters is here! The Masters is here! TIGER going for No. 6! Rory going for the career Grand Slam! PGA Tour and LIV guys just trying to make it through the Champions Dinner without getting a butter knife in the leg! What drama! Oh, not to mention the return of the Georgia peach ice cream sandwich!
Can't wait! (Oh, and they're free in the media center.)
Random tournament fact: It's been 20 years since Mike Weir beat Len Mattiace in a playoff. What you probably don't remember is how close my fellow Wake Forest Demon Deacon came to arguably the greatest round in golf history. Anyway, we looked back on that day with Len on this week's The Loop podcast:
RANDOM PROP BETS OF THE WEEK
—An actual fist fight will breakout at the Champions Dinner: 1 MILLION-to-1 odds
—Rory McIlroy will win the Masters: 7-to-1 odds (Actual odds, co-favorite)
—Rory won't eat as many Georgia peach ice cream sandwiches as me: LOCK
CLUB PRO GUY TWEET OF THE WEEK
What a scene at a Dallas muny driving range with 2004 Open Championship winner Todd Hamilton giving out golf tips to random hackers:
Talk about being in the right place at the right time.
Great idea and execution by our video team to grill Scottie Scheffler about "The Office":
I believe I was the high scorer on this quiz among my co-workers when questions were being tested, but Scottie would have smoked me. Very impressive.
VIRAL VIDEO OF THE WEEK (PLAYER-FILMED DIVISION)
Min Woo Lee's legend continued to grow with this video of him getting his Masters invite in the mail:
Good thing Augusta National sent it to the right Min Woo Lee!
THIS WEEK IN PUBLIC DISPLAYS OF AFFECTION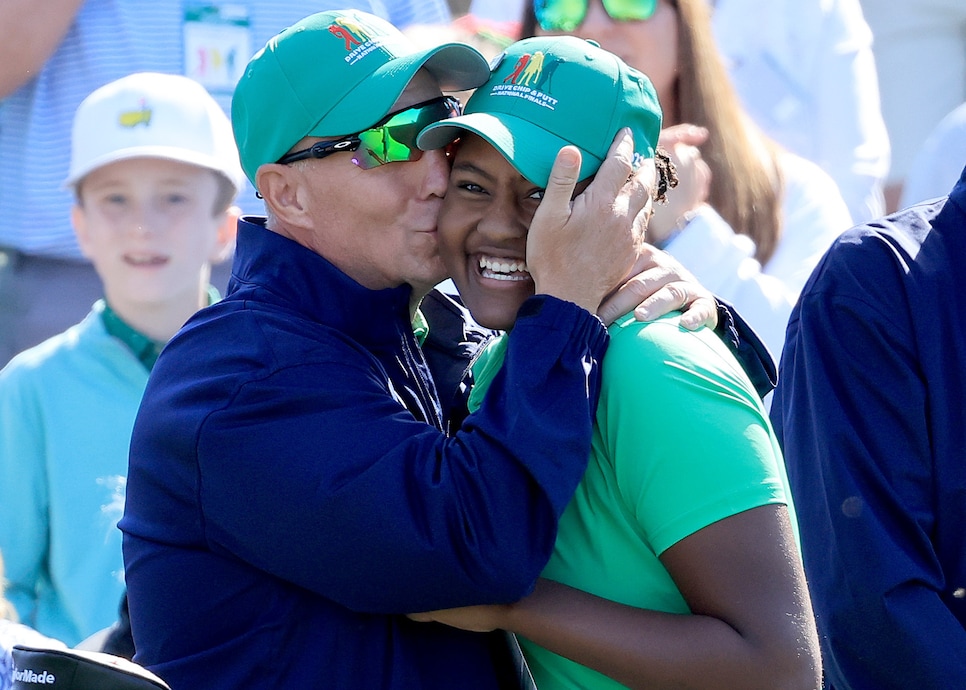 Aww. And what a story Maya Palanza Gaudin has, going from being born and adopted in Ethiopia to winning the 12-13 age division of the Drive, Chip and Putt.
THIS WEEK IN PUBLIC DISPLAYS OF
AFFECTION

ATTIRE
Looks like Jena Sims is even more prepared for the Masters than husband Brooks Koepka:
Um, we're counting 25 outfits there, Jena. I know you've been going to LIV events the past year, but the Masters is still only four days.
"Yeah, I'm not going to throw anyone under the bus. He's been a great friend. I texted him on his birthday. It is what it is. He has his viewpoints on it and thinks we're potentially hurting his record. If anything, nobody is ever going to touch his record. That's just it, that's the bottom line. There's a chance to grow the game even more and I hope one day he'll see the vision that we all have out here." —Bryson DeChambeau telling Golfweek's Adam Schupak that Tiger Woods has cut off communication with him since leaving for LIV. Man, these LIV guys sure are sensitive when it comes to birthday wishes, huh?
Masters garden gnomes (yes, they really sell these) are going for hundreds of dollars on eBay. I know Masters merch is always hot, but seriously, get a grip, people. … Speaking of getting a grip, how about the guy who bought Jordan Spieth's house and then basically tried to extort him for Masters tickets? People are the worst. … The Insperity Invitational Greats of Golf, a scramble with some of the game's greats that takes place during the tournament's third round, is coming back with Folds of Honor as the sponsor. You love to see it because we need to see more scrambles in pro golf. … Congrats to 17-year-old Daniel Bennett on winning the South African Under 19 Stroke Play championship by 21 shots. Yep, you read that right. … And, finally, congrats to me for winning the 2023 Warner Bros. Discovery Pop-a-Shot contest: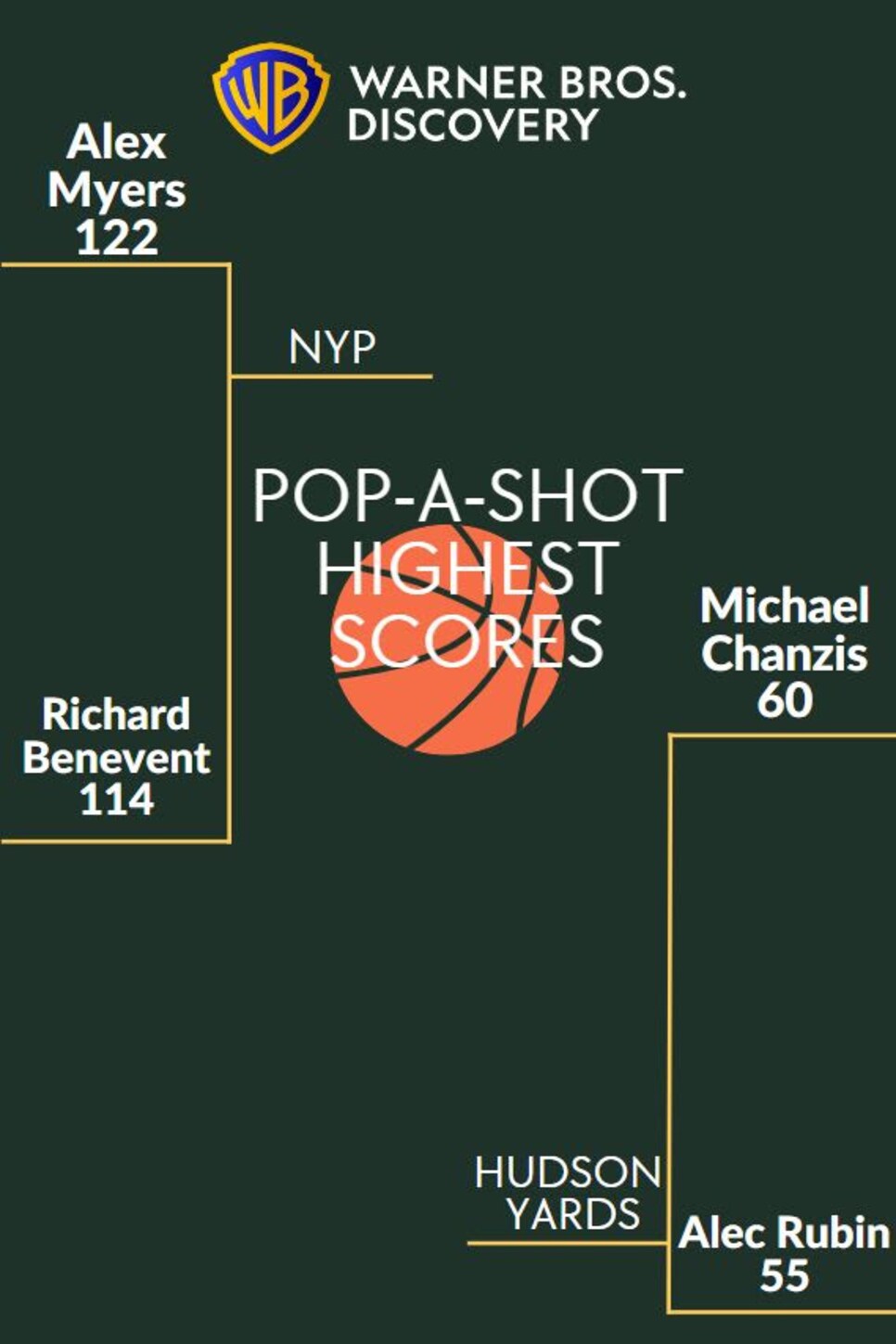 In my list of career athletic accomplishments, this ranks somewhere above a bachelor party cornhole tournament I won in 2013 and below the Carnival Cruise Ping-Pong tournament I dominated like Daniel Bennett in 2004.
RANDOM QUESTIONS TO PONDER
Did Tiger block Bryson's phone number?
Could I take Tiger or Bryson in Pop-a-Shot?
Will Augusta National be monitoring my ice cream intake?