PGA Tour
'Something had to give': Rory McIlroy opens up about why he resigned from the PGA Tour Policy Board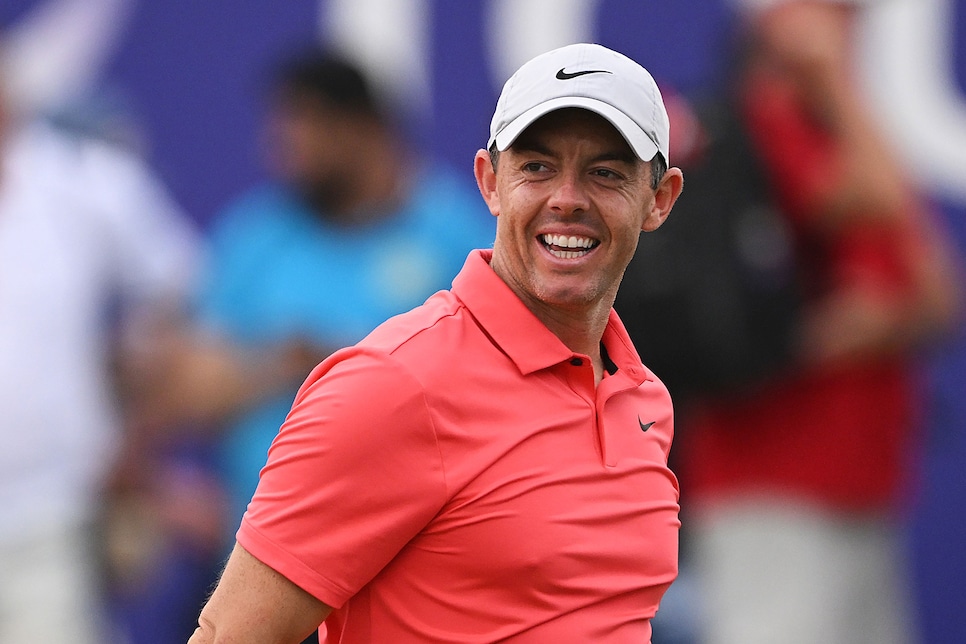 DUBAI — It would have been too much to ask for. So it was that, instead of an air of resignation at the end of his opening-round 71 in the DP World Tour Championship, Rory McIlroy was exuding relief after two fairly outrageous pieces of good fortune on the 651-yard closing hole allowed him to escape with an unlikely par 5.
No matter, as so often is the case of late where the World No. 2 is concerned, it was McIlroy's off-course activities and not a score that sees him four shots off the pace that attracted so many journalists to his post-round huddle just outside the recorder's office. Specifically, what had been the thinking behind his abrupt Tuesday resignation from the PGA Tour Policy Board?
Perhaps predictably, McIlroy said it was mostly a time-management issue.
"Something had to give," McIlroy said. "There are only so many hours in a day and only so many days in a week. I've got a lot going on in my life right now between trying to be a world-class golfer and trying to be a good husband and a good father. I've got a growing investment portfolio that is taking up more of my time. I'm involved with TGL and sort of in the weeds with that. On top of all that, the Policy Board stuff was taking more of my time than ever this year. I just felt something had to give."
Indeed, few could argue that McIlroy, in what are likely to be the peak years of his already storied career, gave plenty to the PGA Tour cause since joining the board in 2021. With some justification, he is clearly proud of the contribution he has made.
"I stepped up and spoke out about something I believed in," he said. "The landscape changed on June 6 with the announcement [of a framework agreement between the PGA Tour, Saudi Arabia's Public Investment Fund and the DP World Tour]. It was never in my control, but from then on I was playing a lesser part because of the decisions that were made. There has been a lot of time spent on this over the last few weeks with different investment groups and meeting different people who are interested. It just got to the point where, although I like being busy, I like being busy on my own things. And it got to the point where I just couldn't fit it all in."
Support for McIlroy's decision wasn't hard to find. His fellow Irishman, former Ryder Cup captain Paul McGinley, is one who understands the motivation to un-clutter a busy life.
"Resigning has to be a good thing for Rory," McGinley said. "We're in the middle of a complex situation that will necessitate a huge amount of input in the coming months. A lot of energy, too. At the height of his career and time when he is playing his best golf, that isn't something Rory needs. Having said that, the contribution he has made over the last couple of years doesn't seem to have affected his performance level. In fact, he has been energized by it all.
"I'm not surprised by what Rory has done, or the timing of it," McGinley continued. "When he went on the board or when he was chairman of the PAC, the landscape of golf was very different. But he walked into the eye of a storm. All of sudden he was right in the middle of it. So he was thrust into a position he didn't choose or probably could have imagined. And, as much as the last two years have been difficult, the next three-to-six months are going to be much more so. It makes sense for him to let someone else take the lead."
McIlroy's close friend, former Open champion Shane Lowry, was another to speak out in support of the Northern Irishman's decision to focus his considerable energies elsewhere.
"I think Rory is right to do what he has done," Lowry said. "Not that everything has gone his way the last couple of years, but I spent a lot of time with him and saw what he was having to do. Board meetings. Calls from other players on his weeks off. Players wanting to talk to him when he walks onto a range. I don't understand why anyone would want to do that job, to be honest.
"I went on the PAC this year and it's just not worth it," Lowry went on. "Rory has done a great job, and we were very lucky to have him on our side. He spoke up a lot for us. I've often said it to him over the last couple of months, 'Rory, why bother?' He's got every material thing he is ever going to need. All he wants is to win more majors. So that's all he should focus on."
Still, although almost a decade has passed since his most recent victory in any of golf's four most important events, McIlroy was keen to say his involvement in high-level golf politics had not been a factor in his frustrating inability to win a fifth grand Slam title.
"I don't think my play was affected," he maintained. "I've played really well. I like being busy. I like having things to do away from the golf course. But it just got to the point where it was too much. I enjoyed it. It was an education. I was in the room with some very smart people. I was appreciative of the opportunity. Hopefully that will stand me in good stead with whatever I decide to do in the future."