Letter from Europe
The real drama at the DP World Tour's season finale involves a Ryder Cup snub with a chance at redemption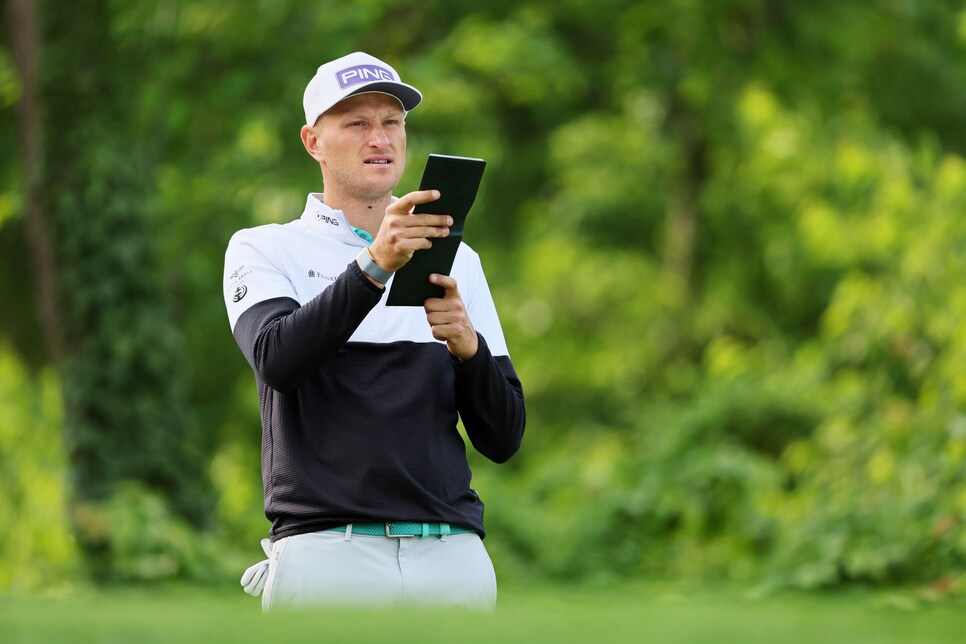 As things stand going into the final event of the 2022-23 DP World Tour season, Poland's Adrian Meronk leads the standings, 66.2 points ahead of New Zealand's Ryan Fox. Making up the 10 is a cosmopolitan group that for now contains Victor Perez (France), Thorbjorn Olesen (Denmark), Alexander Bjork (Sweden), Sami Valimaki (Finland), Robert MacIntyre (Scotland), Jorge Campilo (Spain), Ryo Hisatsune (Japan) and Rasmus Hjogaard (Denmark).
It is a list that changed significantly last week when it emerged that Nicolai Hojgaard (Rasmus' twin) and Australia's Min Woo Lee have both qualified for PGA Tour cards through their accumulation of non-member FedEx Cup points over the course of the season ending this week. With them out of the equation, Rasmus and Histasune moved into the crucial top 10 (and Rasmus potentially owing Nicolai a bigger birthday present next March).
There is also one other twist in this tale. The potential difference between finishing first and second is significant. The man who finishes at the top (currently Meronk) will be fully exempt on the 2024 PGA Tour. The others will be subject to an initial re-ranking after the Masters. In other words, the remaining nine need to play well early if they wish to gain consistent entry to events later in the year.
It is a position Meronk, who will play alongside Fox in the opening round on Thursday, is well aware. The next year of his professional life is on the line, only a couple of months after he suffered the huge disappointment of being controversially left off the European Ryder Cup team.
"To be honest, I'm trying to approach this week the same as any other," the 30-year-old told Golf Digest on Tuesday. "I just want to play my best golf. To do that, I want be thinking about finishing first or second. I'm in a good position and happy about that. So I'm just going to go with the flow, which is what I do every week. I don't like to look around until the end really. Having said that, I am well aware of the difference between finishing first and second. It will be exciting for those watching."
Yes, yes. But that predictable response is easy to say, more difficult to achieve in practice.
"I understand that isn't always easy to do," Meronk continued, with a smile. "But I've learned to do it over the years. I've seen with the Ryder Cup situation that it is best not to get too involved in what might happen. So I've got some experience in attempting to approach a big week like this one as if it is like any other."
Speaking of the Ryder Cup, playing full-time on the PGA Tour and doing only reasonably well makes it more difficult to make the Old World team automatically. How has that played into Meronk's thinking?
"I do understand that playing over there will make it a little bit harder for me to make the team," Meronk said. "But that is something I will worry about a year from now. That is way too far off to think about. I need to get settled in the U.S. I know it is possible to get caught between the two tours. But look at me. I was the best player on the DP World Tour and didn't get into the team. So you never really know for sure. I just have to play really well on the PGA Tour so that I can't be left off again. That's the best way."
So, right now, at least, Meronk has priorities other than making a team many felt he should have been part of this year. The 2024 Olympics for one.
"My aim is to grow as a golfer and improve my ranking," he says. "To do that I have to play the PGA Tour. It has always been my ultimate goal. So I'm excited to be in this position. I can't wait to get over there next year. I know I'm starting from scratch. But competing against the best in the world is something I have to do if I want to be a better player. My plan is to focus almost exclusively on the PGA Tour. I'm going to base myself in Florida, maybe Jacksonville. I'll play a full schedule and see where I am in August. Hopefully, that will allow me to play some events over here in the autumn."