Hard Feelings
Rory McIlroy calls Patrick Cantlay a 'd*ck,' reveals how Tiger Woods tried to intervene in Ryder Cup dustup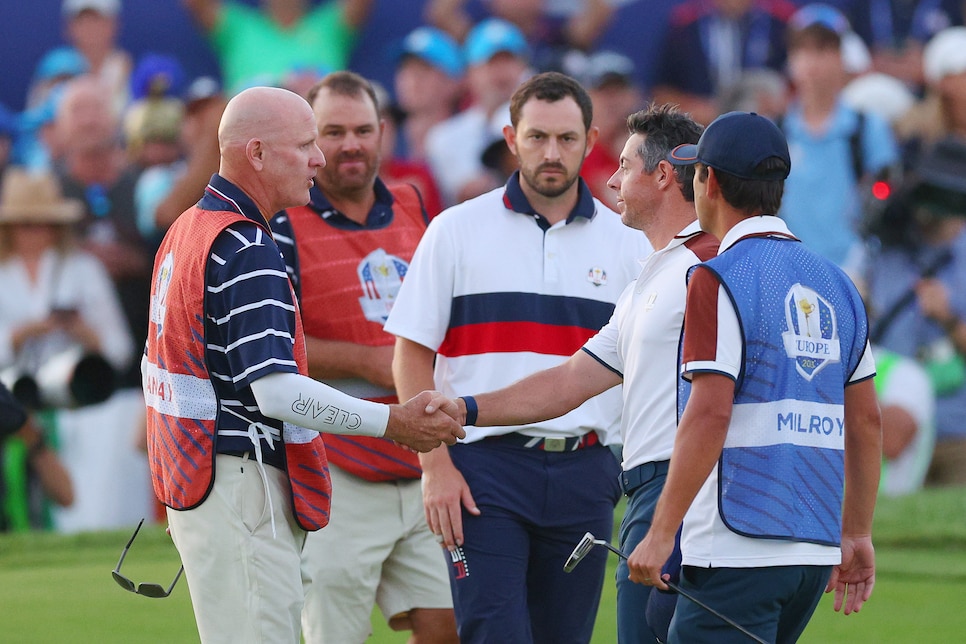 Don't expect Rory McIlroy and Patrick Cantlay to send each other any Christmas cards this holiday season.
McIlroy revealed the two PGA Tour stars and top-five players in the Official World Golf Ranking have an "average relationship at best," and the four-time major champ went as far as to call Cantlay a "d*ck" in his latest interview with Paul Kimmage of the Irish Independent.
You can read the full interview here (and it's worth you time). The interview also included McIlroy's European teammate Shane Lowry, and the two detailed the dustup from this year's Ryder Cup at Marco Simone that also involved Cantlay's caddie, Joe LaCava.
"Here's what angered me," McIlroy told Kimmage. "My relationship with Cantlay is average at best. We don't have a ton in common and see the world quite differently."
McIlroy went on to say that he felt he went out of his way to help Cantlay with the crowd in Rome that day, but that the American duo didn't show the same respect after Cantlay holed what turned out to be the winning putt on the final hole during a Saturday four-ball. LaCava joined in as other American players waved a hat, a reference to the report that Cantlay was refusing to wear a team hat out of protest for not being paid to play in the event (which Cantlay denied).
McIlroy was still upset as he left the course later and crossed paths with several Americans, including Jim "Bones" Mackay. In a video that went viral, Lowry was seen holding back McIlroy, but it turns out he had also convinced his buddy not to "sort this out" by going into the Team USA locker room.
"And they're trying to defuse the situation, but I start having a go at them," McIlroy said of the clubhouse incident. "'Joe LaCava used to be a nice guy when he was caddieing for Tiger, and now he's caddieing for that d*ck he's turned into a …' I still wasn't in a great headspace."
McIlroy acknowledged that his profanity-laced exhange in public was "not my finest moment." He also shared that when he got to his hotel room, Tiger Woods, LaCava's former boss and McIlroy's current friend and business partner in TMRW Sports and TGL, had been trying to get in touch as well.
"I sent him a quick message," said McIlroy, who along with Cantlay hasn't played since the Ryder Cup. "'It will be fine … long day … just want to go to bed.'"
McIlroy responded the following day by winning his singles match and leading Europe to a resounding 16½-11½ victory. He also refuted an NBC report that he met with LaCava to clear the air ahead of the final session. But McIlroy said the two patched things up that Sunday night in another interview last month.
"Things happen in the heat of the moment, tensions were high," McIlroy told the BBC. "Joe LaCava came into the European team room on the Sunday night and had a drink and a chat."
But it seems that between McIlroy and Cantlay, at least, those tensions remain pretty high.