Ryder Cup
Rory McIlroy says he and Joe LaCava are 'all friends' again after testy Ryder Cup exchange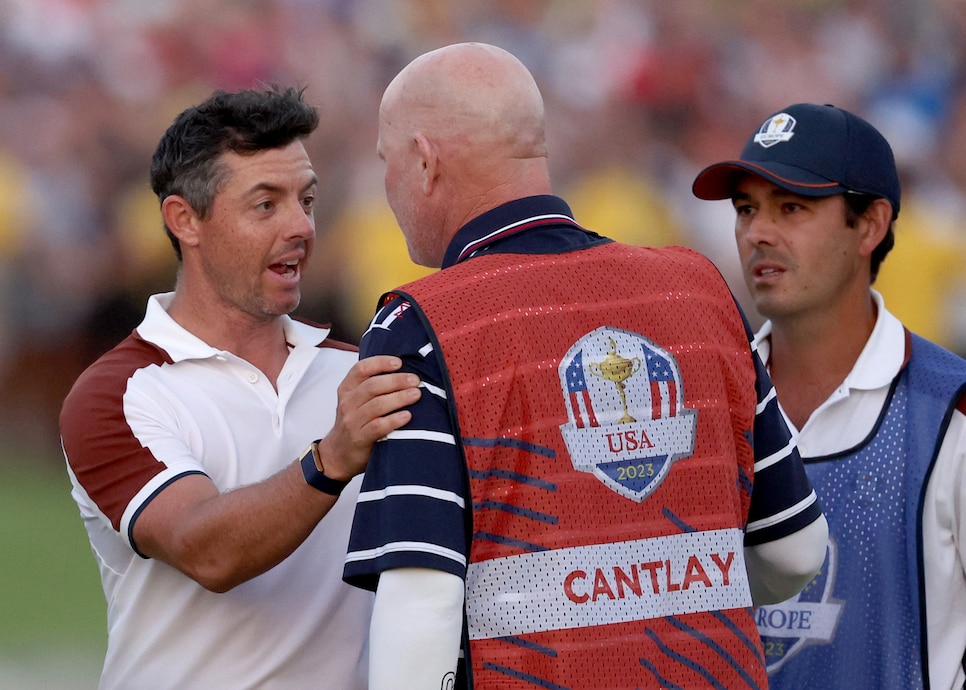 The video was so memorable because of just how irate Rory McIlroy appeared to be that Saturday night at last month's Ryder Cup in Rome, his European teammate Shane Lowry stepping in at one point to hold him back, shocked looks coming from all those around him. Never before during McIlroy's golf career had the four-time major winner been caught on camera displaying the level of anger he was showing in the parking lot outside the clubhouse at Marco Simone.
Less than an hour earlier, McIlroy had been involved in an exchange on the 18th green with Joe LaCava. The caddie for American Patrick Cantlay, one of McIlroy's opponents in the afternoon fourball session, had gotten a little close to McIlroy while celebrating a lengthy Cantlay birdie putt. (LaCava was waving around his hat, a mock response to the crowd after fans' relentless hat-waving gestures toward Cantlay in the wake of the "hatgate" controversy.) Words were spoken with LaCava as McIlroy lined up his own birdie putt to tie the hole and the match, a putt he missed as Cantlay and playing partner Wyndham Clark walked off with what looked like could be a momentum-turning full point with a 1-up victory. And the frustration from the course spilled off of it, McIlroy caught yelling in the parking lot in the direction of another American caddie, Jim "Bones" Mackay, who appeared to become collateral damage.
"Disrespectful" was what McIlroy called LaCava's actions the next day, the resentment seeming to remain high into Sunday singles. "It was a bit of a deflating finish last night," McIlroy said. "What transpired on that last green gave us a fire in our bellies to get the job done today."
But in an interview with the BBC this week, McIlroy says that he and LaCava have subsequently patched things up in the wake of Europe's 16½-11½ victory.
"Things happen in the heat of the moment, tensions were high," McIlroy told the BBC. "Joe LaCava came into the European team room on the Sunday night and had a drink and a chat."
McIlroy acknowledged that he and LaCava had a good relationship previously, LaCava having caddied for Tiger Woods from 2011 to earlier this year. It wasn't necessarily surprising then that cooler heads would eventually prevail among the two. "Everything will be fine," McIlroy said during Europe's winning press conference. "But it's a point of contention and it still hurts, but time is a great healer and we'll all move on."
During Sunday's singles broadcast, NBC announcer Steve Sands reported that LaCava and McIlroy had talked and cleared things up that morning, a fact that McIlroy said was not true when interviewed after winning his singles match against Sam Burns. As it turns out, McIlroy says it was intentional that he avoided LaCava.
"For me, the incident happened, I purposely didn't want to meet anyone on the Sunday morning because I wanted what had happened to fuel me for that day," McIlroy told the BBC. My whole focus was let's make sure Europe win the Ryder Cup and then we will sort all the other stuff out afterwards.
"And it's all fine. We're all friends now."