Ryder Cup
Ryder Cup 2023: An emotional Rory McIlroy refutes meeting with Joe LaCava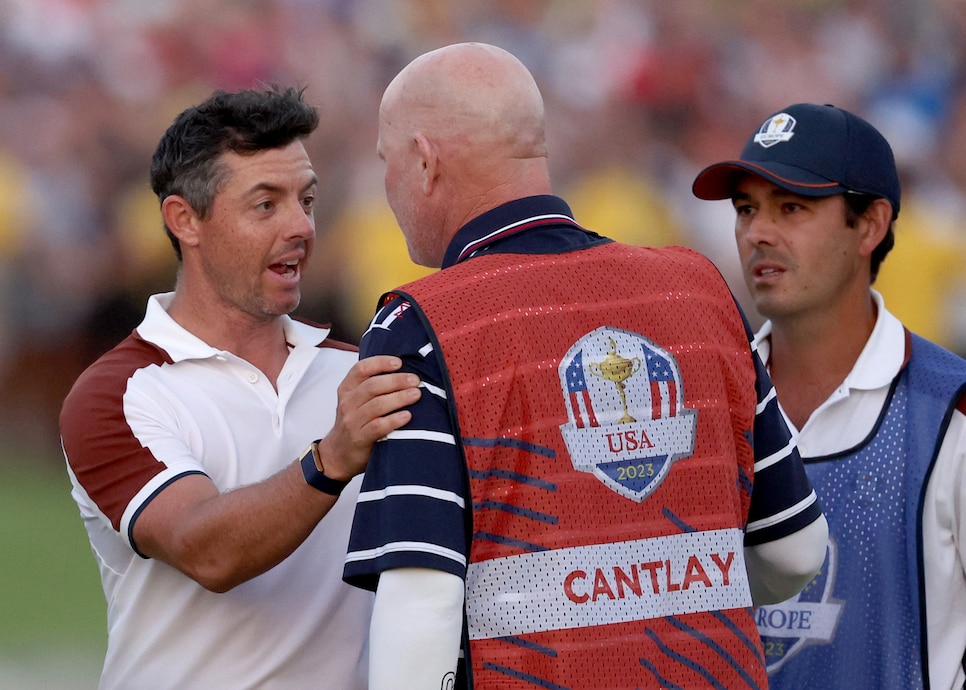 ROME — Two years ago, Rory McIlroy broke down in sobs upon Europe's lopsided loss in the Ryder Cup. On Sunday at Marco Simone, he spoke with a tone of grit and defiance after the Irishman polished off his best Ryder Cup showing with a 3-and-1 victory over Sam Burns in what appeared to be Europe's march toward a triumph.
McIlroy and American caddie Joe LaCava created a controversy on Saturday evening with their dust-up following an 18th hole in which McIlroy and his team believed LaCava was too enthusiastic in celebrating Patrick Cantlay making a long birdie putt to put a rare full U.S. point on the board. McIlroy and LaCava jawed at each other on the green in the immediate aftermath and McIroy was then videotaped yelling at members of the American side in the parking lot.
On Sunday morning, NBC Sports reported that McIlroy and LaCava met before singles play began and that their feud had been settled. Asked about that report by NBC on-course reporter Cara Banks, McIlroy said tersely, "I haven't met Joe." When Banks pressed again, McIlroy repeated his answer.
In the European press conference after the matches, McIroy said he had not seen LaCava face-to-face, but acknowledged that they exchanged texts without specifying when.
"Everything will be fine," he said, "But it's a point of contention and it still hurts, but time is a great healer and we'll all move on."
The thinking by some observers in the aftermath of the controversy was that the controversy might have been a detriment to the American cause because Europe had cruised the first two days and might get complacent. Instead, the perceived dissing of one of their leaders only steeled them more to finish off the task, and McIlroy contended that was the case.
"It was a bit of deflating finish last night," McIlroy said. "What transpired on that last green gave us a fire in our bellies to get the job done today."
McIlroy, who played all five matches and went 4-1-0, could have suffered a letdown after the emotional night, but he never showed any reason for concern as he won the first hole against Burns with a birdie, built the lead to 3 up through seven holes, and then closed out the American with a birdie at the par-3 17th.
In the match, McIlroy won six holes with birdies.
"It means an awful lot," McIlroy said of bouncing back from his 1-3 performance in Wisconson. "I was so disappointed after Whistling Straits. We all were. And we wanted to come here to Rome this year and redeem ourselves a bit. We've got some fresh blood on the team that I think has worked really, really well. I just knew that I needed to put in a better performance for my teammates this week, and thankfully I was able to do that."
MORE FROM GOLF DIGEST @ THE RYDER CUP