Letter from Europe
The future of the DP World Tour is unclear, but its demise has been greatly exaggerated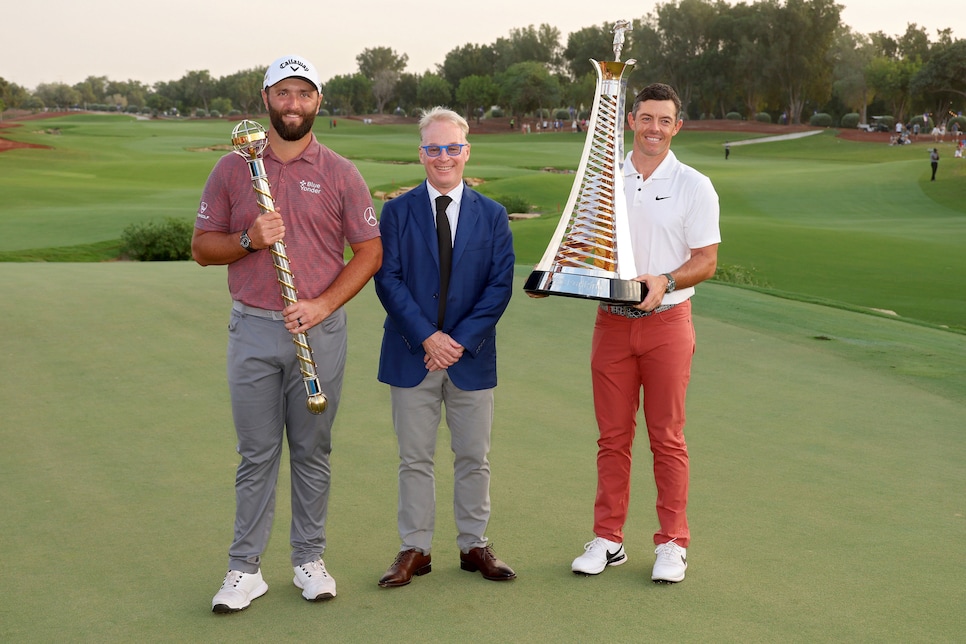 Photo By: Andrew Redington
DUBAI — In the absence of any public comments emanating from his Wentworth office, the growing theory in and around the DP World Tour over the last couple of months has been that CEO Keith Pelley doesn't really know what is going on. It was both predictable and, perhaps, understandable. As the PGA Tour reportedly engaged in talks with big-money alternatives to a prospective deal with Saudi Arabia's Public Investment Fund, the junior partner in the trans-Atlantic "strategic alliance" that binds what used to be the European Tour to golf's biggest circuit was noticeably AWOL.
Until now that is. Speaking to a small group of journalists on the eve of the season-ending DP World Tour Championship, Pelley broke his silence. Which is not to say he was able to say too much. Citing the presence of a non-disclosure agreement, the 59-year-old Canadian was firmly circumspect and almost entirely non-specific in his responses to queries about where the DP World Tour is likely to sit within golf's eco-system when the current discussions eventually come to an end.
"I can't give you much comment," Pelley says. "I think there has been a tremendous amount of speculation, a tremendous amount of rumors. But the conversations we are having will be in the best interests of global golf and the best interests of the DP World Tour. I won't comment on specific formats or seasons as all those conversations are confidential. But, as I've said internally, things have heated up since the Ryder Cup. Discussions have intensified. Outside of that, I can't make any comment or speculate on anything."
Not even who the PGA Tour might be talking to?
"Obviously I'm abreast of those conversations and I am in regular dialogue with [PGA Tour commissioner], Jay [Monahan]," Pelley says. "He sent out a player note [Tuesday], but I can't be specific about anything. I wish I could, but I can't. I will only reiterate that, from my involvement since the Ryder Cup, it is clear that all three partners in the framework agreement are committed to bringing the agreement to a conclusion as soon as possible. We are having more and more conversations, and I will have more talks with Jay this weekend as well as a proper debrief."
Despite Pelley's inability to discuss in any depth what everyone on the DP World Tour is talking about, there is no shortage of conjecture and opinion elsewhere on a variety of topics. On the cynical/skeptical side of the debate, the air of resignation/realism for where the Old World circuit stands, even in relation to the PGA Tour alone, is well-honed:
We're just the little guy here getting pushed around with no leverage. We can't compete. We have to make the most of the bad cards we've been dealt in this global game.
Arguably the most controversial and divisive part of the PGA Tour/DP World Tour's partnership that guarantees record prize money on the DP World Tour for at least the next five years (with an option for eight more years) is that the leading 10 players in the Race to Dubai rankings at the end of the season not already exempt will earn PGA Tour cards for the 2024 season and, as it happens, a guaranteed stipend of $500,000.
"I've struggled understanding the criticism of this," Pelley says, "because, first and foremost, as administrators, it is one of our key performance indicators to create the maximum earning potential for the members. On Sunday, 10 members will be granted a minimum of $500,000, with an opportunity to increase their earning potential. I also believe it will give the players who have those cards a much better opportunity to prepare and shine in the three majors prior to July and bring them back as bigger stars."
In this, Pelley has a powerful ally.
"The European Tour has already benefited from all that has gone on," says Rory McIlroy, the now five-time European No. 1. "Everyone talks about losing 10 players every year to the PGA Tour. But that is inevitable anyway. Now they have an official pathway. You can't hide behind the fact that the PGA Tour is where every player wants to be. That's a fact of life. We're not back in the 1980s and 1990s. That's not where the world is. So the European Tour will continue with stronger prize funds for those who can't make it to the PGA Tour. The tour has been strengthened for most players."
Still, throw in the fact that PGA Tour players who finish between Nos. 126 and 200 on this year's FedEx Cup points list can take up full membership on the 2024 DP World Tour and many in Europe feel like they are giving up 10 of their best and getting some of "America's worst" in return.
"The 10 cards thing is controversial, but it will be hugely beneficial to the lads going," says former U.S. Open champion, Matt Fitzpatrick. "But it diminishes the quality of the European Tour as a whole. So I'm not sure it is going to benefit the tour in the long term. Maybe the best way to a better product is to copy football [soccer] and have divisions with promotion and relegation. There would be great story lines in all of those. But you have to make the premiership a world tour, which is what should have evolved ages ago."
'You can't hide behind the fact that the PGA Tour is where every player wants to be. That's a fact of life. We're not back in the 1980s and 1990s.'
Rory McIlroy
Indeed, more than a few DP World Tour members agree with Fitzpatrick, at least when it comes to "giving up" prize assets on an annual basis.
"It's hard to know what the overall sentiment is over 160 guys," says another player, who asked for anonymity. "There are many ways to look at it, from a European perspective. If you're a player with ambitions to play in America, and many do, there is no reason why your morale should be anything but very good. You're playing for more money over here and you have a great opportunity to make it onto the PGA Tour. That's brilliant.
"But I can see guys going [to the PGA Tour] through February-March-April to test the waters. Then they can make a decision about fully committing or not. If not, you would sacrifice the half-million. But I can still see guys coming back at that point. A lot will depend on where they are from. The continentals might find it difficult culturally. Being happy and playing for $2.5 million [on the DP World Tour] is maybe better than being unhappy and playing for $6 million [on the PGA Tour]. It will be fascinating to see."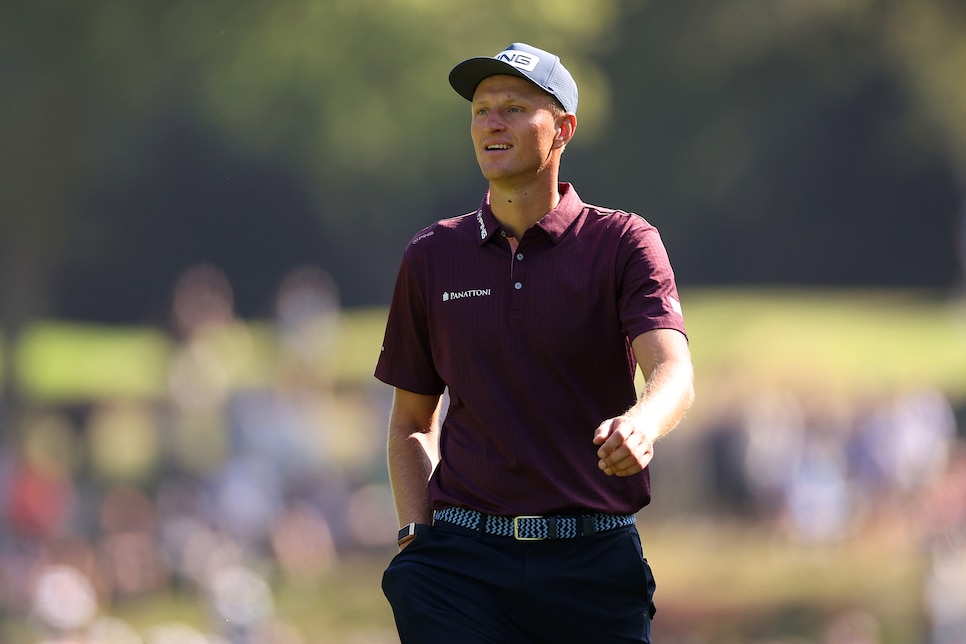 After an impressive 2023 season on the DP World Tour, Adrian Meronk will now have the chance to jump to the PGA Tour. Some say that is a benefit for DP World Tour members, others think it will waterdown the tour by losing its best players.
Richard Heathcote
Also evoking interest is the reaction of many players contacted for this story. "Keep your head down" is one piece of golfing advice that has long been discredited. But it is a policy a number of DP World Tour players are currently following. Many asked not to be named, not because they are worried about incurring the wrath of Pelley. No, it is more because of the "look" that results from highly paid sportsmen moaning about their lot in life.
"I just don't want any blowback," says one, summing up the prevailing mood. "You say what you think. Someone reads it and it's out on social media. It's just not worth the hassle."
Then again, former Ryder Cup captain and current Golf Channel pundit Paul McGinley is one who is happy to talk, taking a more pragmatic view of the strategic alliance.
"We can't have everything our own way," says the Irishman, a past member of the DP World Tour's board of directors. "When you do a deal with the Americans, you can't get everything you want. We don't have that leverage. So we have to give up some things. They want to take the top players. That's OK. So what do we do for those left? We guarantee prize funds. That's a pretty good deal. We lost on one side, gained on the other. If the PGA Tour is going to give us a lot of money, we have to give them something in return. It can't be a one-way street. A strategic alliance is a two-way street."
OK, time out. What exactly would constitute a state of affairs even close to a Euro-centric ideal when the talking is done?
"The best result is the framework agreement comes to a conclusion and we enter into a definitive agreement as partners with the PIF and the PGA Tour," Pelley says. "That would benefit global golf in general and then we can focus on making our respective businesses grow. Unifying the game is our commitment."
More specifically, McIlroy has a more detailed version of nirvana.
"I'd like to see something similar to a worldwide Formula One schedule of, say, 20 events," he says. "Three of the four majors are in the States. Fine. Throw in a few of the top events on the PGA Tour, the Memorial, Riviera, that sort of thing. Then add things like the Australian Open. I get the stranglehold that America has had on professional golf for the last 20 years. It is what it is. Corporate America is where the biggest money is. But it is time for the PGA Tour to spread its wings and go worldwide. We need to create a product for the top players in the world that everyone strives to be in.
"This has to be seen as an opportunity," concludes the world No. 2. "We have arrived at the inflection point for golf. If we don't do anything now with all that is going on, we'll never do it. This is the opportunity to change the landscape of our sport, something that comes along maybe once in a generation. And this is the time."
But still, it remains to be seen, as the talking continues, exactly where the DP World Tour fits in a hopefully brave new world.