FedEx Cup Playoffs
'Common sense prevailed:' Rory McIlroy and Justin Thomas react to PGA Tour's legal victory over LIV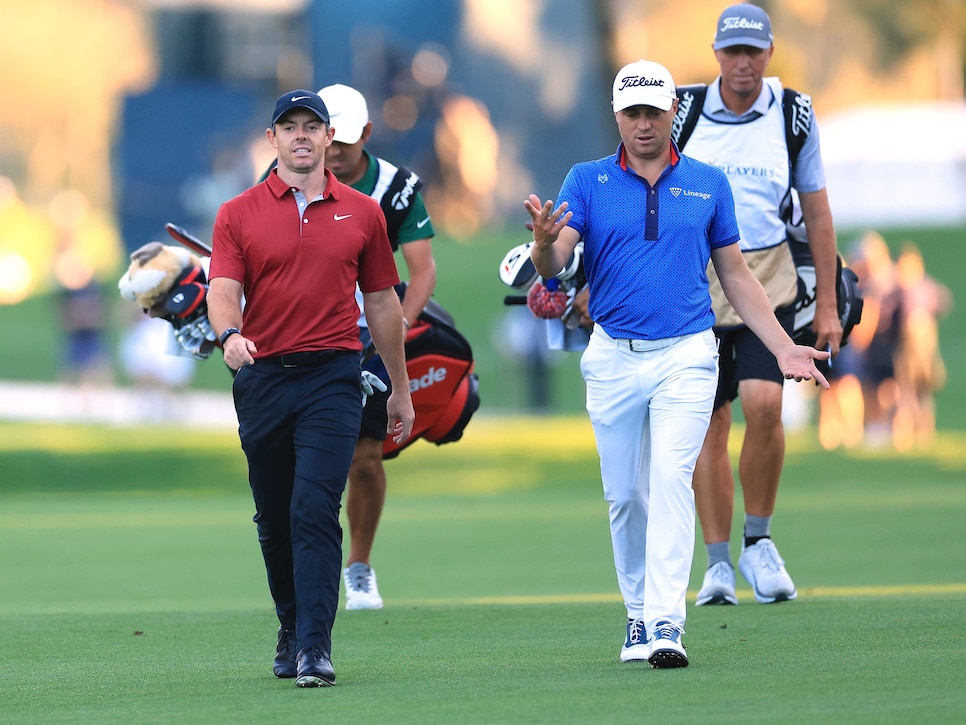 Rory McIlroy and Justin Thomas walk to the green on the first hole during the first round of 2022 Players Championship.
David Cannon
MEMPHIS — The PGA Tour claimed the first win of what promises to be a long legal battle against LIV Golf on Tuesday when a U.S. District Court judge refused to grant a temporary restraining order that would have allowed three golfers suspended by the tour for jumping to LIV—Matt Jones, Talor Gooch, and Hudson Swafford—to play in the FedEx Cup Playoffs.
The playoffs begin this week at the FedEx St. Jude Championship, and on Wednesday, when Rory McIlroy and Justin Thomas made their scheduled appearances in the media center, it was inevitable the ruling would come up. McIlroy and Thomas have not only been tour loyalists to this point, but two of the most outspoken loyalists, and they didn't shy from the topic.
"From my vantage point, common sense prevailed," McIlroy said. "I thought it was the right decision, and now that that has happened, I think it just lets us focus on the important stuff, which is the golf. And we can all move forward and not sort of have that sideshow going on for the next few weeks. … It was a good day for the tour and for the majority of the membership yesterday."
Thomas was less outspoken than McIlroy and didn't seem to have followed it as closely. Still, he too was pleased with the outcome.
"Obviously as a player on the PGA Tour and the ruling going in favor of the PGA Tour, I'm in favor of that," he said.
Both players were asked when the drama of the LIV saga became "personal," and both had similar answers.
"It was when that lawsuit was filed last week or whatever it was," McIlroy said. "And the thing that I would say, I certainly have a little more respect for the guys that haven't put their names to the suit. So yeah, I mean, it's become a little more personal because of that.
"I think where the resentment comes from, from the membership of this tour, is the fact that they want to try to get their way back in here with no consequences," he added. "And anyone that's read the PGA Tour handbook or abided by the rules and regulations, that would feel very unfair to them."
Thomas concurred, saying, "it was personal to me from the beginning, but I would say it's just getting more and more in depth. It's kind of like I said from the start, those guys were given an opportunity to go play, and just go play. You can have your cake, but you don't need to eat it, too. And they got their fair share of a large, large amount of cake and go eat it on your own means. You don't need to bring it onto our tour."
On Tuesday, the Telegraph reported that Cameron Smith was headed to LIV after the playoffs, something Smith wouldn't confirm or deny during his pre-tournament press conference. When asked if this qualified as a "having your cake and eating it too" situation, Thomas was leery of commenting on something that wasn't official, but conceded that it looked bad.
"If that were to happen, it would definitely appear that way," he said. "It's nothing hidden."
Both players addressed how distracting the entire ordeal has become, and the toll it has taken on their lives, particularly when they're called upon to address it so frequently.
"It's unfortunately just taking up the golf world a little bit and taking away from great storylines," Thomas said. "I think I saw Scottie [Scheffler] came in and did his interview yesterday and I'm sure he got asked about what was going on, and he's had one of the best seasons of all time. I mean, the most money that's ever been earned and winning the FedEx Cup [regular-season title] by a mile. I'm sure there weren't as many questions about that as there should have been. It's little things like that to where it takes away from the big picture of what's going on on the PGA Tour."
For McIlroy's part, he seems worn out by the task of being a de facto tour spokesman. When asked if he "enjoyed" the role, he didn't hesitate.
"Not really," he said. "I don't feel like it's my job to be up here and stick up for the tour or be a spokesperson. It's just sort of the role that I found myself in, especially coming on the PGA Tour board this year.
"It was a great time to agree to do that," he added, with a dose of sarcasm.
McIlroy said that the whole thing makes him appreciate the solitude of the golf course more, when he can escape the questions, and Thomas spoke about how the specter of LIV Golf infringes even on his private life.
"A funny story, just a couple weeks ago I had some really close friends get married and I was at the wedding and at the reception," Thomas said. "I was on the way to the bathroom and got stopped by someone, start talking to me, saying he was a fan, it was great, and bam, next thing you know starts asking me questions about that … instead of going to the restroom, went straight to the bar to get a drink, because like I am not in the mood for this right now."
No matter how much they may want to escape, both understand that the legal fight has just begun, and that they'll be at the forefront of it for as long as it persists. McIlroy, in particular, isn't reading too much into the initial victory.
"It's like you birdied the first hole," he said, "but you've still got 17 holes to go."