Well Played
Rory McIlroy was in awe of this 19-year-old's swing speed after getting smoked in a long drive contest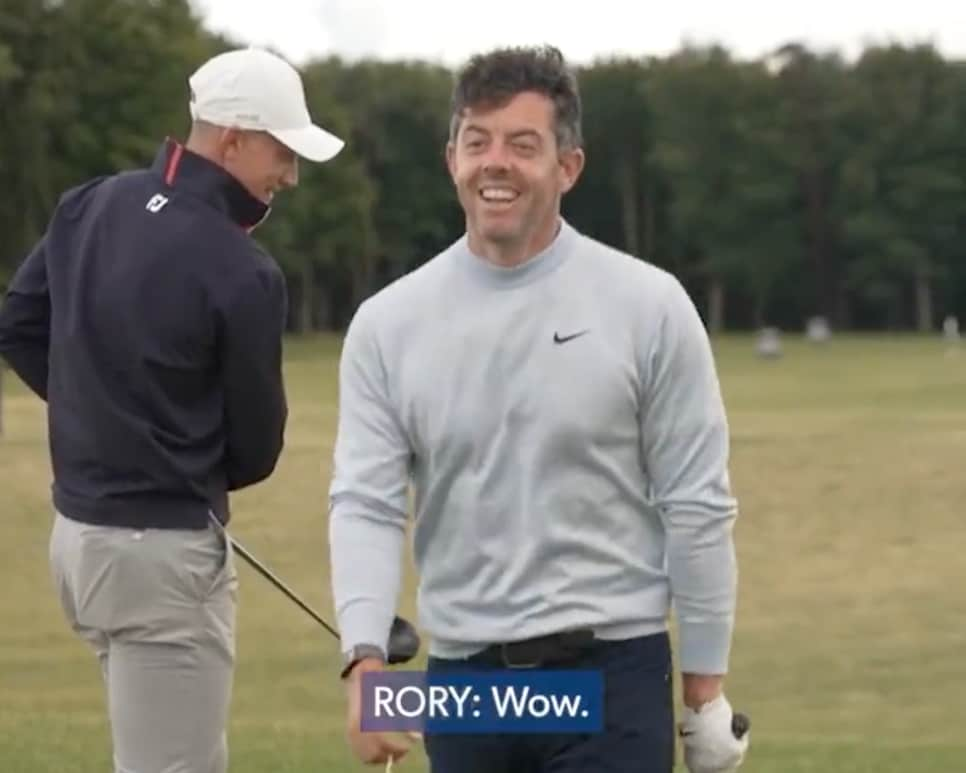 You've got to hand it to Rory McIlroy, because he's always up for a challenge. Even if there's not much in it for him.
In 2015, McIlroy lost an arm wrestling contest to a junior golfer (to be fair, he was a big junior golfer). And on Wednesday, he took the bait from a college golfer on a long drive competition, and, well, you can guess where this is going.
The four-time major champ was wrapping up final preparations for this week's Genesis Scottish Open when he was approached on the range at The Renaissance Club by Ruben Lindsay. The rising redshirt-sophomore at the University of Houston is a Scottish native and had played in the day's pro-am. He also happens to possess jaw-dropping swing speed. Even when that jaw belongs to Rory McIlroy.
Check it out as Lindsay goes first and bombs one 374 yards with an absurd 195 mile-per-hour ball speed. McIlroy is in awe before putting up a pretty darn good effort of his own:
We're not sure if McIlroy actually said "Wow," or something a little more NSFW, but you get the point. He was impressed. And unfortunately for him, 352 yards and 188 mph couldn't get it done. Not even close. Crazy.
Anyway, here's Lindsay describing how this thrilling moment/triumph all went down. Turns out, this confident young man has been wanting a piece of Rory in the long drive for a while and he won a nice little side bet with a friend.
To be clear, Lindsay isn't even in the field at the Scottish Open. Otherwise, he'd be drawing some McIlroy-sized crowds on Thursday. Again, good on Rory for being a good sport. And at least he didn't put any money on this impromptu range competition. That would have been an all-time hustle.