Rory
Rory on LIV Golf-PGA Tour battle: "This 'us versus them' thing has gotten way out of control"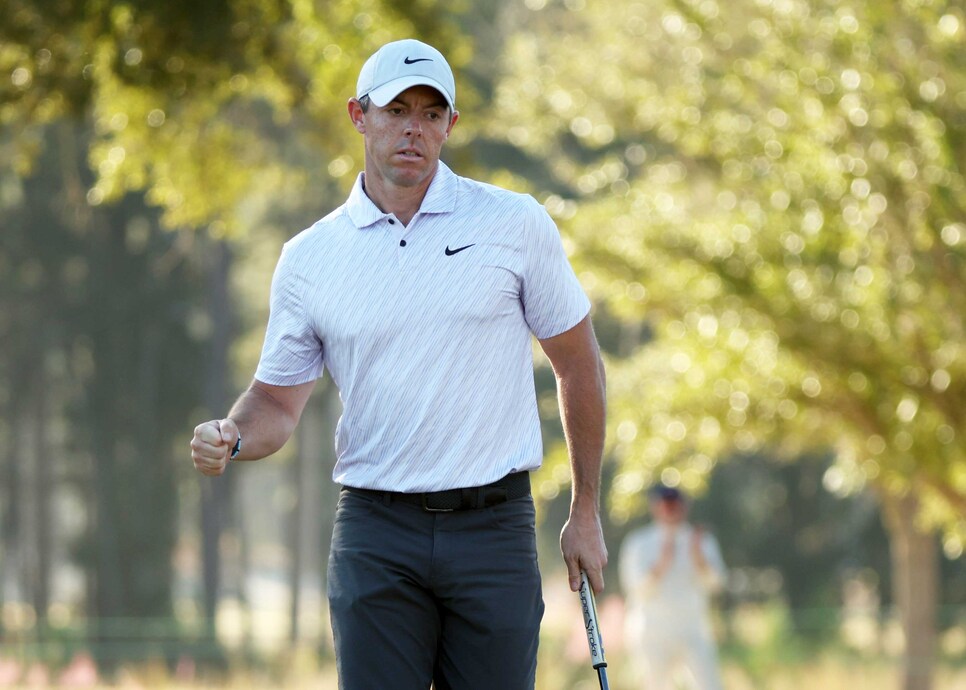 Rory McIlroy has been a tour-de-force inside the ropes and out in 2022. The Ulsterman won the FedEx Cup and returned to No. 1 in the World Ranking over the weekend after defending his title at the CJ Cup. This just months after his leadership through the tour's battle with LIV Golf helped bring sweeping, systematic change to the tour's structure for 2023 and beyond.
Yet, despite acting as the de facto face of golf against the threat the Saudi-backed circuit presents, McIlroy asserts that the sport's civil war needs to stop.
"This 'us versus them' thing has gotten way out of control already," McIlroy said in an interview with the Guardian. "If the two entities keep doubling down in both directions, it is only going to become irreparable. We are going to have a fractured sport for a long time. That is no good for anyone."
McIlroy acknowledged how the schism has affected him personally, specifically with relationships he had built with former European Ryder Cup teammates. The four-time major winner discussed the hurt and confusion he's felt towards some of their decisions pertaining to LIV.
"It's a weird thing," McIlroy says. "I think it is the first time in my life that I have felt betrayal, in a way. It's an unfamiliar feeling to me. You build bonds with these people through Ryder Cups and other things. Them knowing that what they are about to do is going to jeopardize them from being a part of that ever again? There was a great opportunity for GMac [Graeme McDowell] to maybe be the captain at Adare in 2027. Most of Sergio [Garcia]'s legacy is Ryder Cup-based, same with [Ian] Poulter, [Lee] Westwood.
"I would like to think the Ryder Cup means as much to them as it does to me. Maybe it does. But knowing what the consequences could be, I just could never make that decision. OK, it might not be 100 percent certain, but that it could be the outcome? It just isn't a move I would be willing to make. I thought they felt the same way. I feel like the place where they have been able to build their legacy and build their brand, they have just left behind. You could make the same argument about me, I started in Europe and went to America but I have always been supportive of the traditional system. If people felt so aggrieved about some things, I'd rather be trying to make those changes from inside the walls than trying to go outside and be disruptive."
The one issue where McIlroy has total clarity, however, is in his opinion of LIV Golf CEO Greg Norman. McIlroy has not been afraid to share his feelings on what Norman has done to the game, and reiterated his stance to the Guardian.
"He has basically found people to fund his vendetta against the PGA Tour. I think he hides behind 'force for good' and all that stuff. … This has been his dream for 30 years and he has finally found people who can fund that dream."
As strong of a season as McIlroy has enjoyed, his critics will likely point that it was another year without a major championship. McIlroy has reached the status where some will judge him by what he does those four weeks and those four weeks alone. He, however, has come to peace that the majors are not the only barometer of success.
"What I am proud of is the body of work I put together this year," McIlroy said. "It didn't culminate in picking up one of those trophies but if I can put that together again next year or the year after, that will result in a [major] trophy at some point. I can't force the issue. That's when you make mistakes."