Winner's Bag
The clubs Rory McIlroy used to win the 2022 RBC Canadian Open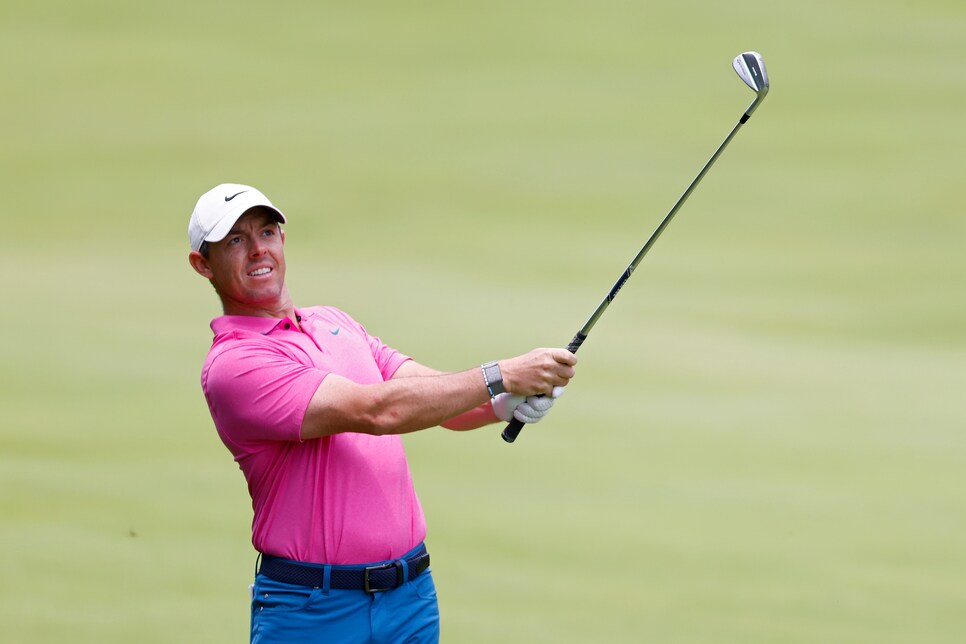 It took a few years—and some unsettling moments over the final few holes—but Rory McIlroy successfully defended his title at the RBC Canadian Open, staving off Justin Thomas and Tony Finau, with the trio playing in the final threesome at St. George's Golf & Country Club outside Toronto.
The golf displayed by the trio—along with others such as Justin Rose, who shot a Sunday 60 despite three bogeys, including one at the final hole—made McIlroy look prescient. A day earlier the four-time major champion, responding to a question, said, "I'm pretty sure what's going to happen over the final 18 holes here is going to be more entertaining than what other golf was played this week anywhere else," a not-so-subtle jab at the lackluster leaderboard at the inaugural LIV Golf series event.
Indeed, Finau shot a 64 for solo second, and Thomas followed up his third-round 63 with a 64 that included six consecutive birdies on Nos. 6 through 11. Thomas' relentless pursuit meant McIlroy needed something special, and he had plenty of that going for him Sunday, shooting a closing 62.
McIlroy got off to a hot start, posting a 29 on his front nine. Included in that run was a wide array of stellar shots. A 27-footer for birdie at the first, an iron from 196 yards to four feet at the fourth. A pitch-in for birdie from the rough at the sixth and a gap wedge on the seventh to three feet.
The back nine started much as the first with a pitch shot on 10 stopping two inches away for another birdie. After laying up on the par-5 11th, another gap wedge from 111 yards stopped 19 inches from the cup. That was followed by a 40-foot bomb at the 12th. After missing a pair of short putts that allowed Thomas to catch him on No. 16, McIlroy hit one more gap wedge from 125 yards to two feet and the go-ahead, and ultimately, winning, birdie. One more staked 8-iron to four feet at the 18th hole led to one more final birdie and a final-round 62. Entertaining, to be sure.
McIlroy's wedges are TaylorMade's Milled Grind 3 model, where the upper part of the clubhead gets thicker as lofts increase to help produce a flatter trajectory with more spin. Interestingly, McIlroy carries just two wedges aside from his pitching wedge, a 54- and 60-degree, but he used them well enough to rank second for the week in scrambling.
As usual, McIlroy's game off the tee was strong as well as he averaged 316.9 yards off the tee (ranked second) with his 9-degree TaylorMade Stealth Plus driver. He also picked up nearly four shots on the field off the tee, ranked 12th. He also used two 3-woods during the event, a TaylorMade SIM for the first two rounds and the company's Stealth model over the weekend as McIlroy felt the Stealth was better suited for the conditions.
What Rory McIlroy had in the bag at the RBC Canadian Open