The Grind
Rory McIlroy's scary realization, a high schooler's historic round and a 99-year-old's legendary (accidental) ace
Welcome to another edition of The Grind, where we believe in the golf gods more than ever after what happened to a coworker in Las Vegas last week. I was happy for Chris Powers getting a chance to play in the CJ Cup pro-am. I truly was. But then he had to make a crack about how his score didn't matter because he was "getting in 15 more holes than Myers did," a reference to my one opportunity to play a pro-am that was cut way, way short by lightning. Well, not so fast, Chris! Lightning didn't hit the desert, but a gas leak did, which cut the rounds of those teeing off in the afternoon to only nine holes. Seriously, what are the odds?! Anyway, CP did a nice job summarizing the experience, but he also cemented his status as the biggest mush on the planet. OK, OK, enough about us. Here's what else has us talking.
Rory McIlroy: More like Rory BACKilroy, am I right? OK, hands up if you mocked anyone betting on Rory at the beginning of the week at 16-to-1 odds. (Raises hand.) But in my defense, McIlroy had played some pretty substandard golf since winning at Quail Hollow in May, and had played even more substandard golf in the year prior. Oh, and who could ever predict him leading a PGA Tour event in strokes gained/putting considering he'd only done it one other time in his career?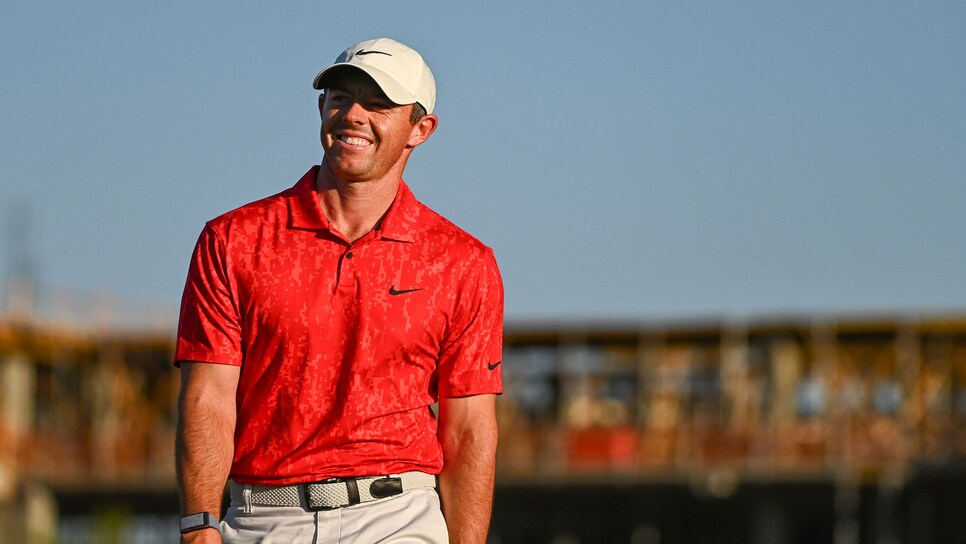 But the Make McIlroy Great Again campaign got a great boost with some Sunday red in the wardrobe—at least, while you know who is out. And after finishing 25 under and claiming the CJ Cup (which hands out a trophy that's not a cup), Rory came to a realization that should send shivers down his opponents' spines: "I need to just be me. I think for the last few months I was maybe trying to be someone else to try to get better. I sort of realized that being me is enough, and being me, I can do things like this." Or as his former caddie J.P. Fitzgerald once told him during the 2017 Open, "You're Rory McIlroy! What the f--- are you doing?!" Not sure if Rory is referencing chasing Bryson DeChambeau's distance or if he's been following me on Instagram to copy my parenting style. Regardless, McIlroy now has 20 career PGA Tour titles, and he's gotten to that number pretty darn fast:
Yeah, Rory being Rory is definitely enough.
Rickie Fowler: It wasn't the finish he wanted, but what a fantastic week for Fowler, who was playing on a sponsor's exemption. The five-time PGA Tour winner had become a bit of a punchline on Golf Twitter after falling to No. 128 in the World Ranking, but he held a three-shot lead at one point on Sunday and finished T-3 to vault back to No. 82 and cross the $40 million mark in career earnings. Oh, and if you heard some loud shouting over the weekend, it was probably from one of his 87 sponsors.
Zoom in on that scorecard and you'll see she did it without the help of anything fluky, either. No albatrosses, not even an eagle. Just 14 birdies to reach the ridiculous number. Something tells us this won't be the last we hear from her.
Rachel Rohanna: From a teenage girl to a mom making history. Rohanna is believed to be the only mom to earn her LPGA Tour card through the Symetra Tour. It's the second time she's reached the big stage, but the first time since having 3-year-old Gemelia.
And as Golfweek's Beth Ann Nichols reported, she also earned just enough money to earn the 10th and final spot despite incurring a four-stroke penalty earlier this season for having one of Gemelia's kids clubs in her bag. Again, the golf gods were really on their games this week.
Sunday's TV coverage: A Rory-Rickie final pairing and … it didn't come on TV in its entirety until after they had begun their back nine? Is this 2021 or 1971? Seriously, how in the world is this possible?! And yes, I realize I'm old for watching golf on TV, but I even checked if it was streaming and it wasn't! Again, how in the world is this possible?! I've complained about there being too many tournaments in the past, but if you're going to hold these tournaments and one of them happens to get really good, I still expect to be able to, you know, WATCH the tournament.
Team Europe's timing: It wasn't just Rory McIlroy re-finding his groove last week, but also Matt Fitzpatrick, who won the European Tour's Andalucia Masters. No one seems to enjoy playing in difficult scoring conditions more than Fitz, whose final-round 69 at Valderrama began with 15 consecutive pars. The 27-year-old now has seven career Euro Tour wins—and somewhere Padraig Harrington is sighing that he didn't get these kinds of efforts from his guys a few weeks ago. He must be fully expecting a Bernd Wiesberger win this week.
This pin position: How about these tweets documenting the first round of the Ohio state high school Division II tournament?
Yikes. Junior Conner Ritter wound up winning the tournament. But some day, he's going to tell his grandkids that he made par on that hole.
The PGA Tour is leaving Las Vegas for the Zozo Championship, AKA that tournament that's in Japan. Well, except for the second edition last year when it was held in California instead due to COVID. But this year it's back to being the only tour stop in the land of the rising sun. Phil Mickelson also will be playing this week, just in the Dominion Energy Charity Classic on the PGA Tour Champions instead. Must be nice to be older than 50 and have the option to take a (much) shorter trip to Virginia instead.
Random tournament fact: Tiger Woods won the inaugural Zozo event in 2019 to tie Sam Snead's PGA Tour record with his 82nd career victory. Considering everything that's happened both to Tiger and in the world since, that sure seems like a lot more than two years ago.
RANDOM PROP BETS OF THE WEEK
—The Zozo will be delayed by a gas leak: 1 MILLION-to-1 odds
—Phil Mickelson will win this week: 2-to-1 odds (actual odds)
—We'll see more than the back nine if Tiger is in contention again: LOCK
We could have also gone with "This week's sign of the apocalypse":
Robert Rock not showing off that glorious head of hair? What is going on?!
VIRAL VIDEO OF THE WEEK (TOUR PRO DIVISION)
A foursome of European Tour players (Min Woo Lee, Sean Crocker, Wilco Nienaber and Nicolai Hojgaard) broke the Guinness world record for the fastest hole ever played by birdieing the par-4 fourth hole at Valderrama in 24.75 seconds:
Why did they do this? That's a good question. But it still made for an entertaining video. That being said, we'd love to see someone make a similar video using these sweet Lamborghini golf carts. Those things look like they can really fly.
VIRAL VIDEO OF THE WEEK (LEGENDS DIVISION)
Introducing Hugh Brown, a 99-year-old Aussie who made a hole-in-one after (accidentally) hitting driver into the group in front of him at his home club:
I'm not sure what's better, the fact he made a hole-in-one or the expletives Brown and his friends, members of the "Old and Bold" club, drop in that news report. In any event, how awesome is this sport when in the same week you can have a 99-year-old and a 15-year-old each pull off such incredible feats? Golf! What a great freaking game.
THIS WEEK IN PUBLIC DISPLAYS OF "AFFECTION"
Former Tennessee Volunteers football coach Lane Kiffin had a lot of things thrown in his direction after leading Ole Miss to a win at Tennessee's Neyland Stadium, but a yellow golf ball stood out for obvious reasons. Fortunately, he wasn't injured and had this to say after:
He also referenced a classic "Seinfeld" scene later:
Well played, Lane. Well played.
"I did go in Sunday night and stayed Sunday and Monday, you know, just make the donation to the Aria and thanks for having me. We had a fun dinner at the Bellagio, which was awesome, with some friends and certainly kicked back a few too many cocktails. I don't think I got out of bed until like 2 on Monday, but I guess that was great prep."—Harry Higgs, who survived two weeks in Vegas and even managed a T-9 after going on a bit of a bender. The legend grows.
College freshman sensation Rose Zhang won for the third time in three starts at Stanford. Should we be looking to women's golf to find the next Tiger? … Congrats to "Tin Cup" actor Lee Janzen for winning on the PGA Tour Champions for the first time in six years. Yep, we're taking credit for a podcast bump here. … The Hero World Challenge field is stacked once again with 15 of the top 20 golfers in the world. Of course, we'd trade watching all those guys to see the tournament's host tee it up. … And finally, we're going on our first family trip to (gulp) Disney World this week so please send those Ts & Ps. In the meantime, I prepped my daughter with a much, much (much) cheaper trip to Home Depot:
RANDOM QUESTIONS TO PONDER
Will Rose Zhang win every college tournament this season?
Will I ever get to play in a full PGA Tour pro-am?
Will I be broke by the time we get back from Disney?