PGA Tour Champions
Lee Janzen ends six-plus-year victory drought with playoff win at the SAS Championship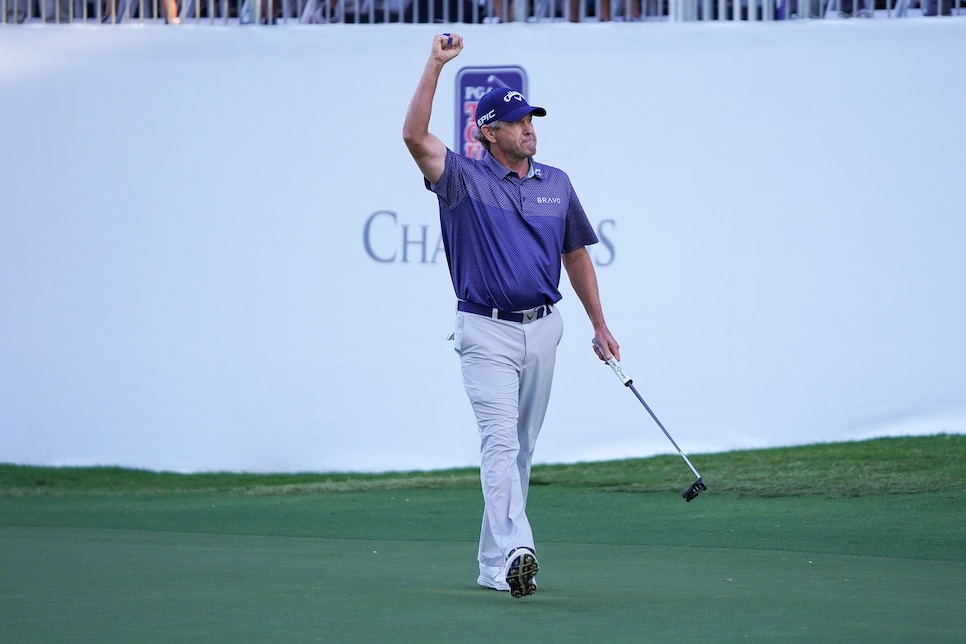 Lee Janzen celebrates winning a one-hole playoff over Miguel Angel Jimenez at the SAS Championship, his first win since February 2015.
Tracy Wilcox
The year of the comeback in golf continues. The latest beneficiary, Lee Janzen.
At 57, the two-time U.S. Open champion had won just once on the PGA Tour Champions, a playoff victory at the 2015 ACE Group Classic. Six years, eight months and two days later at the 2021 SAS Championship—a gap in which he'd played in 156 senior tournaments—Janzen claimed a second title.
A birdie on the 18th hole at Prestonwood Country Club in Cary, N.C., pushed him into a playoff with Miguel Angel Jimenez. Then a return to the 18th hole, and another holed birdie putt from a similar line and distance on the first playoff, earned him the victory.
"I'm trying to keep it together," Janzen said after closing with five-under 67 for a 12-under 204 total.
Few would have predicted Janzen to come out on top at the start of the week, including Janzen. During the 2020-21 PGA Tour Champions season, he had just one top-10 finish in 30 starts and none in the last 28, putting him 59th in the Charles Schwab Cup points list. "You look at my performance and you say, 'I'm not going to take him this week,'" Janzen joked.
Janzen acknowledged that his game wasn't completely buttoned up this week. He started the final round two shots back of Jimenez and bogeyed the first hole Sunday. He also struggled on the greens as the pressure started ratcheting up.
"If I compare this to all the other times I've won, this is the most sporadic," Janzen said. "I survived some bad shots."
Still, he played the final nine holes bogey-free, posting a four-under 33.
With the win, Janzen jumped to 37th in the Schwab Cup standings, with the playoffs beginning next week at the TimberTech Championship. Janzen's finish all but ensured he'll reach the second event of the playoffs.
Entering the playoffs in the No. 1 spot on the points list: 64-year-old Bernhard Langer.