hush hush
British Open 2023: Rory McIlroy is done talking. You can't blame him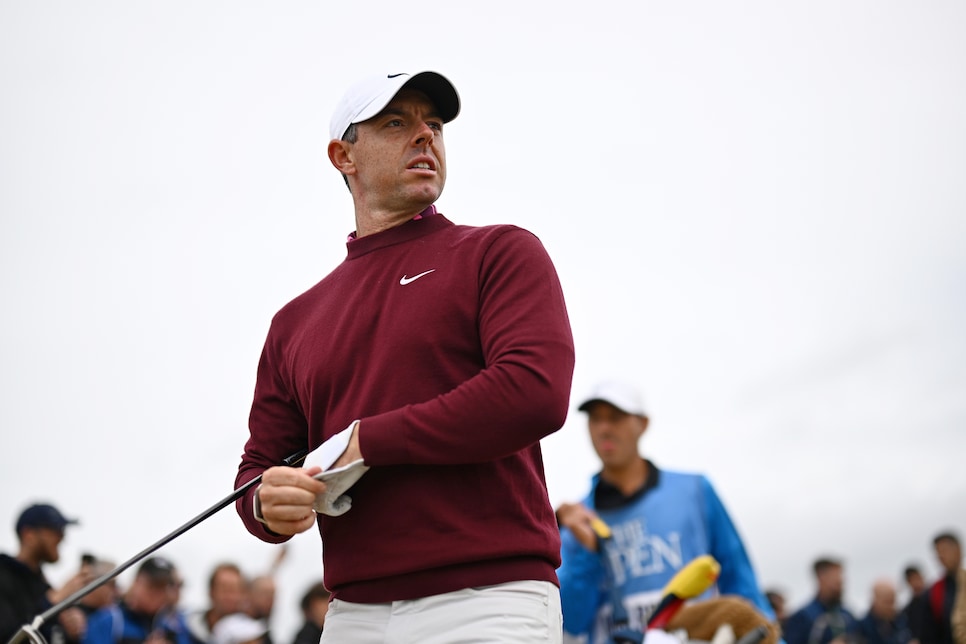 HOYLAKE, England — It was a surprise to those who haven't been paying attention, which apparently is a lot of people. Then again, Rory McIlroy is not a storyline heading into this year's Open Championship but the storyline, an amalgamation of his recent form and local ties and his existence as the sport's emotional fulcrum. So to see the Monday alert that McIlroy had canceled his Tuesday pre-tournament press conference—something he's beginning to make a habit of—caused a bit of consternation to the cognoscenti assembled at Royal Liverpool. After all, there is an economy built on media obligations, providing fodder for news to columns to features to click-bait. Without McIlroy participating in the back-and-forth, those items are a bit like a Christmas tree without electricity, able to exist but nowhere near as colorful.
But that power won't be turned on anytime soon. Rory McIlroy is done talking. And you can't blame him.
For the better part of two years, in the void of true, public-facing leadership in the PGA Tour's battle against an existential threat, McIlroy stepped into the role and took a stand for what he believed was right. "Every chance I get, I'm trying to defend what I feel is the best place to play elite professional golf in the world," McIlroy said last fall on why he was so vocal against the schism caused by LIV Golf. "If you believe in something, you have to speak up, and I believe very strongly about this. I really do. I hate what it's doing to the game of golf." By putting himself on the line, he put his performances on the line, and there's no questioning the gumption it takes to have conviction in both while displaying constant grace through the struggle.
There's an invisible weight that comes with great responsibility, however, a cost McIlroy did not fully realize until this spring. The sport and its civil war and their demands consumed him. McIlroy needed a "reset" after a missed cut at the Masters, realizing he was holding on too tight. "I've always thought I've had a good handle on the perspective on things and sort of where golf fits within my life, and trying to find purpose outside of golf in some way," McIlroy said in May. "But I think over the last 12 months, I sort of lost sight of that. I'd lost sight of the fact that there's more to life than the golf world and this little silly squabble that's going on between tours, and all sorts of stuff."
When he returned, the sport discovered McIlroy's grace is not infinite. McIlroy does not live his life in a bubble; he is very aware of what is said and written about him. That includes the online vitriol from LIV backers, and some LIV players, that amplified after every near-miss or stumble. McIlroy also saw the response from fans and media at his decision to withdraw from the RBC Heritage, both parties failing to realize McIlroy was willing to surrender $3 million in bonus money in order to attend to personal matters. Perhaps it is no surprise that McIlroy was somewhat cold at the PGA Championship; when poking around McIlroy's camp for an answer to his demeanor, the response was, Why should he show respect to those who don't afford him the same?
Elegance aside, it's easy to understand why McIlroy was pulling away. His position on LIV was well documented and it appeared the civil war was entering a lull of sorts. It's also been nearly a decade since his last major win, and the narrative for a majority of that stretch—the forever clash between the pressures of who he once was against the hopes of what he could be again—will only continue until victory is achieved. The questions get redundant, and there's only so many philosophical and cerebral concessions Rory can make before he's a prisoner of his own "Groundhog Day."
And then McIlroy realized he wasn't a prisoner, but a pawn, sold out by the very thing he was trying to defend.
"It's hard for me to not sit up here and feel somewhat like a sacrificial lamb and feeling like I've put myself out there and this is what happens." McIlroy said at the RBC Canadian Open, the day after the tour's surprise agreement with Saudi Arabia's Public Investment Fund. Despite working with Tiger Woods to keep the tour together, tour leadership had failed to keep McIlroy in the loop.
McIlroy did answer questions that day about the proposed deal, but pulled himself out of the following week's U.S. Open press conference, unwilling to entertain questions about a partnership he knew nothing about. When he did finally meet with the media at Los Angeles Country Club, USGA liaisons informed the press that McIlroy would walk away if one LIV/PIF question was asked. The press obliged, McIlroy contended on the weekend only to fall a stroke short of Wyndham Clark, the narrative would move to Hoylake.
Ah yes, Hoylake. Site of his 2014 Open triumph. Certainly this would be the place to break his major drought. He then won last week's Scottish Open, heightening those expectations. There was also last year's heartbreak at St. Andrews, and though the golf gods do not repay their debts McIlroy was long overdue for karmic retribution. McIlroy enters this week almost bigger than the tournament itself.
In that vein, it's not the best look for McIlroy to go silent once more, deciding to take just three softball questions away from the media center rather than sit on the interview dais. Let it be known that Woods understood he was the center of the golf universe and believed it was his duty to give time to those that gravitated toward him. Before the tournament, during the tournament, after good rounds and bad. If there's one criticism of McIlroy, he's been known to skip media requests if the day didn't go his way.
Which is a shame, because one of the reasons why McIlroy is so beloved is for what he says and does behind the mic. He's honest and candid, thoughtful and introspective. Sometimes that is to his detriment, but he is consistent and unwavering to his truth. And in a society dominated by cultivated branding, McIlroy is the rare soul willing to let us in, and what we see is not some cocky, brash athlete but a person painfully aware that what he does matters far outside himself.
So if McIlroy needs some time to himself, he has more than earned that right. It appears he rather his game do the talking this week. And if it doesn't, so what? McIlroy has already said enough.
​​Is it the British Open or the Open Championship? The name of the final men's major of the golf season is a subject of continued discussion. The event's official name, as explained in this op-ed by former R&A chairman Ian Pattinson, is the Open Championship. But since many United States golf fans continue to refer to it as the British Open, and search news around the event accordingly, Golf Digest continues to utilize both names in its coverage.