Amateurs
Roberto Nieves holds 54-hole lead at Latin America Amateur, big names loom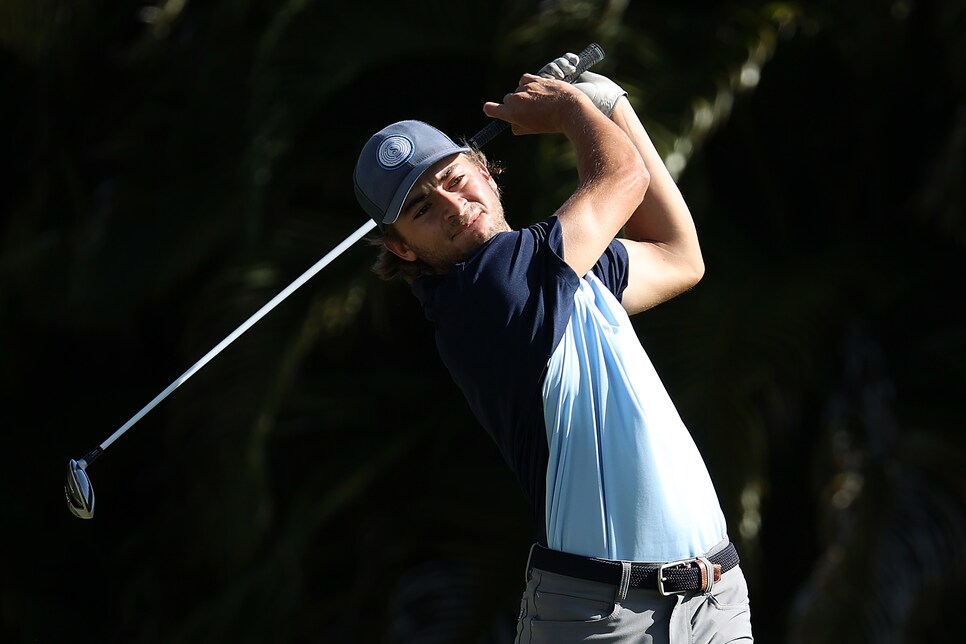 Very few people in the world of amateur golf have been hotter since the summer than Roberto Nieves, whose scoring average thus far in his senior season at Delaware is 68.80 thanks in part to a pair of wins. The key word for Nieves since coming to the U.S. from Puerto Rico has been "focus," and as covered after his opening-round 66, that determination—and transforming a hook-prone draw into a consistent fade—has seen him steadily improve over the years.
On Saturday, a two-under 70 kept him one shot clear of the rest of the field at the Latin America Amateur Championship in the Dominican Republic, and now he's just a day away from capturing the most important title of his life and securing a berth in the Masters and Open Championship.
Nieves played well on the front, shooting 33 with four birdies, and rescued a rocky back nine with a final birdie on the par-5 18th to finish his third round at seven under for the tournament.
"I think I did a really good job of staying present and thinking about the shot in front of me rather than the outcome of the round or the tournament or anything," Nieves said. "If I can do that again, I can put together a good one tomorrow."
Nieves is a psychology major at Delaware, and he credited that major with helping him on Saturday, where he employed breathing techniques to keep his mind "quiet" as the pressure built.
That serenity was necessary on a difficult day at Casa de Campo, where many of the leaders succumbed to difficult conditions and fell down the leader board. The most notable example was Peru's Julian Perico, the second-round leader, who posted an 80 to all but fall away from contention. He's now six shots behind Nieves, with a packed leader board between them.
On the opposite side of that spectrum was Brazil's Fred Biondi, who was spectacular in shooting a field-best 65 on Saturday to improve to six under for the tournament and stand alone in second place heading into Sunday. After a bogey on the third hole, Biondi got rolling, making birdie on seven of his final 15 holes. That tied the LAAC course record at Casa de Campo, and was one better than Biondi's third-round 66 at this course in 2019.
"I kind of got a little small thing figured out early in the round and I got a bunch of putts to go in and just kept the momentum going," Biondi said. "It might sound a little stupid but … I tend to get kind of quick on my through stroke, and I felt like I was kind of following the line, matching the chalk on the ground."
Biondi moved to the U.S. by himself at age 15 due to a scarcity of golf resources in Brazil, and after that bold decision, he's found loads of amateur success, particularly in Florida. Now 21 and a redshirt junior at the University of Florida, he doesn't regret the decision.
"I mean, sometimes looking back, I thought I was a little bit crazy," he said on Saturday. "But yeah, I mean, that was kind of my dream since I was little."
Biondi finished sixth at Casa de Campo in the 2019 LAAC, and Sunday, just a shot off the lead, he'll have a chance to catch Nieves and potentially redefine his career.
With that slim one-shot lead, Nieves will have to fend off more golfers than just Biondi. A crowd of four sits at five under, including a member of the impressive University of Arkansas contingent, Segundo Olivo Pinto. Pinto became renowned in the amateur world when he lost a round of 16 match at the 2020 U.S. Amateur to Tyler Strafaci because his caddie brushed the sand in a bunker on the 18th hole with his hands, incurring a match-ending penalty.
"I told him that if I can forgive him, everyone can forgive him," Pinto said later. "My thought was, 'I want to leave this place like a man,' and I think I did."
Now, after a third-round 73, he has a chance to fill the Razorback void left by his teammate Perico. After an up-and-down day that included an eagle and two birdies but also five bogeys, he felt he did his job by staying close to the leaders.
"Again, today was good," he said. "I'm happy about being in this tournament and being in contention and having a chance tomorrow. That's what today was about, keeping myself in contention and I think I did a good job of that."
As for his post-round plans, the 2021 first-team all-SEC golfer struck a relaxed tone befitting his casual aura.
"Just going to go to the beach and chill a little bit, drink some pina coladas, something like that," he said. "Nothing very serious."
But though Nieves, Biondi, and Pinto will all be searching for that same relaxation, the truth is that something very serious and transformational is at stake in the Dominican Republic. It's shaping up to be a dramatic Sunday at Casa de Campo, where a win is the gift that keeps on giving.