Amateurs
Puerto Rico's Roberto Nieves rides years of intense focus to success at LAAC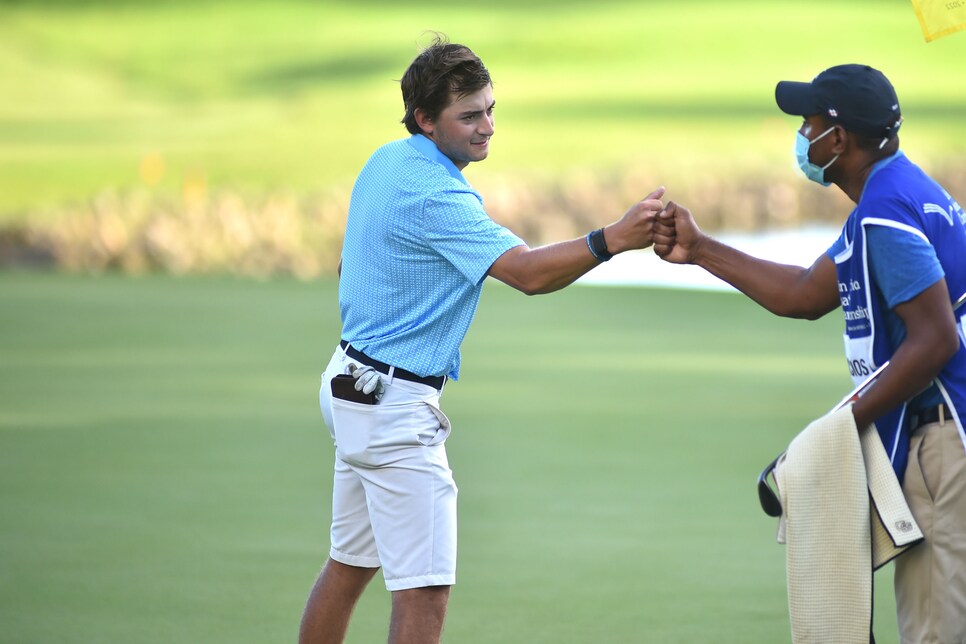 Roberto Nieves of Puerto Rico gives his caddie a fist bump after closing out an opening 66 at the Latin America Amateur.
Enrique Berardi/LAAC
Brendan Post, the associate head coach at the University of Delaware, can still remember when Roberto Nieves first came to school from his home in Puerto Rico. It wasn't always a pretty sight.
"His golf game was really just starting to develop," Post said recently. "He played a draw, which at times turned into a big hook or a big block at times. He was a little wild at times off the tee and going into the green his first semester. I also think that he wasn't as focused at practice his first semester. Since then, he has become very focused."
That word, "focus," will pop up time and again in the story of Nieves. Now a senior at Delaware, the 21-year-old has had top-seven finishes in his last nine collegiate starts, and top-five finishes in every fall event. During that stretch, 11 of his 15 rounds were in the 60s, and he secured his second college win at the Wildcat Invitational.
And on Thursday, in his first Latin America Amateur Championship at Casa de Campo in the Dominican Republic, Nieves shot a six-under 66 to share the first-round lead with Brazil's Andrey Borges. It was an interesting time for such a performance, because it came on the same day as an announcement that the 2023 LAAC will be played in Nieves' home country, Puerto Rico, at the Grand Reserve Golf Club.
"I'm super excited and it's so awesome," Nieves said after his round. "I heard before the round. It wasn't officially announced, but I heard a little bit of talk about it before. I love that course. I played there a bunch, and I played great there. I'm really excited."
At the moment, though, Nieves has a more important task in front of him. His 66 puts him in prime position to compete for what would be the most important title of his life—along with the honor of winning the LAAC, victory comes with a berth in the Masters and Open Championship. The fact that he's even close has everything to do with focus.
After that rocky first semester at Delaware, Nieve improved his scoring average each year, from 73.93 as a freshman all the way to 68.80 so far as a senior.
"I just worked really hard this entire year on my swing and short game," he said. "My ball-striking has gotten really good, and I also think my mental game has really been a big factor in why I have been playing so well recently."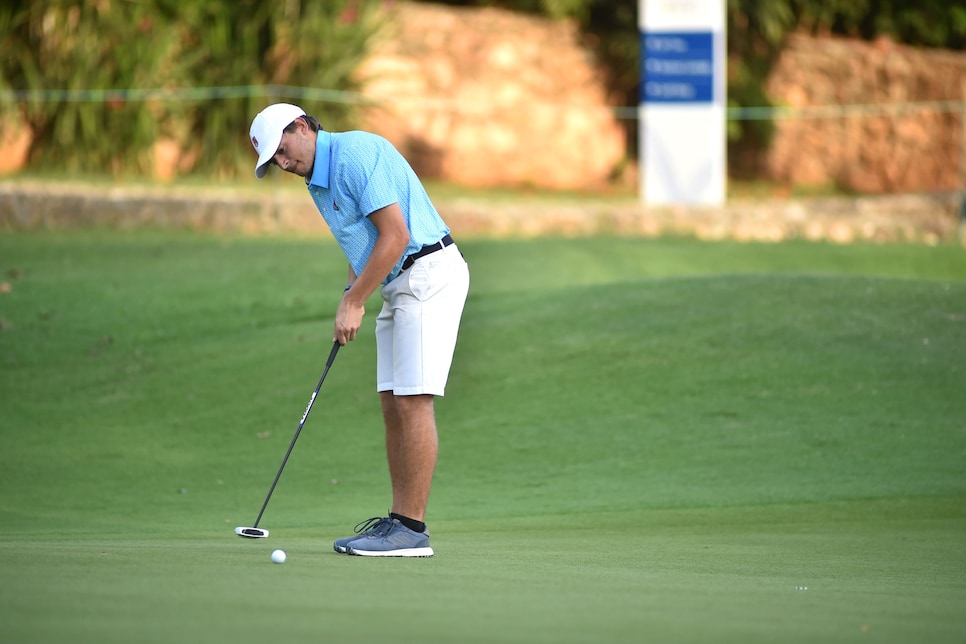 Coming into his first start at the LAAC, Nieves posted a win and four more top-five finishes in five starts this fall as a senior at Delaware.
Enrique Berardi/LAAC
It started with turning his draw into a fade, a project undertaken with his coach, Post, and his own swing coach. His work ethic in practice improved, but he also devoted time to his workouts: yoga, nutrition and even sessions with a sports psychology. (It's no coincidence, in fact, that Nieves, with his focus on his mental game, is a psychology major.)
All of it, too, has made him a better teammate.
"Roberto has become a great leader," Post said. "He is kind of a silent leader. He leads by example and when he talks, everyone listens. His teammates hold him in very high regard."
After the draw became a fade, Nieves turned his attention to his wedges and finally his putting. The entire project bore fruit quickly—he made first-team All-Colonial Athletic Association in 2021—but it has really come together of late with his stellar fall season. He even won a qualifier to earn a place in the PGA Tour's Puerto Rico Open after playing and missing the cut in the event in 2021.
"Three years ago, if you told me I would be playing in a PGA Tour event, I wouldn't believe you," he said.
And now, at Casa de Campo, he's taken the first step in what could be the next part of his impressive rise. There are three rounds to play, but whether he succeeds or fails, you can bet that his focus won't let him down.