Takeaways
Rickie Fowler's playoff rally (likely) comes up short, Tom Kim chugs toward history, and a blast from a past champ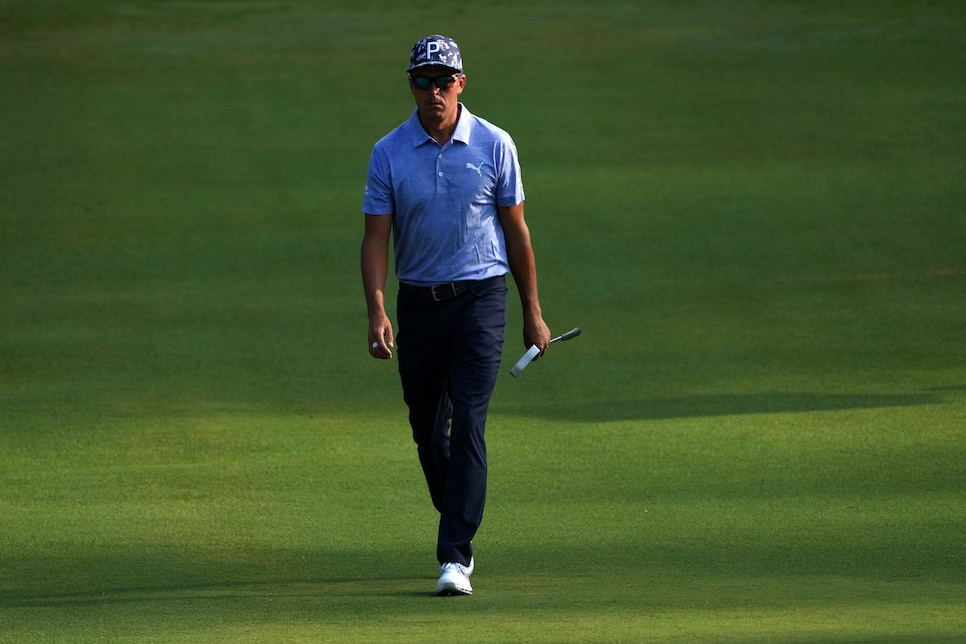 Rickie Fowler's week came to an end on Friday, and with it, most likely, the same for another disappointing season.
It appears for a second consecutive year, Fowler will not qualify for the FedEx Cup Playoffs. This, after easily making it into the PGA Tour's postseason the first 11 seasons of his career.
Fowler entered the tour's regular-season finale, the Wyndham Championship, at No. 123 in the FedEx Cup standings, just inside the top-125 threshold on the eligibility list. But a second-round 69 that included a late rally wasn't enough to make the cut in Greensboro, and he's now projected to finish No. 127. That means he'll need a lot of help over the weekend. A lot.
Playing the back nine of Sedgefield Country Club first on Friday, Fowler put himself in a tough spot with three consecutive bogeys on holes 11 through 13. But he bounced back with four birdies and no more blemishes the rest of the way.
Two of those birdies, though, came after missing eagle looks of inside 15 feet. Needing a birdie on his final hole to have any chance of playing the weekend, Fowler missed from 23 feet.
But it's not all bad news for the 33-year-old.
Even if Fowler doesn't finish in the top 125, he's still fully exempt next season from his fifth and most recent PGA Tour title at the 2019 Waste Management Phoenix Open (COVID added an extra year to his two-year exemption). And then there's still the $40 million in career on-course earnings. And even more millions in off-course earnings. Oh, and also the fact he has (PERSPECTIVE ALERT!) a beautiful family now:
Yeah, he'll be OK. Anyway, here are the rest of our takeaways from Friday's second round at the Wyndham Championship.
Thomas the Tank Engine chugs toward potential history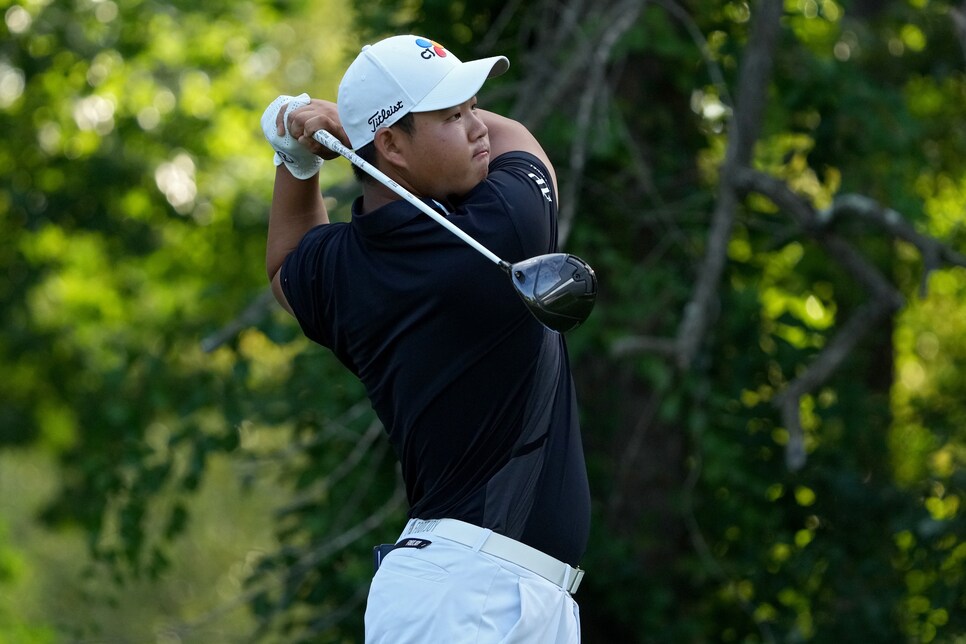 Joohyung Kim, AKA Tom due to his love of the children's show growing up, is showing the kind of stick-to-itiveness that would make that fictional title character proud. On Thursday, Kim overcame an opening quadruple bogey (yes, that's a quadruple bogey) to shoot a three-under-par 67—becoming the third player on record to shoot under par after such a poor start. And now he has a chance to make more history.
Kim started with a par on Friday and went on to match the low round of the day at Sedgefield Country Club with a 64 to grab a share of the 36-hole lead. As you can imagine, a player going onto win a PGA Tour event after opening with a quad is even rarer:
"If you would have told me after the first hole yesterday where I'd be after two days, I definitely would have taken it, so pretty happy," Kim said.
Of course, Kim cares more about simply winning his first PGA Tour title. The talented 20-year-old South Korean is already a two-time winner on the Asian Tour. And he's already won fans over this week with his positive attitude.
"I mean, all I did was laugh, I didn't really take it—it's just one bad hole," Kim said. "Told myself, you know what, I've got plenty of holes to bring it back if I just play well on my next 35 holes, and that's exactly what I did. I played better than I thought I was going to, so it's a bonus."
Take notes, kids. Watching this guy is a better learning experience than watching the other Thomas the Tank Engine.
A blast from
the

a past (champ)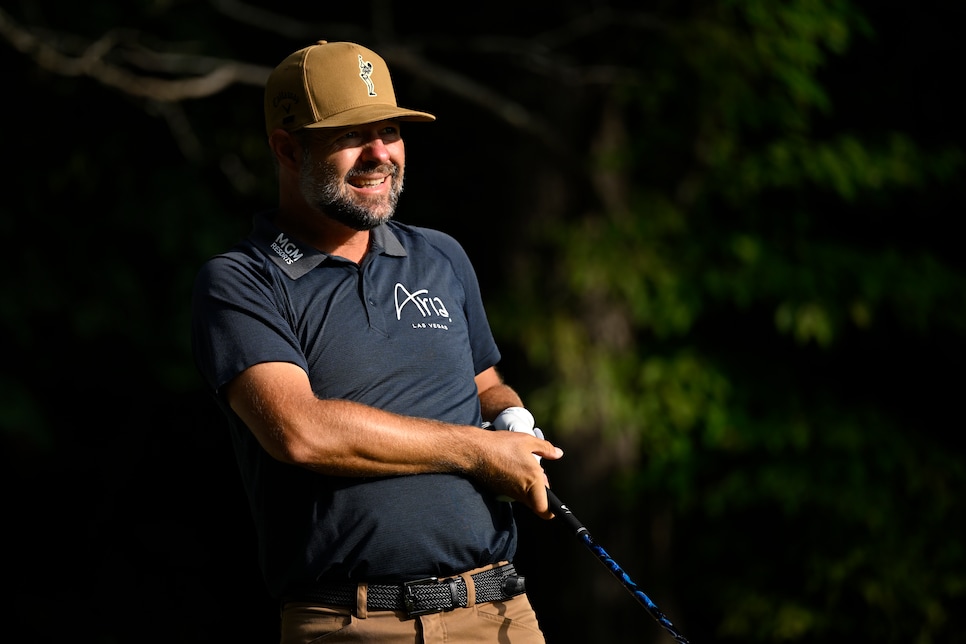 Remember Ryan Moore? He won this event 13 years ago. After one of the most illustrious amateur careers in modern golf history. And then he earned the clinching point for the U.S. at the 2016 Ryder Cup. Well, he's back. At least, for two rounds.
The 39-year-old has fallen to No. 411 in the Official World Golf Ranking battling a back injury the past two years while missing as many cuts as he's made in 16 starts this season. His best result in 2022? A T-24 at the John Deere Classic. But Moore followed a first-round 65 with a Friday 66 to move to nine under and in a tie for first with Kim and Brandon Wu.
"I did it last year at the John Deere kind of out of nowhere, something kind of similar, a place that I'm comfortable and I feel good on and it's a good course for me, it suits me," Moore said. "But yeah, this week is kind of nice. I just have a friend filling in as a caddie this week. I've kind of been up and down on that a little bit. You know, we just had some fun out there and enjoy ourselves and I'm just hitting some better shots."
Those better shots have him in position to make a huge jump in the FedEx Cup standings. After entering the week 183rd, Moore is now projected to move to No. 68. If things stay like this, he has a good idea why.
"I mean, there's certain courses—I don't hit it long and there's just getting to be less and less golf courses I feel like I have a chance on as they keep evolving and changing them over the years," Moore said. "So this one still remains like more of a shotmaker's golf course, blind tee shots a lot and shorter and tougher angles."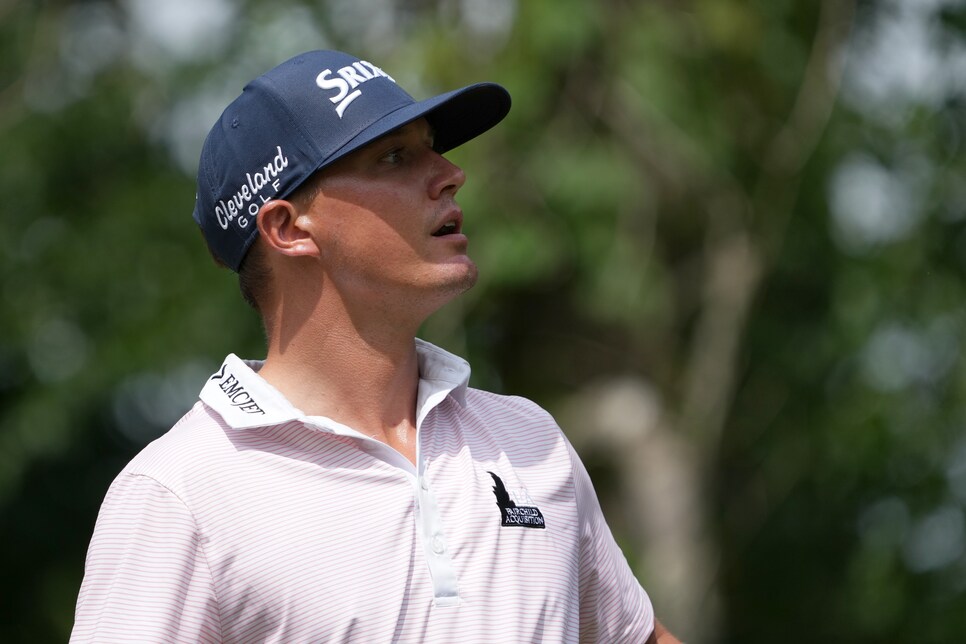 One Bubble Boy has a big day
Kudos to Max McGreevy for playing well when he absolutely needed to. The PGA Tour rookie had missed three consecutive cuts leading into this week, but he finds himself in the top 20 heading into the weekend after a Friday 67.
That being said, he knows there's still work to be done to keep his card.
"Yeah, my fiancee should probably take my phone away from me the last couple days," said McGreevy, who is projected to move from No. 126 to No. 122. "I'm pretty bad about checking a lot. I already deleted the PGA Tour app this week and Twitter and all that stuff. Honestly, I'll look at it a little bit, but at the same time I can only play my game, can't take care of what everybody else does. If I play like I did today the next two days, I know I'll be in good shape."
Weather delay causes a wave of WDs
Second-round play was suspended at 5:36 p.m. local time due to dangerous weather in the area. And Zach Johnson, who was finishing up on No. 18, was NOT happy:
But Johnson stuck around, unlike some others. When play resumed about 90 minutes later, the field was noticeably smaller.
That's because defending champ Kevin Kisner, 2011 champ Webb Simpson and Brandon Hagy decided not to come back to finish their second rounds. All three were well outside the cut line, and Kisner and Simpson only had one hole left. Hagy had four holes left, but would have needed a miracle to make the cut.
Anyway, none of this really mattered—unless you happened to bet on the Kisner-Simpson-Davis Love III pairing!
Yikes. Hope that didn't ruin anyone's weekend!