TAKEAWAYS
Tom Kim's unreal bounce back, a journeyman's career low and gut-check time for Rickie Fowler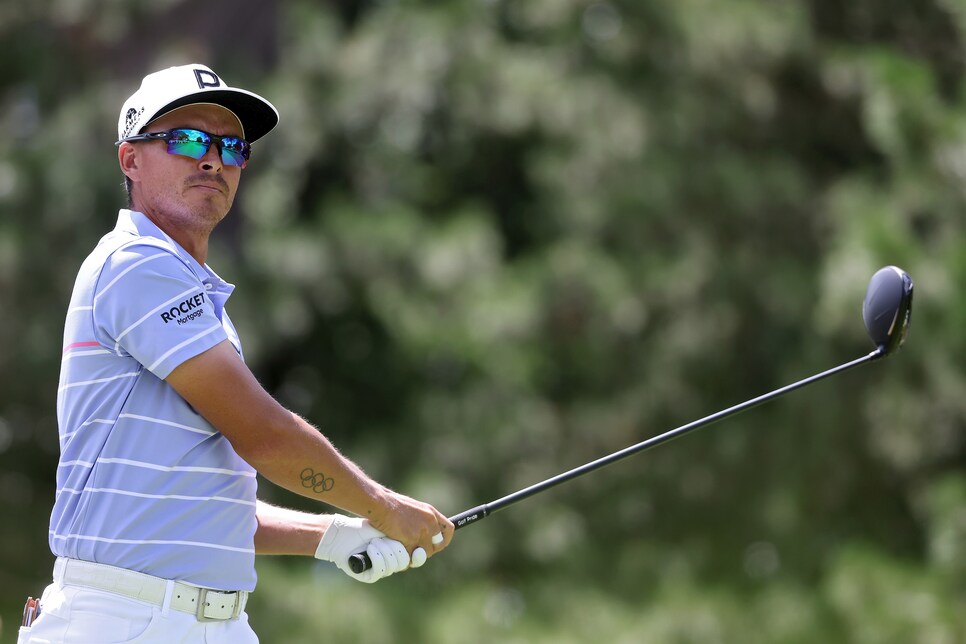 The first day of the post-lawsuit PGA Tour played out in hot and steamy Greensboro, N.C., where players have one final opportunity to bank some FedEx Cup points—and, for some, secure their playing privileges for next year—before the playoffs begin next week. This week's field is somewhat light on star power, with most of the big boys still enjoying an extended break after the Open Championship and before the three-event sprint ending at the Tour Championship, but there's always plenty of drama around the 125th-place bubble during Wyndham week. Finish inside the top 125 and you're all set for next year, when purses will increase considerably. Finish outside it, and likely you've got some work to do.
Here are three takeaways from Thursday at Sedgefield Country Club:
The Tom Kim train rolls on
The half-baked train pun there—that's a reference to Thomas the Tank Engine. Why do we care about Thomas the Tank Engine? Tom Kim. That's why. Officially listed on leaderboards as Joohyung Kim, the 20-year-old South Korean goes by Tom because he liked Thomas the Tank Engine as a kid. Kim has choo-choo'd up the World Ranking in the last eight months. He began 2022 outside the top 130 but won his first event of the year on the Asian Tour and continued solid play on that circuit got him into the U.S. Open. He finished a respectable 23rd that week and followed it with a solo third against a stacked field at the Genesis Scottish Open. He made his next two cuts on the PGA Tour, including at the Open Championship, before a final-round 63 and a solo seventh at last week's Rocket Mortgage Classic saw him rise to World No. 34—and, more importantly, all but lock up his PGA Tour card for 2022-23 through non-member points. There is no one on Earth who is both younger than Kim and ranked higher than him.
It's been a hectic stretch in a foreign country, and after he quadruple-bogeyed his first hole of the day on Thursday, you'd forgive him for mailing it in and calling it a year. But he's not yet of legal drinking age in the States—he's too young and has too much energy to go down so easily. Kim played his final 17 holes in seven under par to post a most impressive three-under 67. Per the PGA Tour, he is just the third player on record to start his round with a quad and still shoot under par. And so … all together now … the train rolls on.
"I was laughing because it was the first hole of the day and it was probably the worst start I've ever had in my career so far," Kim said. "All I could do was laugh because just some shots I hit there was pretty awful. But I don't know, for some reason I felt calm. It was one bad hole and I just told myself, you know what, I can still get this, I can still shoot under par today and somehow I did, yeah."
A career-low round for a journeyman
Odds are, you would not recognize John Huh if he walked by you. He's won on the PGA Tour, but it was an opposite-field event and it happened more than a decade ago. Huh has never cracked the top 60 of the world and currently sits at No. 248. But John Huh has quietly made more than $10 million in his PGA Tour career, and this week marks his 266th start. He is, by any reasonable definition, a journeyman. And this start is as important as any, as he entered the week ranked 120th in the FedEx Cup points standings, dangerously close to that 125 threshold.
Good time, then, to play the best round of his career. The 32-year-old went out in 29 at Sedgefield CC en route to a nine-under 61, which has him sitting on a two-shot lead over Sungjae Im. He wasn't expecting this.
"I'm actually surprised I'm at the top of the leaderboard, yeah, to be quite honest with you," Huh said. "I didn't really feel my game was there, but it's one of those days where I took advantage of some good shots and good breaks, I think."
Rickie Fowler is in danger of missing the postseason (again)
Until last season, Rickie Fowler had made the FedEx Cup Playoffs every year in which he's been a PGA Tour member. That streak ended last summer, and that was supposed to be the low point of a prolonged slump that has run concerningly long. Early signs this season were positive—he hung around the lead in his second start of the wraparound campaign, finishing with a T-3 at the CJ Cup at the Summit Club, but he has failed to post even one top-20 finish in 18 starts since.
As such, he entered this week at 123rd in the FedEx Cup standings—which have been adjusted to not include guys now playing LIV—and needs to make the cut to get into the playoffs. He'll still have a card next year by way of his 2015 Players Championship victory, but missing the playoffs two years in a row would be a pretty brutal pill to swallow.
It could well happen. A week after missing the Rocket Mortgage classic cut by six, Fowler opened the Wyndham with a one-over 71 that has him outside the top 100 heading into Friday. It's gut-check time—if he's to salvage a respectable season, he absolutely needs to shoot something solid tomorrow. Which is one tough ask given the state of his game.