The Loop
Tour pro says he got his nickname from Thomas the Tank Engine, is dead serious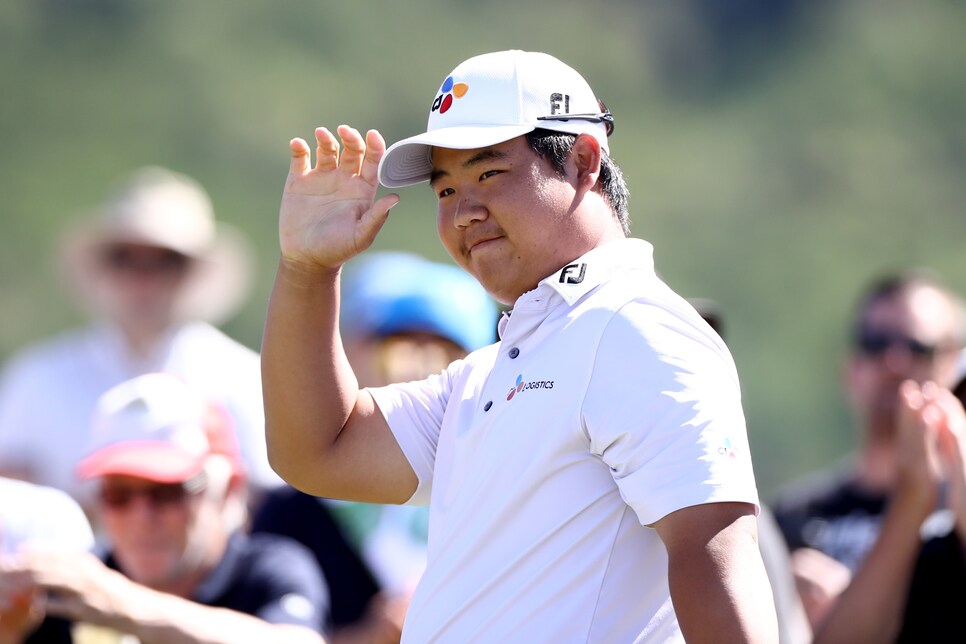 Just two weeks ago, every prominent voice in the golf gambling community was touting Joohyung Kim, also known as Tom Kim, ahead of the Safeway Open. Kim, who has feasted on the Asian and Korean Tours since the beginning of 2019, was a massive longshot, and everyone and their mother made a wager on him.
Sportsbooks eventually realized that something was off. Many of them had gotten his name wrong, and apparently, didn't realize he had such a strong playing record in Asia. Quickly, his odds were adjusted from 2000/1 to 66/1, as was his name. Handicapper Pat Mayo shared an email he received from one book explaining the situation:
Kim wound up barely making the cut and finishing T-67 in just his second PGA Tour start. But the final result didn't matter. A legend was already born.
That legend grew on Monday at the Corales Puntacana Resort & Club Championship, where the 18-year-old South Korean will be making his third career start on tour. Kim was introduced to the media by the PGA Tour's Mark Williams on Monday, and Williams opened the press conference by asking Kim how he got the nickname "Tom." The answer was absolutely priceless.
"Actually, it was Thomas," said Kim. "I got it from Thomas the Train when I was young. As I grew older, some people started calling me Tom and I thought it was just shorter and more simple. I think by the time I was 11 I just went by Tom. My brother even calls me Tom. It was kind of natural. And my family calls me Tom as well, my friends call me Tom, so it kind of just came natural to me. It was that kind of name."
Kim, apparently was 100 percent serious. He just loved Thomas the Tank Engine that much.
"Yeah, definitely. I had the whole [Thomas the Train] thing, I had the lunchbox, I had the toys, yeah."
We all had our favorite toys or show as kids. Imagine being able to just name yourself after them? What an incredible move by Kim. Not surprisingly, Twitter is already taking it and running with it:
Outstanding work. All aboard the Tom Kim train (literally).