The Loop
Rejoice, the Nathan's Famous Hot Dog Eating contest is still happening. Here are the facts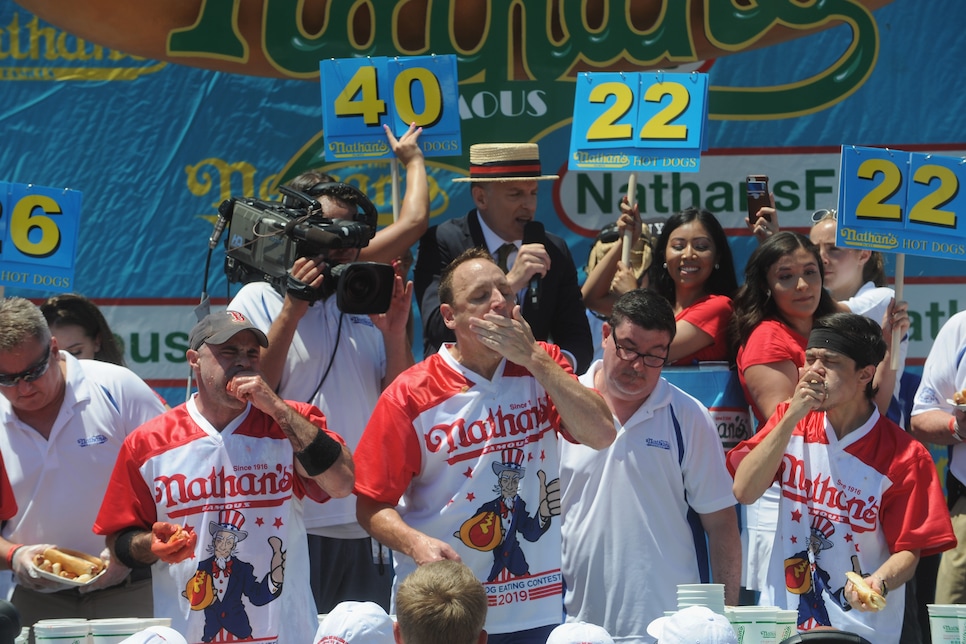 If you thought a mere global pandemic was going to stop one of the most important sporting events of the year, my friend, you were QUITE WRONG. The Nathan's Famous International Hot Dog Eating Contest (they should go for a longer name) will go down this Saturday, July the 4th, at noon on ESPN. Joey Chestnut, who is likely the only hot dog eating human being you know by name, will be there. Matt Stonie, the only man who has beaten him in the last 13 years, will not, since he didn't arrive in New York in time to quarantine for the full 14 days per the state's rules.
Now, you might be asking yourself: "Wait a moment, this is an event known primarily for disgusting displays of gluttony and saliva and various solid/liquid hybrid matter falling out of the mouth...isn't that kind of a bad idea in 2020?"
Maybe! But the good news is that this year's contest won't be held on the Coney Island boardwalk in front of thousands of spectators (note: why do they go? Why???), but in a private location where the contestants can socially distance. Also, contrary to past years, there will only be five eaters each in the women's and men's division. Mike Golic Jr. will call the whole thing, and the really good news is that host George Shea will be there. George Shea is absolutely hysterical, to such an extent that I once transcribed his entire hot dog introductions just for myself. To get a taste of his unique bombast, watch him introduce Joey Chestnut in 2015 at the 1:58 mark of this video:
In bigger news, for the true degenerates, you can now gamble on the hot dog eating contest. Yes, seriously. It's been legalized in three states, and "Major League Eating" has partnered with DraftKings, who will run a free-to-play event $25,000 in prize money for those outside the betting states of New Jersey, New Hampshire, and Colorado.
One thing that might be even more fun, though, is the concept of an in-play market frenzy. BallStreet is running one such contest, which is free to play, and which has very modest financial rewards ($2 each to the top 20% of users by the end of the event), but which will be an absolute circus of stock market-style trades for the ten minutes of each contest. BallStreet's Scott San Emeterio told me that when they ran the real-time market last year, 120 traders made almost 1500 trades just on the over/under on how many dogs Joey Chestnut would eat.
You won't get rich by participating, but it's an interesting look at what might be the future of immersive sports gambling. Or, at the very least, a niche market, the "day trading" of that world.
Now, getting down to the nitty-gritty: Can anyone beat Joey Chestnut? Probably not. The man has been beyond dominant for more than a decade, and last year, when he ate 71 hot dogs, the two closest competitors who will be on site Saturday only managed to cram down 50 and 47, respectively. On the women's side, Miki Sudo has won six straight, which isn't quite Chestnut level, but unlike the G.O.A.T., she's undefeated in her Nathan's career.
The really exciting drama this year might be the hunt for a record. It's thought that the indoor setting—they're keeping the exact location a secret, which is kinda hilarious—will be cooler than your average July New York City scorcher and could help Chestnut top his own 74-dog mark. Sudo will be chasing down the legend Sonya Thomas, who ate 45 dogs in 2012; Sudo's best performance was 41.
And above all, there's one ironclad guarantee: Indoors or outdoors, pandemic or not, it will be absolutely engrossing television...emphasis on the "gross."