The Loop
For the first time in American history you can legally bet on the Nathan's Famous Hot Dog Eating Contest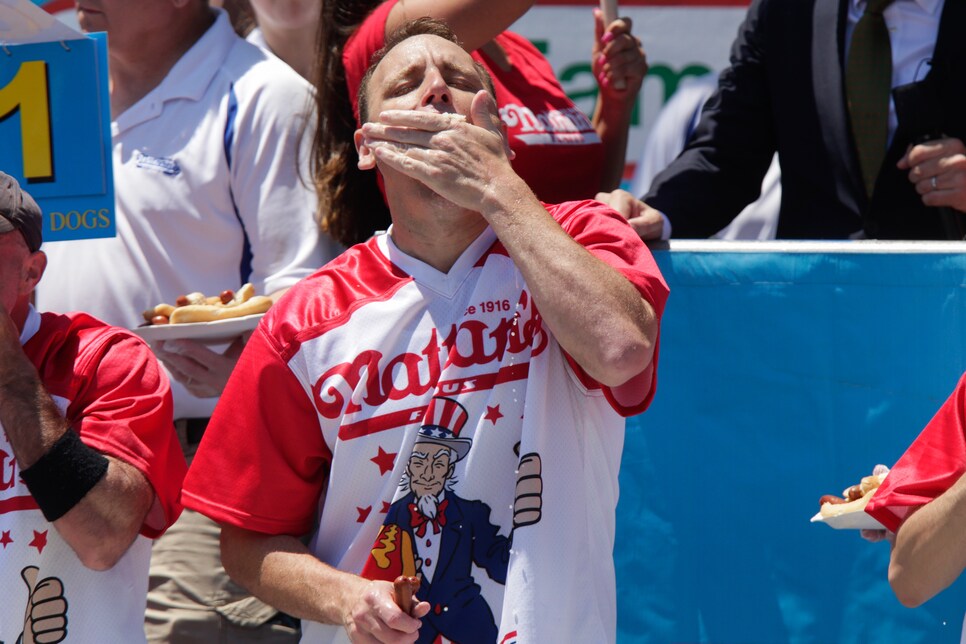 Hot dogs. Little tubular tubes of goodness. Enjoy them with mustard and onions like a purist or ketchup like your kids. Enjoy them with pickles or tomato or chili or cheese or whatever else your beer-sipping, backyard-grilling mind dreams up. There's literally no wrong way to eat them, even if you're dunking them in a giant cup of water so they slide down your gullet faster like Joey Chestnut on the 4th of dang July. We pen this ode to America's proprietary meat not because we like them—though it's pretty obvious that we do—but because, in a summer without ballparks or cookouts, we have big hot dog-centric news to share with you:
The news arrived on Wednesday mere hours after a fan-less, non-Coney Island version of Coney Island's most famous feat of mastication was confirmed. While good tidings are afoot for carnivorous revellers of all shapes, sizes, colors, and creeds this weekend, the groundbreaking moment in American sports betting history does come with a notable limitation:
Legal betting on the Nathan's Famous Hot Dog Eating Contest this year will be limited to Colorado, New Jersey, and New Hampshire, the state with "Live free or die" proudly emblazoned on their license plate, in case you forgot.
That does pose some problems for citizens of competitive eating hot beds like, say, Wisconsin, but thankfully DraftKings has partnered with the NFHDEC to offer a free-to-play pool with $25,00 in prizes eligible to all DraftKings sportsbook users. Additional props and bets will also be available to bettors in those aforementioned states. Currently Chestnut leads the way as the prohibitive men's favorite at -835, with the over set at 72.5 dogs at -125.