The Loop
Recent Game 7 history suggests the Washington Capitals have a much better chance than you think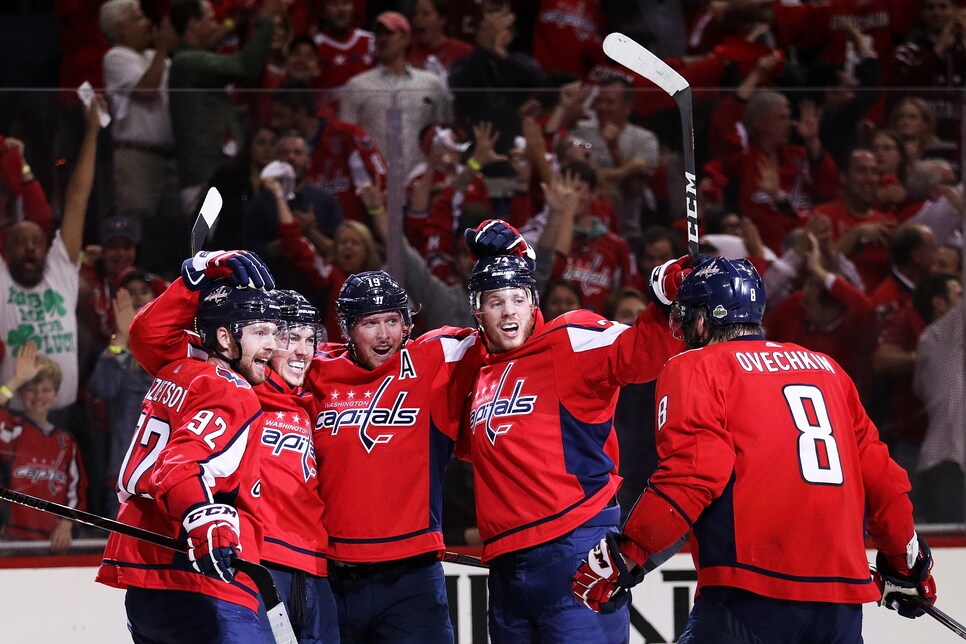 On Wednesday night, Doc Emrick, the undisputed GOAT of broadcasting, will utter the greatest two words in sports: "Game 7." Then, he'll follow with an epic, voice-cracking monologue that will likely trigger Washington Capitals fans with lowlights of Alex Ovechkin's sad face after past crushing playoff losses in the hopes of making them believe this is the night it will all change. I'm getting giddy just thinking about it.
The thing is, there is no reason to believe this is the time the Caps finally get it done, especially on the road against the Tampa Bay Lightning, who have had a knack for responding in big games throughout this entire Stanley Cup Playoffs. In round one, the Bolts dropped game three on the road in New Jersey, cutting their series lead to 2-1 with all the momentum in the Devils' favor. After going down 1-0 early in game four, the Lightning flipped a switch, going on to win 3-1 and then dominating at home in game five to close out the series.
In round two, the Lightning got obliterated on their home ice in game one by the Boston Bruins, losing 6-2 and looking like they might get swept. Instead, they won four straight, outscoring Boston 15-7 in the process. The Eastern Conference Finals began in a similar fashion, this time with the Bolts losing both games one and two at home, as the Caps appeared poised to roll to just their second Stanley Cup appearance in franchise history. How'd Tampa Bay respond? By ripping off three straight, including two in D.C.
It's a trend that cannot be ignored by Caps fans, who, even after watching their team respond with a 3-0 home victory to force a Game 7, can't feel good about their chances on Wednesday night. Not only is their team 4-11 in game 7s in franchise history, but many of those 11 losses have come in the most crushing fashion imaginable, something Washington D.C. sports fans are very accustomed to. Most recently, the Caps lost 2-0 at home against the Penguins in Game 7 of the 2017 Eastern Conference Semifinals. In the 2015 Eastern Conference Semifinals, they blew a 3-1 series lead, losing Game 7 to the New York Rangers 2-1 in overtime at Madison Square Garden. What made it worse was they had just won a Game 7 the prior round against the New York Islanders, giving their fanbase false hope.
Remove their past history entirely and you still can't feel good about their chances on the road in a hostile environment. This is the point of finishing first in the conference to earn home ice, making sure if the series does have to go to a seventh game, it's in your arena. Add in the fact that the Lightning, a -145 favorite to win on Wednesday, had a 29-10-2 record on home ice during the regular season, and this game might as well be over.
But fear not, Caps fans! Recent Game 7 history suggests that the Caps have a much better chance than you think of winning the decisive game and advancing to the Stanley Cup Finals to meet the Las Vegas Golden Knights. Since 2008, there have been 51 Game 7s in the Stanley Cup Playoffs, and 27 (!!) of them have been won by the road team. That's a .529 winning percentage, better than a 50/50 chance for all the mathematics majors out there. The road has also been very kind to teams this Stanley Cup Playoffs in particular, as road teams are 11-4 in the last 15 games of the postseason. Just some #stats for ya.
Do these extremely arbitrary numbers mean it's the Caps year? Of course not. A couple bad bounces of the puck and it could become the latest maddening playoff defeat in D.C.-sports history. But the pressure has to be all on Tampa Bay at home on Wednesday. Wanting to perform in front of your fans can tighten everybody up real quickly. Look no further than the most recent Game 7 this playoffs, one that the Nashville Predators completely bungled, losing 5-1 to the Winnipeg Jets. Or, just ask the New York Rangers, who had never lost a home Game 7 in franchise history until 2015, when the Lightning came in and shut them out, 2-0.
Shall I place one of my patented, fool-proof LOCKS on it? No and absolutely no. But if you're feeling frisky and looking for some value, Caps +125 is the only play.