The Fringe
Real estate mogul Pamela Liebman mixes business and golf better than most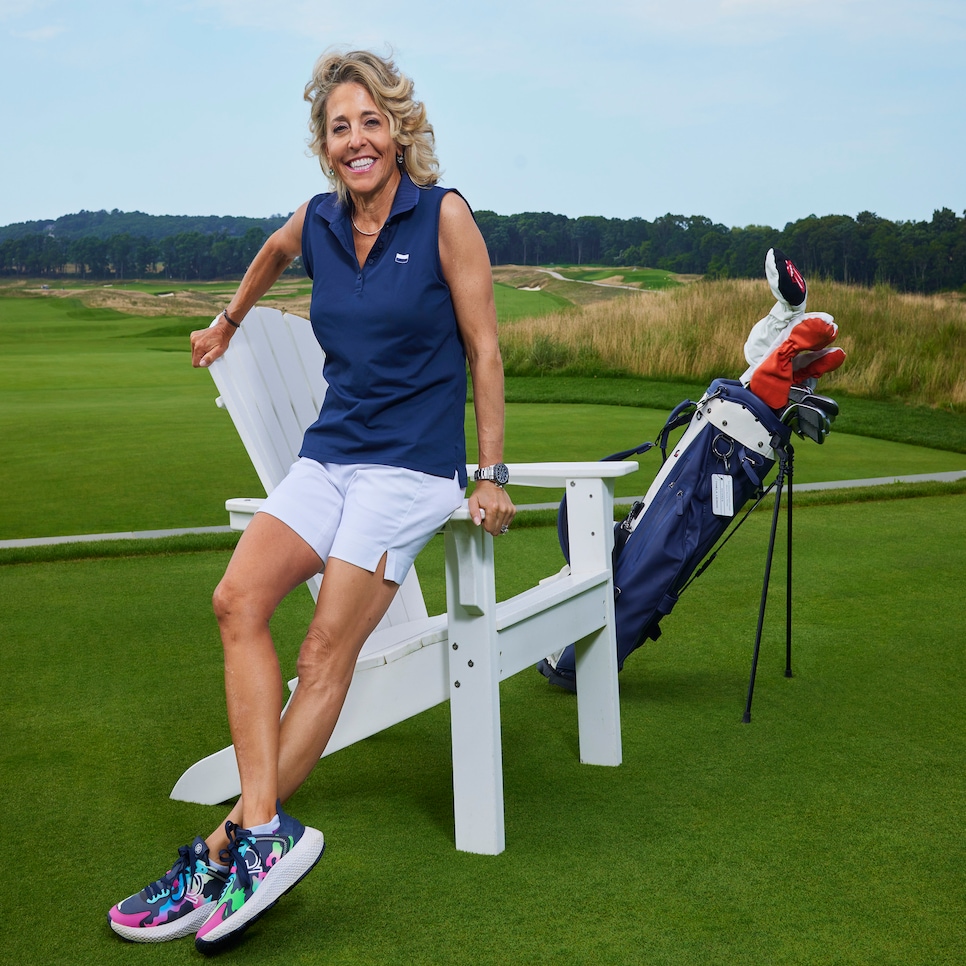 HOME ON THE RANGE Liebman maintains a single-digit handicap at Atlantic Golf Club. Photograph by Nick Laham
An old photograph of Pamela Liebman playing golf at Trump Bedminster shows her taking a phone call—while taking a swing. Keep in mind, this was no small task before the days of Bluetooth, and it required a playing partner to hold the long cord connecting Liebman's phone to her headphones while she hit the shot. Such is life sometimes when you're a real estate mogul and self-proclaimed "deal junkie." As Alec Baldwin's character in "Glengarry Glen Ross" says, "Always be closing."
Modern technology has made playing golf with such a hectic career easier, although a similar story about Liebman has become popular around the offices of the Corcoran Group, where she has worked for nearly four decades and served as the president and CEO since 2000. It involves her making three consecutive birdies at Atlantic Golf Club while on a (cordless) conference call.
"That's unusual for me," Liebman says with a laugh. "I'm not the kind of person that typically has three birdies in a row."
Liebman can clearly play as evidenced by her 9.1 Handicap Index and her 2.5 career holes-in-one. In true broker fashion, Liebman negotiated that number after potential ace No. 3 bounced off the COVID-era cushion insert on the 11th hole at Atlantic Golf Club, her home course on Long Island. She rarely takes calls on the course anymore, which pleases her golf friends and her favorite playing partners, husband Michael Krouse and daughters Dylan and Tori. In fact, her second date with Michael was a round of golf.
Besides, Liebman prefers talking business in person. If that business happens to take place on a golf course, even better. Liebman also had the opportunity to do some of the deals she loves in front of a wider audience by appearing on Netflix's "Buy My House." The reality show—one of many in recent years to focus on the real estate industry—resembles "Shark Tank," the program on which Liebman's former boss and company founder Barbara Corcoran appears. Instead of aspiring entrepreneurs pitching product ideas, people try to sell their houses to Liebman and three other brokers. While she enjoyed the experience—six episodes aired in 2022, but the show hasn't been picked up for a second season—the cameras didn't cause Liebman to forget her career roots.
"Some agents think that they should be celebrities, and they forget that, in a lot of ways, we're the help," says Liebman, a New York City native who now splits her time between New York and Miami, where she's also a member at La Gorce Country Club. "We're not the ones buying these $50-million properties. We're the ones effectuating the transactions."
'If I could shoot below 78 or close a big deal, I'd rather shoot below 78. I'll do the deal the next day.'
Is there an art to those deals on the course?
"I'll never go play with somebody with the intention of, Oh, I hope they give me business," Liebman says. "It's, Hey, I hope we connect, and then let's see what happens. I remember playing golf with somebody, and on the 18th hole, they turned to me and said, 'You know, I have a house that I'd like to sell. Do you think you could get me one of your brokers?' It was a $40-million house. I did, and we sold it. That was a great round of golf, but I didn't expect that to happen."
Liebman got into golf when she was living in a Hamptons share house with a few guys the summer after she graduated from college. Although initially intimidated to join them on the course, she quickly realized she could hang.
"Everybody has this impression that golf will be a little scary because they think everyone who has been playing golf for so long is so good, and boy, isn't that a myth," Liebman says. "As long as you can play fast, you can play with anyone."
As Liebman climbed the ladder in the uber-competitive real estate industry, she realized how much the game could help with her career.
"It's helped me enormously because it's a different way to connect with somebody than in an office setting or on a Zoom call," says Liebman, who has led Corcoran to expand to more than 170 offices across the country and achieve sales of more than $23 billion annually. "You can tell a lot more about a person spending four hours with them on the golf course."
Sometimes a golf connection takes much less time. Liebman recalls being at a restaurant years ago when a future friend and valued client introduced himself because he recognized the Atlantic Golf Club logo on her shirt.
"Golfers enjoy other golfers, so it's opened up a lot of opportunities for me, and it's allowed me to spend time with people that I never would've been able to get this kind of time with," Liebman says. "It's also driven a lot of business to me because if people like you on the golf course, they tend to want to do business with you, so I get a lot of clients from golf. Actually, I think I got a really big one yesterday."
Golf's benefits go well beyond business for Liebman, who treasures the time on the course with her family and taking buddies' trips with other women to places like Baker's Bay and Streamsong. She has also long been tapped into the game's charitable side. When a close friend's child was diagnosed with leukemia, Liebman started a foundation called W.O.L.F. (Wipe Out Leukemia Forever) by organizing an annual golf outing that began at Winged Foot Golf Club in 2004. In 2016 she received the New Jersey Golf Foundation's Chairman's Award, which is given to an individual who works to support the foundation's philanthropic program and initiatives. Golf also has taken Liebman to some special places, like her favorite course, Cypress Point, and introduced her to some special people, like entertainer and Golf Digest cover subject DJ Khaled, whom Liebman recently hosted at Atlantic.
What does she think is better: Making a big deal or shooting a great score?
"If I could shoot below 78 [her career-best score] or close a big deal, I'd rather shoot below 78 because I've closed a lot more big deals than I've had really low rounds," Liebman says. "I'll do the deal the next day. I'm definitely a deal junkie, and I'm definitely a golf junkie. I don't think I could play every day, but I could easily be happy playing five days a week."
How much does Liebman actually play these days?
"I can't give away my secrets," she says with a laugh. "Then they'll think I'm not working."