the fringe
'Today' show meteorologist Dylan Dreyer is an all-weather golfer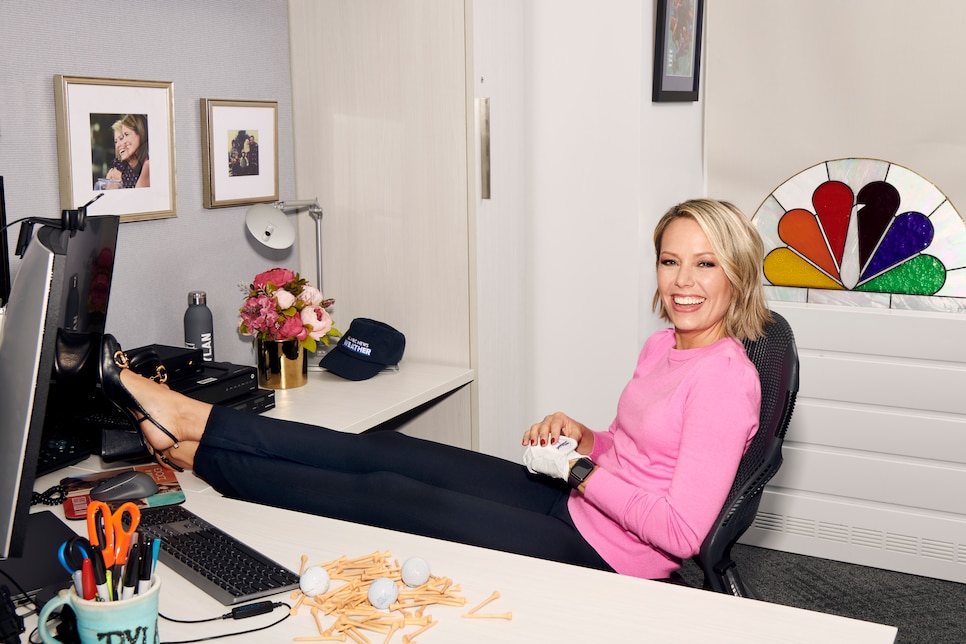 Like a renowned chef being asked for a restaurant recommendation or a professional race-car driver being told to parallel park, certain occupations come with certain expectations of expertise. It's no different when your day job involves predicting the weather—and your favorite hobby involves being outside. Such is the case for NBC's Dylan Dreyer, an avid golfer who is, predictably, a go-to source for friends curious about the forecast.
However, if you see Dreyer on your golf course, that doesn't mean you're in the clear. "There's pressure as a meteorologist who plays golf," says Dreyer, a weather correspondent on "Today" and an anchor on "3rd Hour of Today." "I remember we got washed out at Bethpage Black one time, and it was me and another meteorologist friend who came down from Boston. My husband looks at us, and he's like, 'What the hell is wrong with you guys?' Like, 'I'm playing golf with two meteorologists, and we're standing under a tree in the pouring rain.' "
In other words, this mother of three still has her tangles with Mother Nature. Forecasting the weather is a lot different than controlling the weather, but she did provide an endorsement that's a lot more valuable to fellow golfers than any restaurant recommendation.
"RadarScope is probably my most used app," Dreyer says. "The radar is definitely my best friend when we're out there and it doesn't look great."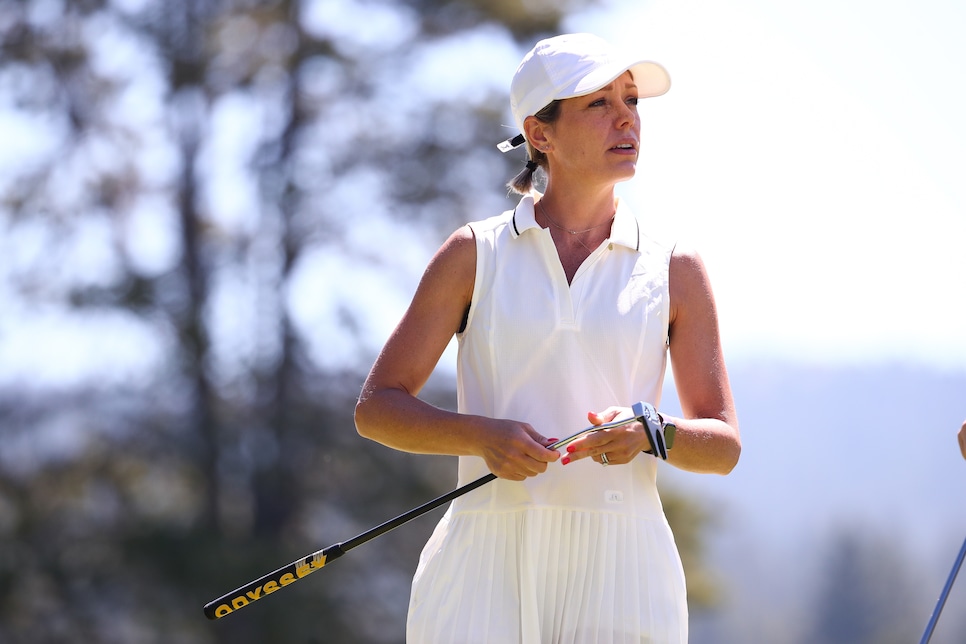 Isaiah Vazquez/Clarkson Creative
Dreyer, 41, spends most of her mornings in front of a green screen and some of her afternoons on the greens, but it wasn't always that way. She gave golf a try about a dozen years ago thanks to the encouragement of now husband Brian Fichera. Rather than fully mix love with lessons, though, Dreyer, a native of New Jersey, found a golf coach who talked in terms of physics, which appealed to her science background.
"Oh, I would not be playing if Brian had been the only one teaching me," Dreyer says with a laugh. "It's a slow process picking it up a little later in life, but now I'm hooked."
In contrast, being on TV has come more naturally for Dreyer—well, other than the early wake-up calls. In fact, it's something that runs in the family if you count grandmother Doris Milke's record-breaking run as a contestant on the original "The Price Is Right" in 1963, winning prizes worth more than a half a million in today's dollars when adjusted for inflation. Dreyer doesn't get paid in cars and vacations, but she's become a morning fixture in homes—even if her on-screen persona doesn't totally match her on-course one.
"When I do TV, I can talk myself out of anything. If I start reading a question or thinking about a question, and it starts coming out of my mouth wrong, I can recover," Dreyer says. "With golf, it's not as easy for me to recover because you just get frustrated. You don't want people to see you getting frustrated because I'm the happy girl on TV. But, no, I really just wanna smash my club into the ground."
In addition to her "Today" duties, Dreyer has been involved in some of NBC's sports coverage, which includes the Open Championship and the Augusta National Women's Amateur. As much as she loves working at the site of the Masters, though, Dreyer enjoys covering the men's pro tour the most.
"There are so many women out there whose husbands are watching golf, and I want to show other women why it's fun to watch, too," Dreyer says. "Here's who you should follow. Here are the underdogs and the best stories to root for. This way you can at least watch and know what you're talking about."
Dreyer's husband, a cameraman for "NBC Nightly News," has watched his wife get to do some cool golf-related stuff in recent years. "He's like, 'Don't forget I introduced you to it!'" Dreyer says, and, of course, she hasn't. Brian remains her No. 1 partner. "I'm sure a lot of husbands look at it as a way to kind of escape the house for a little bit, but we're kind of ships passing," says Dreyer, who lives in Manhattan with Fichera and their three kids. "I work mornings, he works nights, and it's the thing we get to do together. It's four or five hours where we're having some beers, we're catching up, we're outside. It feels like we're doing something active, and we've now started to plan vacations around it."
'I'm the happy girl on TV, [but every so often] I just wanna smash my club into the ground.'
There's a week in July, though, that Dreyer hopes to keep on the calendar for a different type of trip. She has played at Lake Tahoe in the American Century Championship, a.k.a. the Super Bowl of Celebrity Golf, the past three years. It's a special event for Dreyer but also an intimidating spot for a 25-handicapper.
"It's tough keeping up with the pro athletes, who are so good at everything they do, and there are a lot of people out there. I hit someone my first year playing," says Dreyer, who credits a playing interview with Justin Thomas before the 2018 Ryder Cup with helping her learn to control her nerves. "I actually felt more pressure this past year when I wasn't pregnant because at least when you're pregnant, everybody's like, 'Oh, good job. Way to be out here.' But last year I was just a regular, so I didn't have any sympathy on my side."
It doesn't help having a standard bearer by your side displaying your score. "That leader board follows you around like, Shame, shame, shame," Dreyer says, referring to a well-known "Game of Thrones" scene. "It kept adding up to the point where one year, Doug Flutie said to the guy, 'Can you stop? She's well aware of her score.' "
Dreyer was unaware of a TV scene involving her profession that comes from an episode of "Curb Your Enthusiasm." In it, Larry David confronts a local weatherman while playing golf and accuses him of purposely giving bad forecasts to make the course less crowded. "That's a genius idea," Dreyer says.