the fringe
Former NFL star Dwight Freeney is MJ's main partner at The Grove XXIII, where 'Playing with the owner has its perks'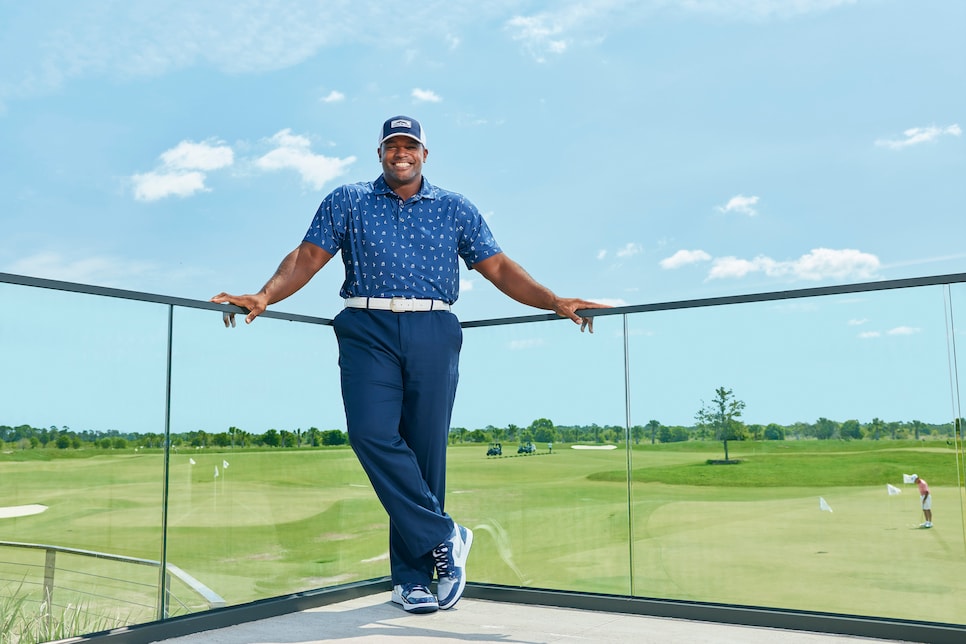 RAREFIED AIR Dwight Freeney, at The Grove XXIII in Hobe Sound, Fla., where he plays to a 4-handicap. Photograph by Mary Beth Koeth
Dwight Freeney vividly recalls his first hole at the 2003 Michael Jordan Celebrity Invitational. Then a young defensive star for the Indianapolis Colts, Freeney knew he wasn't ready for the celebrity golf scene, but who turns down an invite from one of the greatest athletes of all time? As Freeney stepped onto the first tee box at the Ocean Club Golf Course in the Bahamas, it wasn't the luminary tournament host or his lack of rounds played that worried him the most but rather his playing partner that day, the legendary—and equally intimidating—Lawrence Taylor.
"When I tell you I was whiffing, I was literally whiffing because I was so nervous playing with LT," Freeney recalls of being paired with his football hero. "To this day, Lawrence calls me 'Hack' every time he sees me."
It's a funny nickname but one that doesn't hold up anymore for the Hartford, Conn., native and former Syracuse All-American who authored his own reign of terrorizing opposing NFL quarterbacks—while working on his golf swing in his spare time. "I love Indianapolis to death, but there isn't much to do there in the offseason," Freeney says. The range-addicted Freeney has gotten down to a 4-handicap, although he acknowledges he'll probably go back up given that he and his wife, Brittany, recently welcomed their second daughter into the world. Life is good for the past Super Bowl champ and likely future NFL Hall of Famer, and he feels a lot more confident when he steps on the first tee now, even with the necessary scorecard adjustments.
"I was so used to getting as many strokes as possible," Freeney says. "Now I'm giving guys strokes. I'm like, Man, he's stroking on 18? What happened? So now I have to play good all the time, right? But it's a great problem to have."
Those calculations usually occur at The Grove XXIII, an uber-exclusive Hobe Sound, Fla., club created by Jordan that opened in 2019 about 20 minutes from Freeney's Palm Beach Gardens home. Freeney says he is fortunate to be one of the estimated 100 members and buddies with His Airness—he calls Michael a "big brother"—and says that other than an unofficial "just-don't-be-a-jerk" mantra, the club doesn't have any rules.
"He wants to keep it small," Freeney says of Jordan's private playground that includes tee markers paying tribute to the Chicago Bulls and UNC Tar Heels, souped-up golf carts and drones that deliver drink orders. "He wants the experience to feel like it's your own course."
Freeney says it's "absolutely nuts" to have an athlete he grew up idolizing as one of his closest friends, but these best buds have also turned into a bestball powerhouse, piling up wins at a place that has been given the nickname "Slaughterhouse 23" because of Jordan's perceived home-course advantage.
"Playing with the owner has its perks," Freeney says with a laugh. "He has to keep the lights on, so let's just put it that way. We're not losing a lot."
Jordan never lost a lot with Scottie Pippen as his wingman in Chicago, and now Freeney is filling the role. Freeney estimates the two join forces 95 percent of the time they play together, taking on all comers, often fellow retired athletes.
"It's me and MJ versus the world," says Freeney, who estimates the 60-year-old Jordan is a 2- or 3-handicap these days. "We don't know who's showing up. Well, I don't know who's showing up. I just show up to the tee box and then, 'Oh, there's Wayne Gretzky. Oh, there's Ken Griffey Jr. Oh, what's up, Ray Allen?' John Smoltz comes a lot, John Elway. It's just a really good time."
'He has to keep the lights on, so let's just put it that way. We're not losing a lot. It's me and MJ versus the world.'
Freeney acknowledges that "good time" includes having a few dollars on the line. The seven-time NFL Pro Bowler might have shot a career-best 71 at Grande Oaks Golf Club—site of the classic film "Caddyshack"—but The Grove XXIII is no Bushwood Country Club when it comes to its gambling policy, or lack of one. However, Freeney says the notion that MJ is playing for the deeds to peoples' mansions is vastly exaggerated.
"It doesn't matter if we're playing for a $50 closeout or a $20 nassau or whatever. It's about when you look at that guy at the end of the round, you want him to know I beat you," Freeney says. "There's times I'm sure he plays for big-time money when he wants to, but I promise you, it's not about that."
The competitive drive that made Freeney one of his era's best defensive players has helped his quest to get better on the golf course (his patented spin move to get by offensive linemen hasn't hurt his swing speed, either). But that improvement only came after adjusting the mind-set he played with during his football career.
"In football, if I mess up, I just get angry, I play harder and I get more aggressive, and I put all that energy into whatever's going to happen next," Freeney says. "In golf, it took me a long time to understand that I have to do the opposite. The harder you try, the angrier you get, the worse you play. It drives me nuts."
Freeney focuses a lot on his breathing and strives to have a short-term memory when it comes to bad shots or scores. He finally feels ready to hit the celebrity golf circuit, making his debut in the American Century Championship last year and at the LPGA's Hilton Grand Vacations Tournament of Champions in January.
"Once I ended my career and my golf game got to being respectable, I could go out there and have a good time," says Freeney, who retired from the NFL in 2018. "I'm not saying I'm gonna win anything because those guys who are winning are scratch guys shooting under par. But I'm doing it just for me, just to feel that feeling again of, 'OK, this time, this putt, this shot really matters.' It's a great feeling."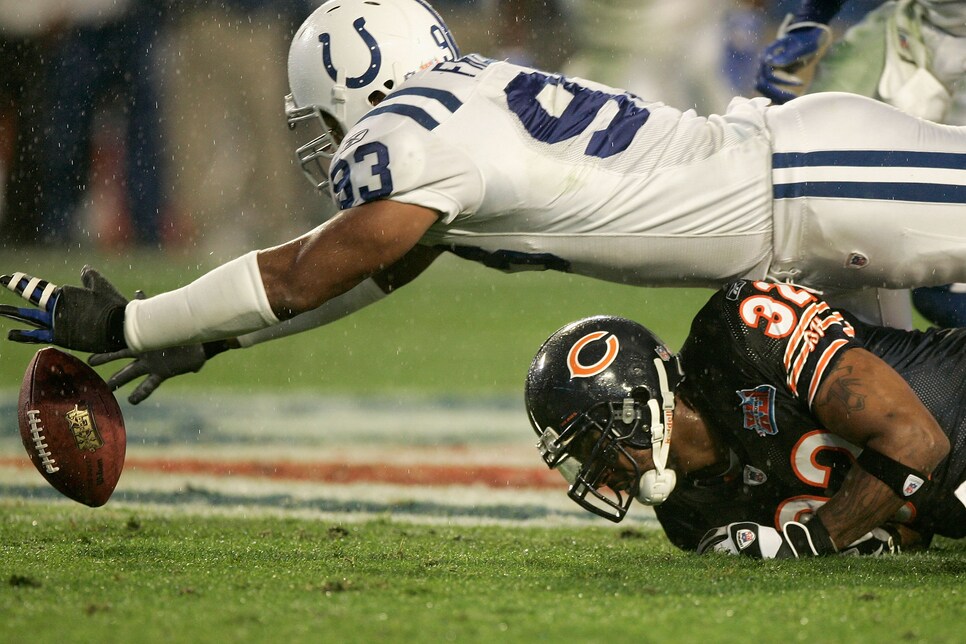 Dwight Freeney #93 of the Indianapolis Colts stretches over running back Cedric Benson #32 of the Chicago Bears to recover a fumble during the first quarter of Super Bowl XLI on February 4, 2007 at Dolphin Stadium in Miami Gardens, Florida.
Donald Miralle
Freeney explains that as a defensive lineman in "the trenches," he couldn't take time off during the season like quarterbacks, wide receivers and kickers, who he jokingly refers to as "pencil necks." But he's glad he has stayed in touch with one of those guys, Peyton Manning, who got his old teammate out on Augusta National in 2021. Freeney even moved a scheduled wrist surgery to make the painful but "amazing" round happen. Now the father of two is (delicately) working on his next big golf trip, a third Ryder Cup journey, this time to Rome in September.
"My bag's already packed," Freeney says with a big smile. "I've done a million chores and things around the house, massaging my wife's feet, and doing all different things to make sure it's a good transition."
Freeney will be in Italy rooting on many of the players he often crosses paths with at The Grove XXIII—and he'll be there alongside his pal and teammate, Mr. XXIII, of course. To the golfers playing this duo in any unofficial matches that week, you've been warned.