DP World Tour
We found the most nervous player at the DP World Tour Championship, and it's easy to understand why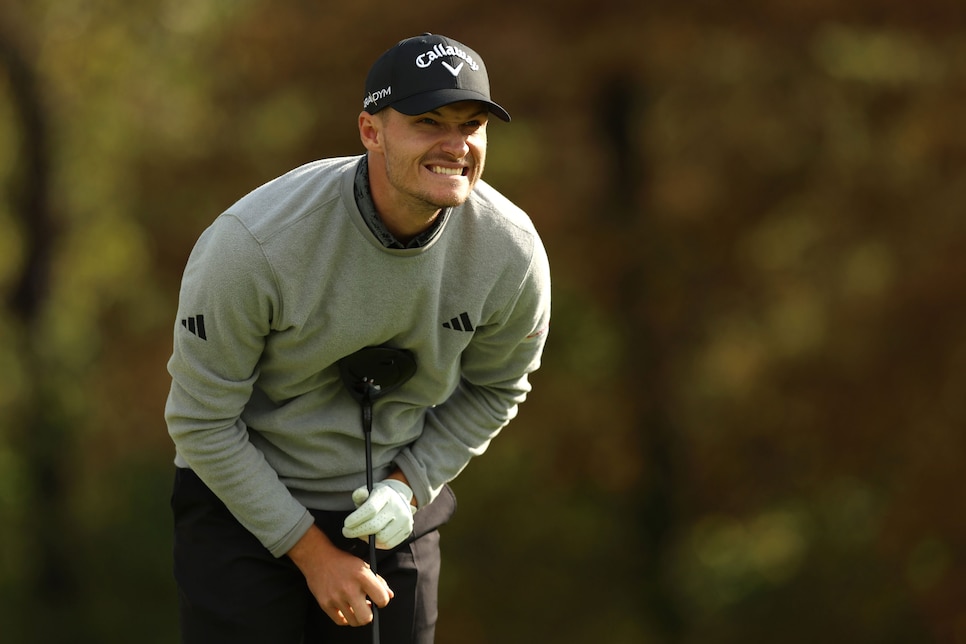 Rasmus Højgaard is clinging to the 10th of 10 PGA Tour cards being offered to top players who don't already have PGA Tour status at the end of this week's DP World Tour Championship.
Luke Walker
DUBAI — Of the 50 players taking part in the DP World Tour Championship, one is under more pressure than maybe the other 49 put together. As things stood before this season-ending event, Rasmus Hojgaard was clinging to the 10th and final spot among players eligible to earn PGA Tour cards for 2024. Adding to that already considerable stress of maintaining his place on that list is the fact that Rasmus' identical twin brother, Nicolai, has ensured his place across the Atlantic in 2024 through an accumulation of non-member FedEx Cup points over the course of the PGA Tour season about to finish.
If the pair are to continue their closely parallel paths through life and their chosen careers, Rasmus is going to have to step up. Which is exactly what he did Friday with a second-round 66 over the Earth Course at the Jumeirah Golf Estates. Three birdies, two eagles and only one dropped shot were the deviations from regulation figures in the Dane's six-under-par effort, one that has him four under par at the halfway mark and in a tie for 21st place.
More importantly, the 22-year-old remains well in contention for one of those vital PGA Tour cards and, not incidentally, the $500,000 stipend that will go to each of the 10 who earn them. Nothing is certain, however. The man currently in 11th place, Yannick Paul, is six under par so far, although the German has a 76.88 points deficit to make up on Hojgaard.
Further complicating matters is the unlikely figure of Jens Dantorp. The Swede, who started this week in 49th place on the Race to Dubai (having played 31 events, more than anyone else in this week's field) and 779.29 point behind Hojgaard, is tied with South Africa's Thriston Lawrence, World No. 4 Viktor Hovland, France's Antoine Rozner and local resident Tommy Fleetwood for second place after 36-holes on nine under par.
And the leader by two shots on 11 under par? Who else but Nicolai Hojgaard, who could do his brother a wee favor by maintaining that edge and making off with the 2,000 Race to Dubai points that could have provided another player with the opportunity to pass Hojgaard (R).
Whatever, much can still happen—and probably will. Who is heading to the U.S. and who will be consigned to at least another 12 months in the Old World clearly remains much in doubt.
"I have two choices given the situation I find myself in," Rasmus said. "I can either cope with it or not. I came out today in a good mood. I knew I needed a low score that would carry me up the leaderboard. That Nicolai already has his card doesn't really affect me. Obviously, I want to join him over there. It would make travelling and playing a lot more fun. But the pressure is not coming from there. It is more what I am demanding of myself. It is a big goal to make it onto the PGA Tour. And I'm in the middle of it now. We'll just have to see how the next two days play out. I'll be giving it everything I have."
That much goes without saying, as does the fact that, with his brother playing for Europe at Marco Simone last September, Hojgaard was given an in-depth inside look into just what a Ryder Cup match is really like. Rasmus was there all week, his unofficial role being buggy driver for fellow Dane and European assistant captain Thomas Bjorn.
"I definitely feel a lot more prepared if I make it into the next team," Hojgaard said. "I've seen it from the inside. It was such a great experience to feel somewhat a part of it. I think it helped Nicolai to have me there. But as much as he was nervous, I was even more. My role was just to keep him in good spirits.
"Obviously I spent a lot of time with Thomas," Rasmus continued. "I saw and heard things I would never have thought of had I not been with him. But the highlight for me was the start of the week. I managed to sneak into the team room. I still get goosebumps thinking about it. It certainly added to my motivation to qualify for Bethpage in 2025."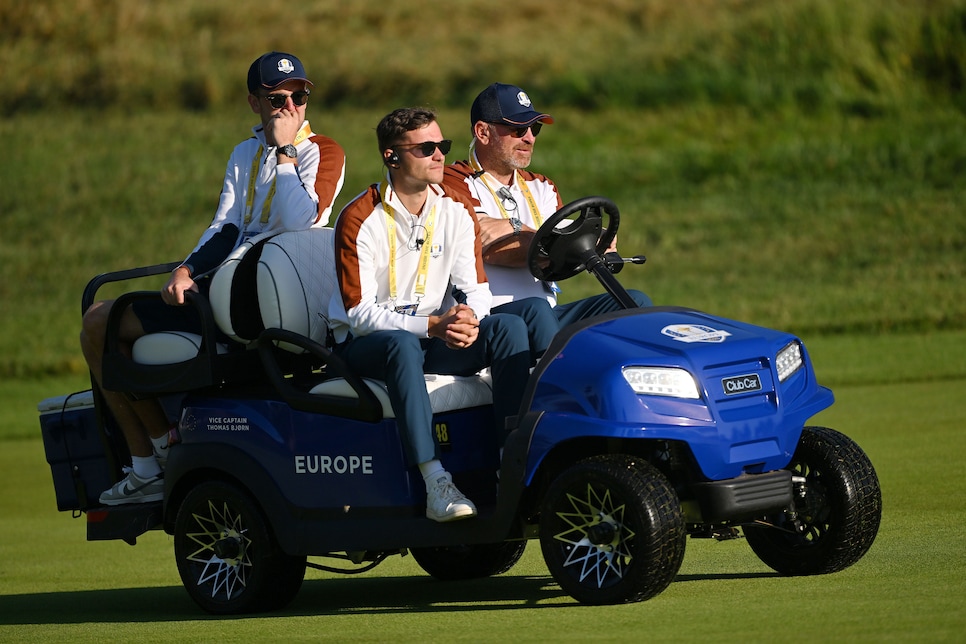 Rasmus Hojgaard didn't play for Europe in the Ryder Cup, but he got to experience what the team went through as an assistant to assistant captain (and fellow Dane) Thomas Bjorn at Marco Simone.
Ross Kinnaird
Ah, but all of that is for a more distant future. For now, Hojgaard has other, more pressing things on his mind. Some of which he is clearly trying not to think about.
"It's too early for me to start imagining what it will be like to play full-time on the PGA Tour," he said. "I can't do that now. It will all come down to what happens on Sunday afternoon. I'm just happy to have played well today and kept myself in contention. I could easily be too far back. But I'm still in the tournament. It's going to be an exciting weekend."