Money
The surprising economics about your bucket of range balls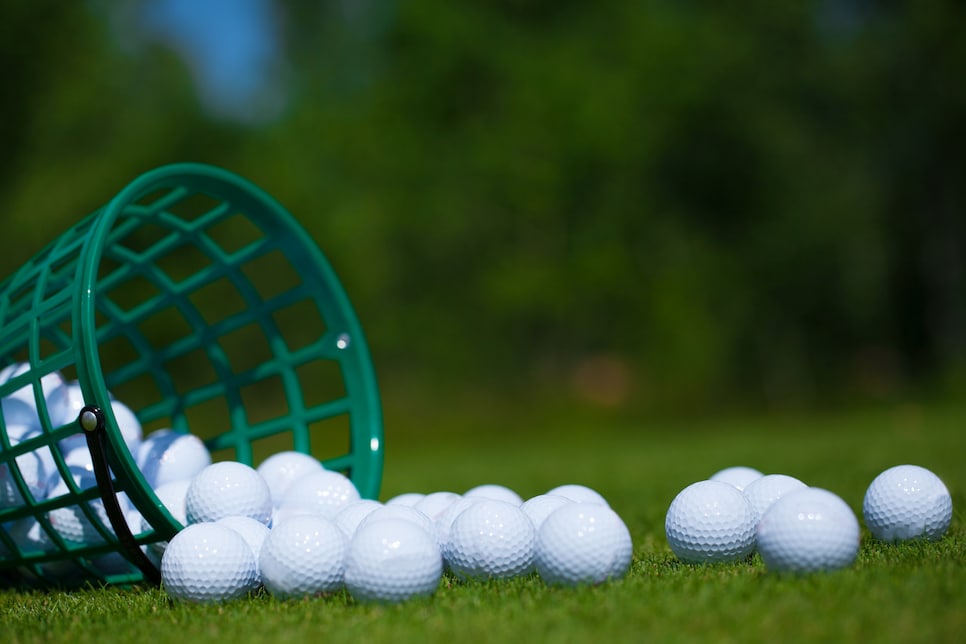 Rock Hill Golf & Country Club on Long Island spends $15,000 every two to three years to supply its range with fresh golf balls.
drevalyusha
A bucket of range balls will cost you $5 at Rock Hill Golf & Country Club in Manorville, N.Y.—one of the premier public courses on the south shore of Long Island, right before you get to the Hamptons. However, today, the quality of that deal is little comfort to Golf Digest 50 Best Teacher Michael Jacobs, Rock Hill's head professional and one of the few elite teachers who still handles traditional club-pro duties like stocking the range.
Jacobs is at the PGA Merchandise Show in Orlando this week, and he's on the hunt for a replacement supply of balls for the Rock Hill range. He needs 20,000 balls for the upcoming season—13,000 to fill his processing and cleaning machine and 7,000 for backups when the inevitable "shrinkage" from loss, theft and damage starts.
The outlay might make your eyes water as much as it does Jacobs'. The standard Pinnacle you see when you go beat a bucket—the striped one that says PRACTICE in bold letters—costs $9 a dozen. Upgrade to Pro V1 practice balls, and expect to pay $13 a dozen (and an almost certain fate as a victim of range-lifting).
That means Jacobs will spend $15,000 ("plus free shipping, which is important") to make sure Rock Hill visitors have fresh pellets for their practice sessions. When the golf balls show up, it's a range rat's Christmas Day—a Costco-style pallet of 80 250-ball boxes wrapped in plastic.
"We can get two, maybe three seasons out of an average range ball, but it depends a lot on a few factors, such as the kind of surface the ball lands on after it has been hit, and how careful the people you have cleaning them are," says Jacobs, who hosts student and three-time major winner Padraig Harrington in a teaching area directly adjacent to the random array of local weekend hackers who are getting their fix. (Harrington uses a special stash of pristine Pro V1s for his sessions.)
Jacobs isn't losing money on the ball deal—which works out to be about a 3,000 range sessions to hit the break-even point—but he's leaving money on the table in a market in which competitors charge $10 and $12 for a similar bucket. "I could charge more, but I want to encourage people to practice," he says. "I want this to be a place they're excited to come and spend time. That means good prices and balls that don't look like they've been dragged around the parking lot for five years."
Concrete (or AstroTurf) isn't even a range ball's most dangerous enemy. The combination of wet and sandy soil turns even a slow-speed impact into a finish-wrecking event. "If you have sandy soil down range or a team in the shop that doesn't do a careful job washing and drying, you'll wear the balls out really fast," he says. "That, or if you have players who keep hitting them off trees."