Equipment
Q&A: David McLay Kidd discusses letting an everyday guy help design a golf hole on his new course, Mammoth Dunes, and current trends in course design
David McLay Kidd is best known for his work at Bandon Dunes, having built the resort's first golf course in his mid-20s. If you ask the Scottish architect, he had gotten away from his roots in his work after Bandon Dunes, trying too hard to swoon magazine course-ranking panelists and course critics in pursuit of national awards. With his work at Sand Valley Golf Resort, and his new Mammoth Dunes course, whose official opening was last week, Kidd is putting his design team's emphasis back on building golf holes that are fun to play, interesting to strategize over and marvel at while still challenging the best players in the world. Mammoth Dunes is a unique golf course, and perhaps even more so, given that Kidd used the winning design of Golf Digest's Armchair Architect Challenge, submitted by Brian Silvernail, for one of his golf holes—and extremely fun drivable par-4 where you tee off from an 80-foot-tall sand ridge top to the bottom. We caught up with Kidd—whose other courses include Nanea Golf Club in Hawaii (the No. 1 ranked course in the state), Gamble Sands in Washington and the Castle Course at St. Andrews—during his latest golf course's grand opening last week in Nekoosa, Wis.
Could you discuss what the process was like in building the 14th hole to Silvernail's specs?
"I gave Brian's plan to one my guys, and said, 'Build what you see on the paper, and I'll be back next week.' So we did build his plan. And then I came back and adjusted and adjusted. And Brian came in for two days, and we put him on bulldozers and excavators, and we had lunch and dinner from him and it was great. We took the time to explain to him which parts of his designs worked and didn't work. And what we could do to further refine it. And then we worked right in front of his eyes for the next couple of days to finish it. And when he left, that was it—it was ready to be grassed.
"The fun thing, when Brian came out, there were so many things that he didn't understand as a golfer. He didn't understand, when we chatted, but that won't fit the irrigation system, or that won't fit the maintenance, or that won't be drainable. All the water's going to run on the green. So all the technical aspects, the unseen constraints, that most golfers wouldn't think about, we coached Brian through that to came up with a great design. Brian wasn't an armchair architect anymore—he was out in the field, and figuring out how to irrigate it, maintain it and drain it, and putting his hands in the ground, not to just achieve art for art sake. There's a form meets function part. So it was really fun to work with Brian and make it work. It was great."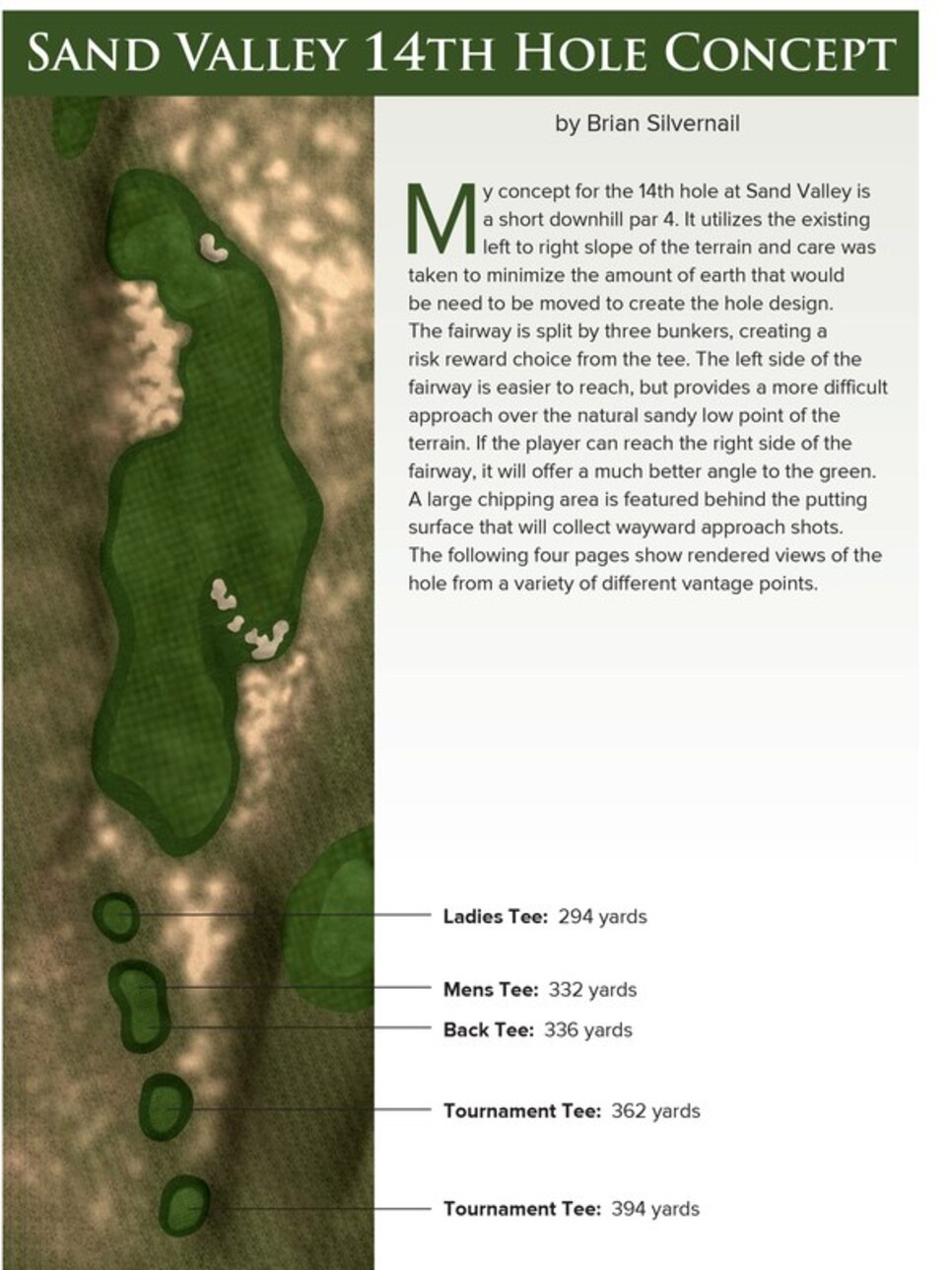 You have two drivable par 4s at Mammoth Dunes—the boomerang-greened sixth hole and the Redan-like 14th green. What is the key to designing a good drivable par 4?
"My premise for a really fun par 4 starts with getting as many players as possible to actually go for it. If golfers feel they need to lay up because the trouble is too much, they feel like they were robbed and didn't have that same opportunity. In order to make as many people as possible to try to drive it, you have to make the penalty for error pretty minor. So you have to be willing to give away birdies and pars to have them go after eagles. And if you miss, your recovery shot is achievable.
"Part of the thrill, too, is the concept based on the Redan-style green, which is usually found on a par 3. So this is like the Big Brother version of it, as we achieved it on a par 4. So you have the thrill for a golfer bulleting their driver and watching it chase on the ground for 15 to 20 seconds and about 50 yards before it stops. Who doesn't think that's cool?"
Other aspects of the property you're most proud of?
"There was a lot of effort to bring this commercial timber forest back to this pine-oaks savannah that you're seeing now. And it's the latest groundwork in Mike Keiser's master plan for a bigger project to create a pine barrens resort that spreads out in every direction. I'm just thrilled that my team had a chance to be a part of this, and it's fun to see how Sand Valley has evolved in the past two years, and how it will continue to grow in the future."
You have opined that golf needed to get back to emphasizing the fun aspects of golf. Could you explain why that was so important?
"I felt, 10 years ago as we were going through the recession and as it related to golf-course design, that we needed to stop massaging our egos and building impossible golf courses, just because tour players were hitting it as far as ever with the latest technology. That doesn't matter at all to the average player. We needed to stop pandering to that, and we needed to remind people that golf could be fun again.
"Now and 10 years after my epiphany at Bandon Dunes, Mammoth Dunes opens, so it's pretty cool," "I hope this helps in its way to steer the course of golf courses in the future. There are so many courses out there that are 30, 40 or 50 years old, and they've been hemmed in with trees, their fairways have gotten smaller and greens have shrunk in size. All things that the membership at those courses don't realize, but they could be having a lot more fun. And so, I'm on a mission for myself and also golf in general to make courses more playable. It doesn't equate to challenge. Making courses more playable will not make them less challenging."
You've described your return trip to Bandon Dunes with your team, Casey Krahenbuhl and Nick Schaan, and studying what you did so well at Bandon. What do you think you learned?
"It was all instinctual. I don't think it was anything I could have intellectualized back then. It took me another 20 years to intellectualize those concepts at Bandon, and figure out what specifically makes golf fun. It isn't that much fun, I don't think, hitting a golf ball down the middle of a crowned fairway, thinking you hit a good shot, and you go to the bottom of the hill and your ball is sitting in a pot bunker. That doesn't feel that good. So I try my hardest not to do that. I want golfers to hit a shot that they think is good, and it ends up actually being a good shot. We took so much on that trip to Bandon a decade ago that we're implementing into everything we're doing. The sixth hole, for example, the fairway is crowned to the left, so if you miss the landing area to the left there, you might think your ball is in a sandy area and that you'll have a tough par to make. But we grassed that entire area, and actually, you just have a slightly uphill chip to a green with room behind it to miss, so you're not not even vaguely out of it. That just yields more confidence to the next hole. You're saying, 'I'm in it the whole time, even if i miss, i have the skills to recover.' And that's what we tried to achieve around the entire property, keeping people wanting to have fun and wanting to come back."