2016 Armchair Architect Wrap-Up
There were minimalist entries – one contestant's diagram had only a tee and a green, suggesting all other features be field-designed. There were also elaborate works of art. After reviewing the 500 plus entries to the 2016 Armchair Architect contest, the judges reduced the potential to designs that might actually work on the land set aside at Sand Valley. Here are those that made the final cut, and the countdown to the winner →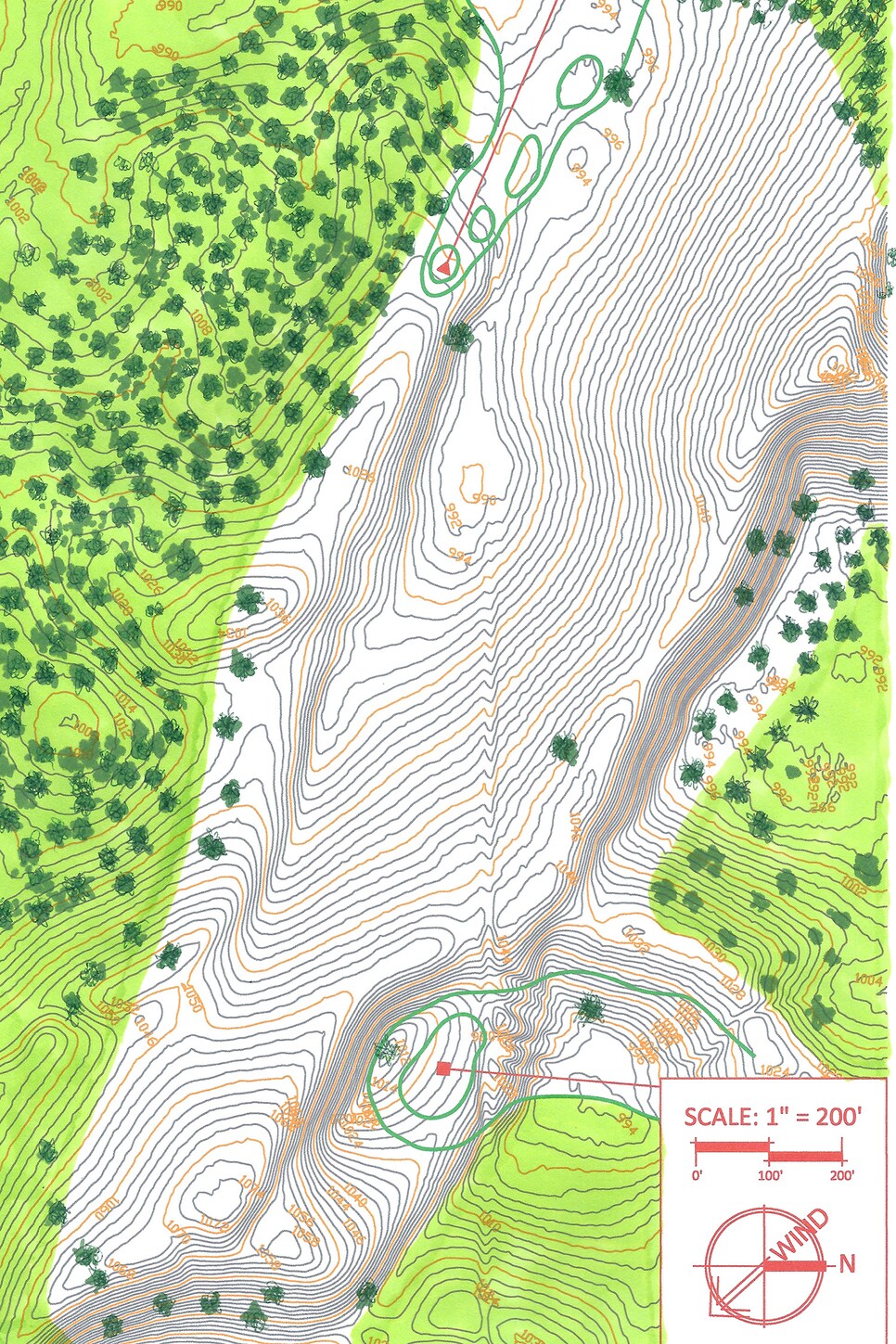 This is the topographical map of the actual piece of land at Sand Valley Golf Resort near Rome, Wis. upon which the 2016 Armchair Architect hole will be built. The steep right-to-left slope made it a problem to find a natural greensite anywhere but around the low areas near the 15th tee boxes. So a good many entries were eliminated because they would require an artificial green pad.
1.) Kyle Nielsen
A very unusual entry by 25-year accountant Kyle Nielsen of Cedarburg, Wis. prompted architect David Kidd to walk out to the edge of the escarpment on the right to see if a drivable par 4 along its edge was feasible. "I'd never considered anything like that," he said. But the ground proved too severe.
2.) Matthew James
The severe ground along the right doomed the proposed cliffhanger green by Matthew James, an associate professor of landscape architecture at South Dakota State.
3.) Andy Craine
Likewise, the design of Andy Craine, a 36-year-old landscape manager at Cuscowilla Golf Club in Georgia, with a hilltop green wrapped by a sloping fairway, just wasn't practical on the land.
4.) Robert Hoye
The long par-4 with an uphill green by Robert Hoye, a 69-year-old retired building architect from Dover, Mass., raised another issue. Kidd plans a walking course, so he rejected any design with long walks to the tee or from green to next tee.
5.) Drew Groeger
Unfortunately, the long walk from 13 green to the proposed tees on a dogleg left by 51-year-old Chicago software design Drew Groeger found no favor.
5.) Drew Groeger
While judges admired Groeger's artwork, they noted his green required to be recessed into the hillside, leaving an awkward earthen berm behind the putting surface.
6.) Jeremy Ringer
The artwork of Jeremy Ringer, a 40-year-old Erie, Pa. landscape designer, was outstanding, but the hole too conventional-looking and too long. Kidd felt only a drivable par 4 will fit the site while leaving short walks from adjoining green and next tee.
7.) Gary Herbert
Long walks and extensive earthwork needed to flatten the fairway were marks against the beautiful design by 63-year-old Chicago landscape designer Gary Herbert.
8.) Colton Craig
Several entrants, including Colton Craig, a 23-year-old Kansas State landscape architecture student, suggested a double fairway hole with a narrow green atop the ridge on the left. The judges walked the area and found the greensite far too narrow and Kidd's newly-relocated second green potentially in harm's way. So this concept was reluctantly dismissed.
9.) Greg Steliotes
The judges then concentrated on drivable par 4s. The design of 52-year-old Greg Steliotes, a businessman from Mars, Pa., was attractive, but provided no real options for play, punishing anything short, left, right and long.
10.) Bo Links
No real options exist on the reachable par 4 proposed by 66-year-old San Francisco attorney Bo Links (a two-time winner of the Lido Design Competition). While he used the ground to help rebound drives onto the green, those not willing to attempt the lengthy shot had no flat fairway to shoot at.
11.) Corey Johnson
A similar concept by Corey Johnson, a 30-year-old retail store manager in Evans, Ga., did provide a flat area short of the green, but it seemed to favor only the long hitters.
12.) Paul Rutowski
Judges liked the clear distinction of routes on the entry by 48-year-old Paul Rutowski, who owns the Austin (Texas) Lawn Service. But the steep right-hand fairway was so narrow as to be impractical.
13.) John Percival
A very similar concept by 57-year-old golf pro John Percival of Birmingham, Mich. (who won a Golf Digest Armchair Architect competition 25 years ago) clearly encourages bounce and roll onto the green. But a fair alternate route for the higher handicapper still seemed wanting.
14.) Michael Eddy
Michael Eddy, a 52-year-old from Richmond, Va., had the right concept with an enormous fairway that seemed to provide a bailout for short hitters down the left side. But the fairway seemed too vast and hazardless to cause long hitters any pause.
15.) Guy Nicholson
43-year-old Toronto journalist Guy Nicholson split his enormous fairway with a single bunker, but the long walk from 13 green to his elevated tees was considered unnecessary. Judges then decided to focus on dual fairway holes.
16.) Jim Schouller
Although his broad hole climbed the hill on the right perhaps too much, judges liked the options posed by the design of Jim Schouller, the 46-year-old club professional at Fountain Head Country Club in Maryland. But the hummock in front of the green seems to pose an unnecessary blind shot for average golfers.
16.) Jim Schouller
Schouller even carved a model of his proposed hole, demonstrating just how prominent that hummock would be to those who decide to play safe to the left-hand fairway.
17.) Jacob Thorsen
Jacob Thorsen, a 20-year-old business finance student from Crown Point, Ind., also used the steep right hand slope to direct drives toward the green while offering a left-hand bailout. But his left fairway in a depression appears to pose a blind second from there.
18.) Ryan Daly
13-year-old Ryan Daly of Houston, Texas offered a clear risk-vs.-reward design. "Either lay up left of fairway bunkers or go over fairway bunkers," he wrote. If there was a flaw to his design, it was simply that the green seemed too perpendicular to the line of play, forcing the average golfer from the left to hit a high, soft approach, which rarely happens.
19.) Carmen Dorso
Carmen Dorso, a 44-year-old real estate agent in Lutz, Fla. conceived the same sort of high-right, low-left expanded fairway as others. Judges were split on whether his long ribbon tee was charming or excessive. All agreed it ran on in too many directions.
20.) Craig Snyder
The dual fairway proposal by Craig Snyder, a 41-year-old golf instructor in San Diego, offered just what Kidd was looking for: a long gambling drive down the right side that could bounce onto the green or a definite lay-up on the left with a 5-iron or less. Big drawback? Tee boxes (with strange walking paths) atop a ridge over 100 yards from the previous green.
21.) Joel Hornickel
The polished design of Joel Hornickel, director of planning for the city of Branson, Mo., was no accident. He previously was a design associate in the firm of Arthur Hills & Steve Forrest in Toledo. Judges liked the concept, but the bailout left seemed unduly severe for the average golfer.
22.) Tim Fraley
Second runner-up was "The Tooth," a dual fairway proposal by Tim Fraley, the 44-year-old head pro at Awbrey Glen in Bend, Ore. (where, full disclosure, David Kidd is a member.) Mike Keiser liked how the hole used steep banks right and left to bounce drives toward the green from either fairway, but the other judges didn't understand the point of the dual sets of tee boxes.
Runner-up: Edmond Eberts
Runner-up was 78-year-old Edmond Eberts of Calgary, Alberta, who provided nearly everything the judges saw in other proposals, including a kick-slope right-hand fairway to direct drives onto the green, a flat fairway to the left for short hitters and a diagonal green to accept a bouncing drive onto the putting surface. But his back tee measures 430 yards, far too long to be considered drivable. There was talk of simply eliminating Eberts's back two tees and make it truly drivable, but in fairness to others, the judges considered the hole as it was presented, and concluded it was a great idea stretched too far.
Armchair contest winner: Brian Silvernail
So is the maximum 394 yards on Brian Silvernail's winning design really that much shorter? Since the tee is elevated, Kidd feels it would likely be considered a drivable par 4 by big hitters, particularly with the sharp right-to-left slope of the right-hand fairway. But in reality, most retail golfers at Sand Valley will use the 362-yard tee or even ones forward of that, guaranteeing that many will take a poke at the green. Kidd sees the right-side tee shot to be like a long putt across a sloping green. One must aim high enough to allow for the slope once gravity takes over. He also likes the idea of a bailout drive to the left with something less than a 4-iron, followed by either an aerial approach or a low shot to the right that might take the slope short of the green and bound on. "This could become the most exciting hole on the course," Kidd said after studying the design several times.Did Silvernail's professional graphics sway the judges' decision? Not really, although after the selection was made, Kidd reviewed Silvernail's artwork and remarked that it reinforced his feeling that the design concept was ideal. "I love how he flows the green off in the back, almost in an indistinct fashion, where the green just merges with the land," he said.
Read more about the winning design →