Presidents Cup
Presidents Cup 2022: Americans roll on Day 1, and it could have been worse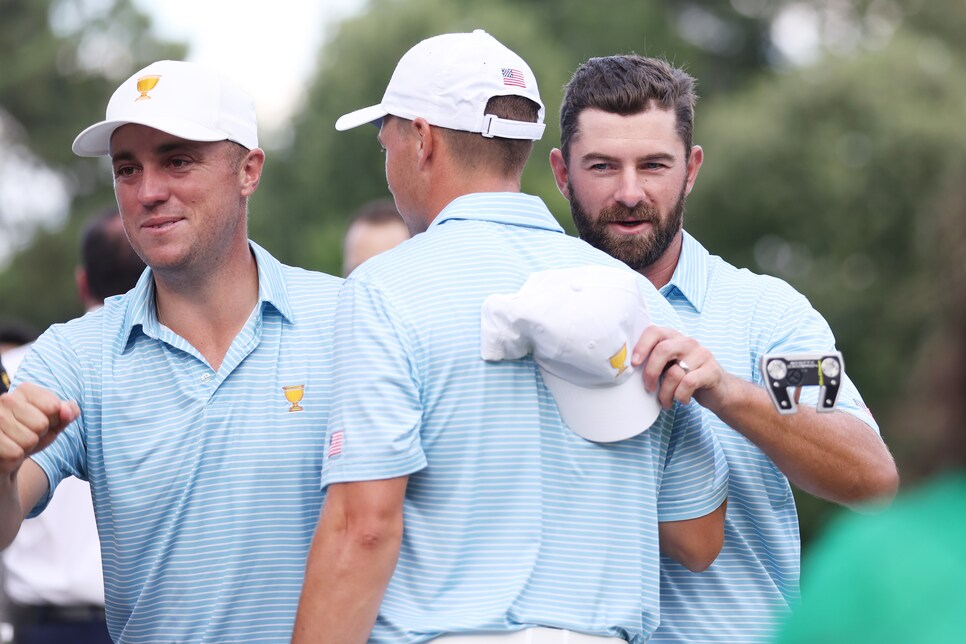 The Presidents Cup is down south but what happened at Quail Hollow Thursday recalls a yankee proverb—New York Yankee Yogi Berra, to be precise—for despite being five matches into a 30-match event, it's getting late early for the Internationals.
Entering as massive underdogs, Trevor Immelman's squad desperately needed something to go its way in the opening stanza; instead the first group, featuring two of the team's best players in Hideki Matsuyama and Adam Scott, got shoved into a locker, losing 6 and 5 to Patrick Cantlay and Xander Schauffele. The other four matches weren't blowouts, with one of them going the distance and the duo of Si Woo Kim and Cam Davis engineering a comeback to shock Masters champ Scottie Scheffler and his buddy Sam Burns. The victories, both moral and actual, ended there, as the United States owns a 4-1 lead after Thursday's foursomes session.
Yes, LIV Golf has siphoned considerable juice from the Internationals, and to say otherwise is to be obtuse to the obvious. The Internationals also haven't won this event since 1998, and with a full squad in 2017 they were almost closed out on Saturday at Liberty National, down 14½-3½ heading into the final day. This isn't foreign territory for them. But even with the vagaries of match play and three more days of action, Cinderella's coach looks like it has returned to a pumpkin, and the Americans have taken that pumpkin and smashed it into pieces.
Here is what went down in Charlotte on Thursday at the Presidents Cup:
Patrick Cantlay / Xander Schauffele (USA) d. Adam Scott / Hideki Matsuyama, 6 and 5
Jordan Spieth / Justin Thomas (USA) d. Sungjae Im / Corey Conners, 2 and 1
Cam Young / Collin Morikawa (USA) d. Tom Kim / K.H. Lee, 2 and 1
Si Woo Kim / Cam Davis (INT) d. Scottie Scheffler / Sam Burns, 2 up
Tony Finau / Max Homa (USA) d. Taylor Pendrith / Mito Pereira, 1 up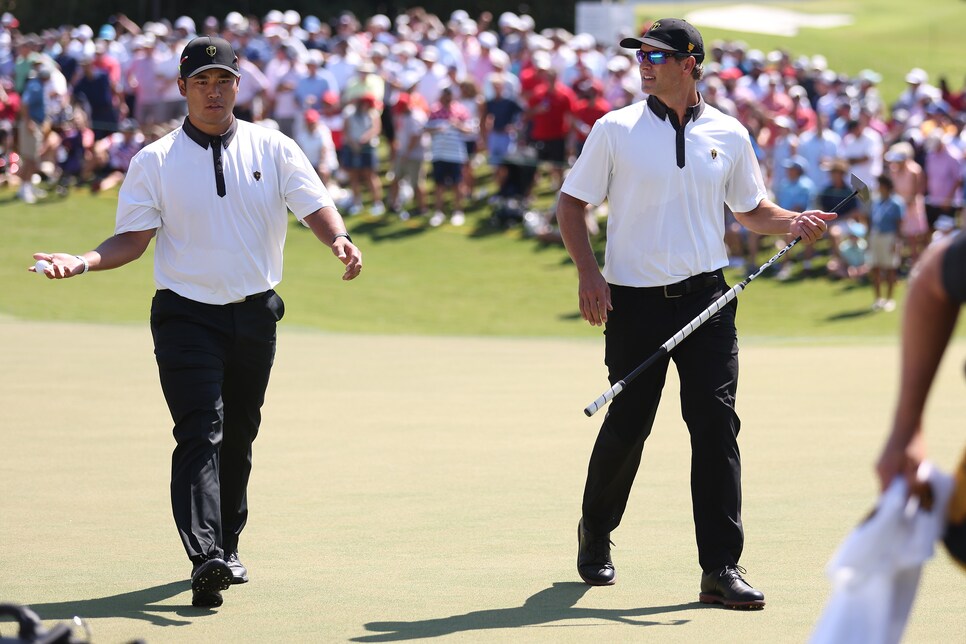 Not to belabor the point, but Immelman took a gamble by 1) putting two of his three best players together rather than spread them out on a club lacking depth and 2) putting them out first as a tone-setter. To be fair, it's not like Immelman has a ton of viable options and having Matsuyama and Scott draw first blood could have administered a shot of confidence for a club searching for just that. Instead their proverbial knockout punch missed and they fell on the canvas, 4 down after the first seven holes. Their situation did not improve, with Cantlay and Schauffele winning the 11th, 12th and 13th holes with pars to put the Internationals' front out of its misery. Any aspirations of competing against the Americans depends on Matsuyama racking up points, and a zero from him contracts an already-narrow path to victory for the Internationals.
Spieth and Thomas were 1 up after 14, but a poor drive and wayward putt by Spieth at the 15th opened the door for Im and Conners. Instead Im's chip shot was a bit too aggressive, leaving Conners with a testy four feet. Thomas proceeded to walk in a 25-footer and Conners missed, and what threatened to be a tie match turned into a 2-up advantage with three to go. Spieth and Thomas ultimately won on the 17th. What has to hurt is that Spieth and Thomas did not have their best on the day, and when only above average was needed Im and Conners could not get it done.
It was arguably the biggest mismatch on paper, Scheffler (World No. 1) and Burns (No. 12) against Davis (No. 66) and Si Woo Kim (No. 76). Through seven holes it was playing out as predicted as the Americans were 3 up thru seven. But Davis and Kim answered and answered with vigor, turning a 2 down deficit with two to go into a 2-up win thanks to a timely run (an untimely funk by Scheffler and Burns). Bad as things are for the Internationals, a skunk would have been devastating for them and the event. Granted, the chances are on life-support—they need to win 14½ points over the remaining 25 matches—but they haven't flatlined.
Finau and Homa against Pendrith and Pereira went to the 18th, but neither team played particularly well and the 18th was decided after Pereira hit a poor drive. (Poor Mito is developing a lot of 18th-hole scar tissue). So we're giving this to Young and Morikawa versus Lee and Tom Kim. Much was expected from the 20-year Kim and the man delivered, hitting dazzling shots and unafraid to punctuate made putts with some sizzle. Conversely, we are told Morikawa—a generational, second-shot savant—getting to hit his approaches from Young's drives (second in SG/off-the-tee) may be prosecuted in Hague as a crime against humanity. Kim and Lee came back from a two-hole deficit to tie things at the 12th, but the Americans regained the upper hand at the 13th and finished the Internationals off with a birdie at the 17th for a 2-and-1 win.
MORE PRESIDENTS CUP 2022 STORIES FROM GOLF DIGEST