News
Presidents Cup 2017: The winners & losers from Day 1 at Liberty National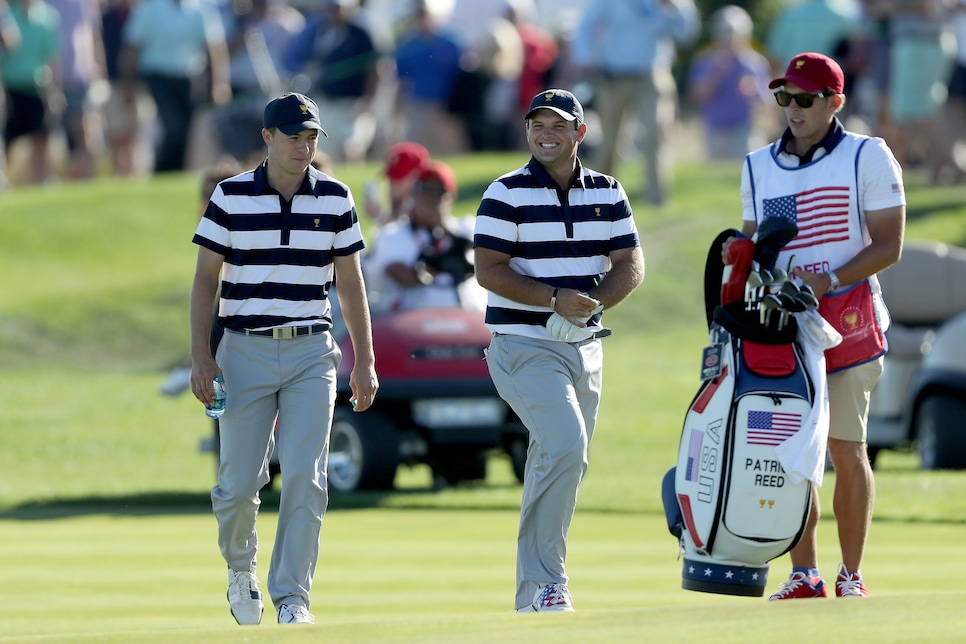 JERSEY CITY, N.J. -- Twenty of the world's best golfers played in the opening foursomes matches of the 2017 Presidents Cup, but it was a threesome of former U.S. Presidents who were the day's biggest stars. Barack Obama, George W. Bush, and Bill Clinton were in attendance, giving the biennial event an extra jolt in its first time being contested at Liberty National. The golf was pretty exciting as well, though, and to wrap up Thursday's happenings, here's our latest edition of winners and losers.
Winner: The Presidents Cup
Talk about a home-course advantage.
Loser: The Presidents Cup
At least, in the drama department. The U.S. hasn't lost this event in 19 years. More incredibly, it hasn't even trailed after any session in 12 years. That streak grew to 27 consecutive sessions after grabbing a 3.5 to 1.5 lead after Day 1 and the Americans are also undefeated in this event when they lead after the first session. So unless Spieth actually trips and falls into a port-a-potty at some point this week, it's difficult to imagine the U.S. reign of terror coming to an end at Liberty National.
The pair that's become America's top duo in recent years taking on a pair of Presidents Cup rookies? This turned out to be as big of a mis-match as it appeared to be the moment the lineups were set on Wednesday. Jordan Spieth and Patrick Reed never trailed on Day 1, cruising to a 5-and-4 victory. As Spieth said on Wednesday, the two have "a weird pride thing" in which they both feed off trying to play better than the other. And now they have a career 5-2-2 record. Their next victim, er, opponent will be Hideki Matsuyama and Adam Hadwin on Friday.
Loser: Team Florida State
The Americans won Thursday's first three matches, but their pair of Seminoles, Brooks Koepka and Daniel Berger, halted the momentum with a 3-and-1 loss to Louis Oosthuizen and Branden Grace. Not that anyone should be too upset about losing to that squad. . .
Winner: Team South Africa
Two years after becoming the first International pairing to go 4-0 in a single Presidents Cup in South Korea, Louis Oosthuizen and Branden Grace continued their dominance. "I think we play pretty similar games, and we grew up by the coast so today suited us with the windy conditions," Oosthuizen said. And Grace added this about the home crowds at Liberty National. "It wasn't as loud as I thought." Uh-oh. Is that a challenge to New York-area golf fans?
The Aussie didn't play terribly, but he came up short on arguably his team's two biggest shots. Literally. After he and Leishman won four consecutive holes to take the lead, Day dunked his tee shot on the drivable par-4 12th in the water. And on the par-3 18th, after the Americans had already missed the green, Day didn't reach the green to set up another bogey in a disappointing halve. On the bright side, he and Leishman will get another crack at Phil Mickelson and Kevin Kisner on Friday.
On a windswept day, Dustin Johnson and Matt Kuchar were the only pairing to avoid making a bogey. A feat made even more impressive by the fact they played all 18 holes at Liberty National. In his post-round interview, Kuchar described the match as a "heck of a battle." Three times. Kuchar also called DJ a "heck of a partner." Kuchar's a heck of a guy, isn't he?
A lot of blame for the Internationals losing the day's opening match falls on Charl Schwartzel's driver for sure, but Matsuyama did little to pick up his partner. More alarming for Nick Price is that his best player on paper -- Matsuyama is currently No. 3 in the Official World Golf Ranking -- seems to be in the same funk that led to a disappointing FedEx Cup Playoffs.
Fowler hit the first shot of the day for the U.S. -- in front of all three former U.S. Presidents -- and he hit it with confidence, striping a drive that cleared the pond on the left side. "Luckily, I hit a good one, so it was a weight off my shoulders," Fowler said of his opening tee shot. "It did add a little extra to the first tee pressure, though." From there, Fowler continued to fire at fairways, going a perfect six-of-six on his opportunities and leading partner Justin Thomas in their 6-and-4 route in the opening match. "I'd love any of the chances I'll get to tee it up with him," Fowler said of his Spring Break buddy. "I'm never going to say no to that pairing, and we'll just see where it goes." They should get a stiffer challenge on Friday when they take on the undefeated South African duo of Louis Oosthuizen and Branden Grace.
Winner: Canadian golf fans
Despite hero Adam Hadwin sitting out, these guys stayed rowdy. And they got rewarded for their support when Marc Leishman celebrated with them after chipping in for eagle on the ninth hole:
Great stuff, guys. But just to be safe, the PGA Tour might want to look into having extra security around the Adam Hadwin match on Friday.