News
Presidents Cup 2017: What's the key to Jordan Spieth and Patrick Reed's success as a team? Trying to beat each other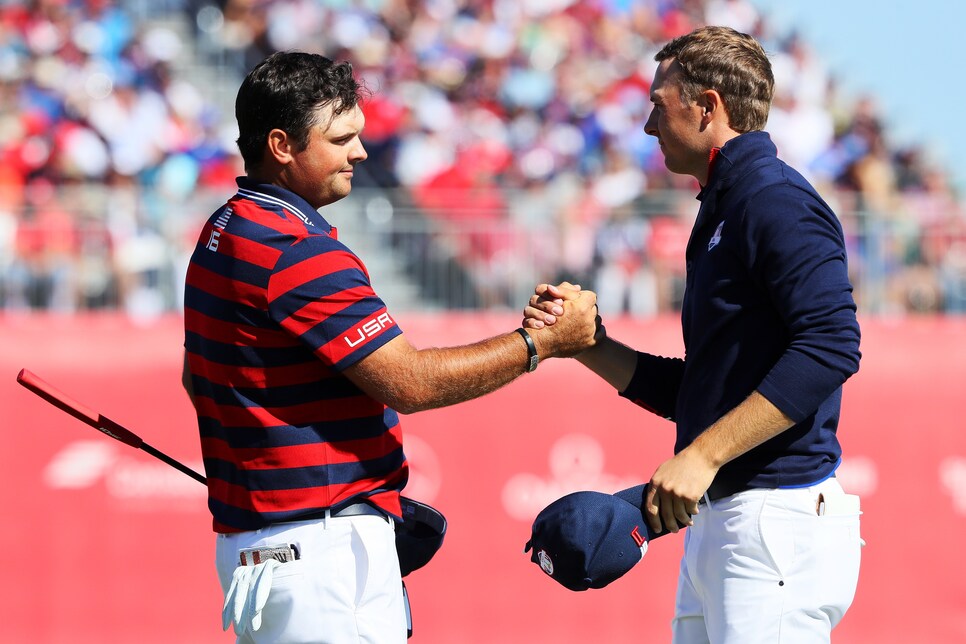 JERSEY CITY, N.J. — The Presidents Cup captains and their army of assistants did their best impression of an NFL team's war room on draft day Wednesday in the media center at Liberty National Golf Club. There was paper-shuffling, note-scribbling and top secret whispers. But when it came to the announcement of the U.S. team's pairing in the third match off the tee on Thursday, not much needed to be discussed.
"Team USA will put out Jordan Spieth and Patrick Reed," said U.S. captain Steve Stricker, completing the easiest task he's had since this whole process began.
When the superteam of Spieth and Reed tee off in their alternate-shot match at 1:29 p.m. Thursday, it'll mark the ninth time the duo has been paired together in a team match-play event. They've compiled a 4-2-2 record, including their 2-0-1 record as Ryder Cup rookies in 2014 at Gleneagles.
For 99.9 percent of the season, golf is an individual sport. Yet when Spieth and Reed link up, they fully embrace the team aspect the Ryder and Presidents Cups provide. So, what's their big secret?
Treating each other exactly the same as they do week in and week out on the PGA Tour, of course.
"We try to beat each other and try to play better than each other that day," Spieth said. "It's like a weird way that helps our team out because we don't like the one of us getting more credit than the other. It's kind of a weird pride thing for us, but it's been successful."
Speaking of weird, standing directly across from each other as they answered questions, Reed echoed his partner's sentiments. Almost like they planned it.
"Jordan and I, we've always had the same kind of mindset," Reed said. "Go out there and play the best golf we can. It doesn't matter who we are playing against, we're going after each other, and if we do that, hopefully we come out on top."
If there has been an issue for Spieth-Reed tandem it's been in foursomes, where their record sits at 1-1-2. They'll look to remedy that on Thursday against the pair of Si Woo Kim and Emiliano Grillo, both making their first appearance in a Presidents Cup. Despite how difficult it will be for the International rookies to take down one of America's top pairings, Reed and Spieth aren't looking ahead.
"It's going to be a dogfight," Reed said. "There's no easy pushover matches."
With any confidence the International team may have gained from a near victory in 2015, Spieth knows they need their best golf no matter what.
"Doesn't matter who we're playing," Spieth said. "We're doing our best to control what we can control because tomorrow is a big day in shutting down any momentum they may feel."