The Loop
Who are the Fanatics and why do they care so much about the Presidents Cup?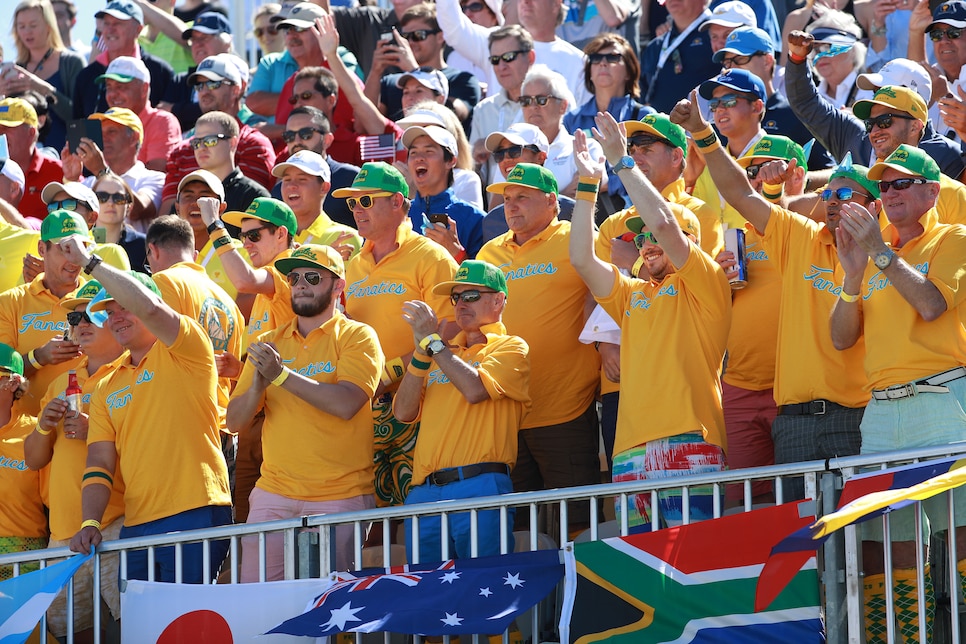 JERSEY CITY, N.J. — By mid-afternoon on Thursday, as American flags already started to dot the scoreboard at Liberty National Golf Club, David McClatchey called out to one of his charges.
"Get on Gracey," McClatchey said while racing by, referring to Brandon Grace and Louis Oosthuizen's match against Brooks Koepka and Daniel Berger.
The order was given urgently, like it was a medical emergency. Which is fitting, because when it comes to the Presidents Cup, McClatchey and Co. are perhaps most responsible for giving the event a pulse.
In the annals of devoted fan bases, you could argue no group offers as much unconditional support as McClatchey's Fanatics, the yellow-shirt-wearing, beer-swilling, clever-chanting group of men who gather every two years to help the International team in their uphill battle against the Americans. We say this not because the Fanatics care more than fans in other sports, although they have the frequent-flier miles to suggest they do. But the fact that they care at all about an event so historically one-sided still counts for plenty.
"We were talking the other day with a few player wives about how we love this event because it's more about fun," said South Africa's Hugo Venter. "Of course we want our team to win, but that's not everything."
The Fanatics trace their roots to 1997, when Australia's Patrick Rafter won the tennis U.S. Open, and McClatchey wanted to find ways to support Australian athletes at international events. The group's presence is bigger in other sports like soccer, cricket, and tennis, but golf holds a unique place given the curious dynamic of the Presidents Cup, when International players are pulled from eight countries. It's not a stretch to say the Fanatics are one of the team's few unifying elements, and it was apparent on the first tee, when their group of 20 traded barbs with their American counterparts in the bleachers before the opening ceremonies.
They had arrived there after another late night in lower Manhattan, with plenty more expected this week. While Venter says the PGA Tour pays for their tickets to the event and gave them ferry passes to Jersey City, everything else is on them. Venter's trip from Cape Town cost more than $2,000, which is roughly what he paid two years ago in traveling to South Korea.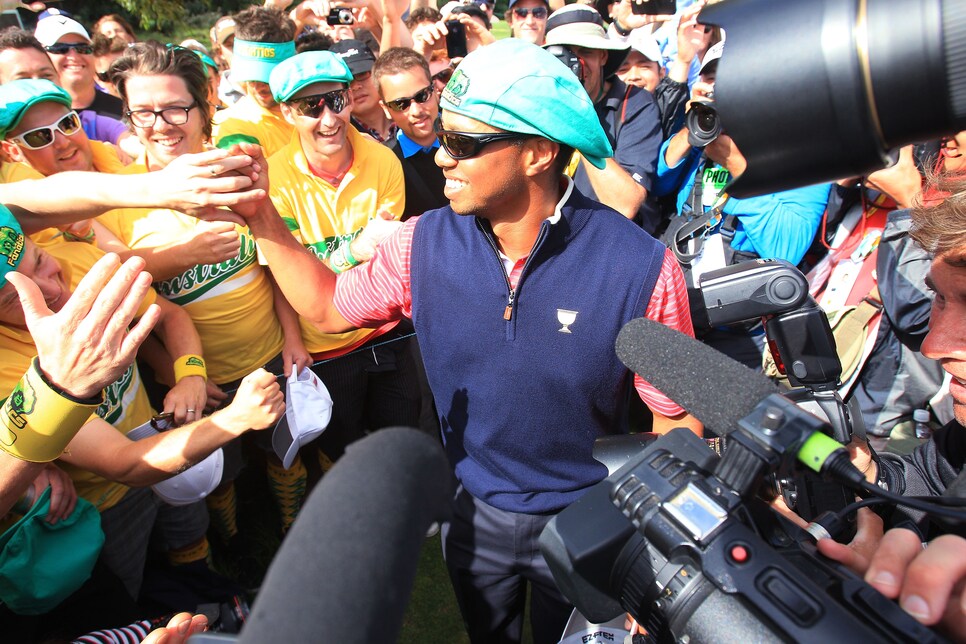 Is it worth it just to see his beloved Internationals lose every time (the U.S. has won nine of the 11 Presidents Cups, including each of the last six)? Yes, when considering the friendships forged with other Fanatics, as well as with the players. The men had beers with Louis Oosthuizen on Wednesday, bumped fists with players as they walked off the tee on Thursday, and on Sunday can expect to mix it up with the International and American players at various afterparties. Devotion does have some privileges.
"We know them all pretty well by now from previous events," Venter said. "They're always coming up to you and chatting during the event. Even the Americans like to swap shirts with us by week's end."