Takeaways
Players 2021: Lee Westwood's golden chance, Bryson's impressive putting and Jon Rahm finding his Sawgrass comfort zone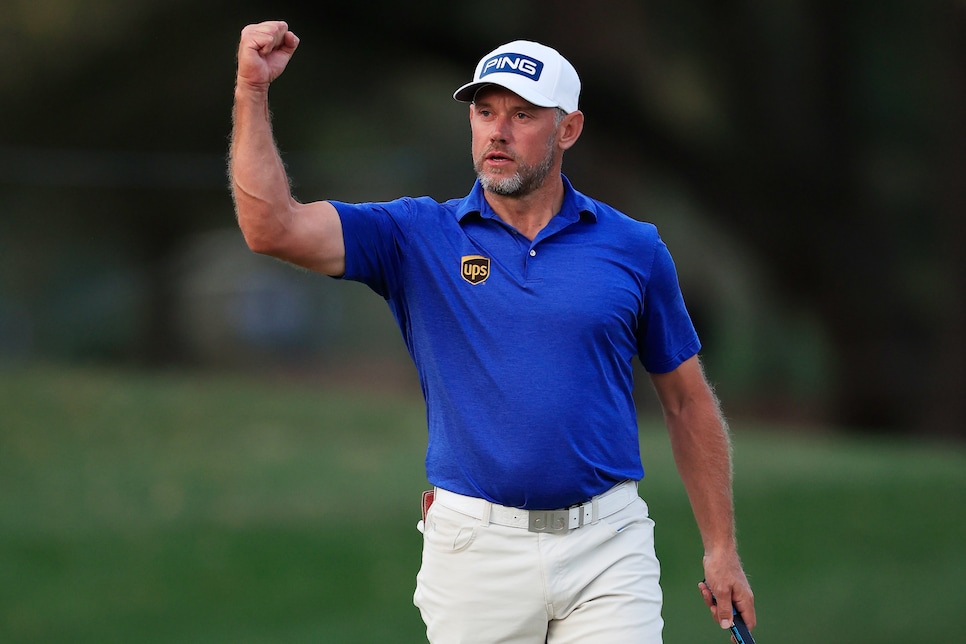 Lee Westwood reacts to his birdie on the 17th green during the third round of the Players Championship.
Sam Greenwood
Lee Westwood, who leads the Players Championship by two strokes, hasn't made a bogey since his 10th hole on Thursday and turned pro the same year (1993) that Bryson DeChambeau was born, is on the precipice of the biggest win of an already stellar career.
Can he actually get it done?
It's a question that has dogged Westwood—sometimes unfairly—his entire career, which spans 25 wins on the European Tour, another two on the PGA Tour and 17 on various world tours, despite him having been No. 1 in the world and a Ryder Cup star forever.
The Players Championship isn't a major, but it has the feel of one with a suddenly red-hot Justin Thomas right behind Westwood and DeChambeau, World No. 2 Jon Rahm lurks, and Paul Casey (another many would say is an underachieving Brit) and Brian Harman are trying to play spoiler.
Here are our observations from Saturday at TPC Sawgrass.
Westwood bogey-free again
It wasn't a great day with the putter for Westwood, but the soon-to-be 48-year-old delivered a big roll on the famed 17th, draining a 25-footer for birdie from above the hole that elicited a fist pump and raise-the-roof moment. Then he canned a nervy five-footer to save par on the last, where his putt from the shaved bank below the green had scooted by into the uncomfortable range.
No problem. That's now 44 consecutive holes without a dropped shot.
"Got to the putt [on 17] and the more I looked at it the more break I could see on it," said Westwood after a four-under 68. "I set it off on the line I wanted to, at the speed I wanted to, and [playing partner Matt Fitzpatrick] said, 'That was in right off the putter.'
"There's an element of skill but obviously there's an element of fortune when one of those goes in."
For all the grief Westwood gets for being a lousy putter, he's been OK this year, ranking 78th on tour in strokes gained. He's also had a few other, even better years with the flat stick. You don't get to No. 1 in the world by not making your share.
Where does Westwood think a win Sunday would rank in his career?
"It would be the biggest tournament I've ever won," he said.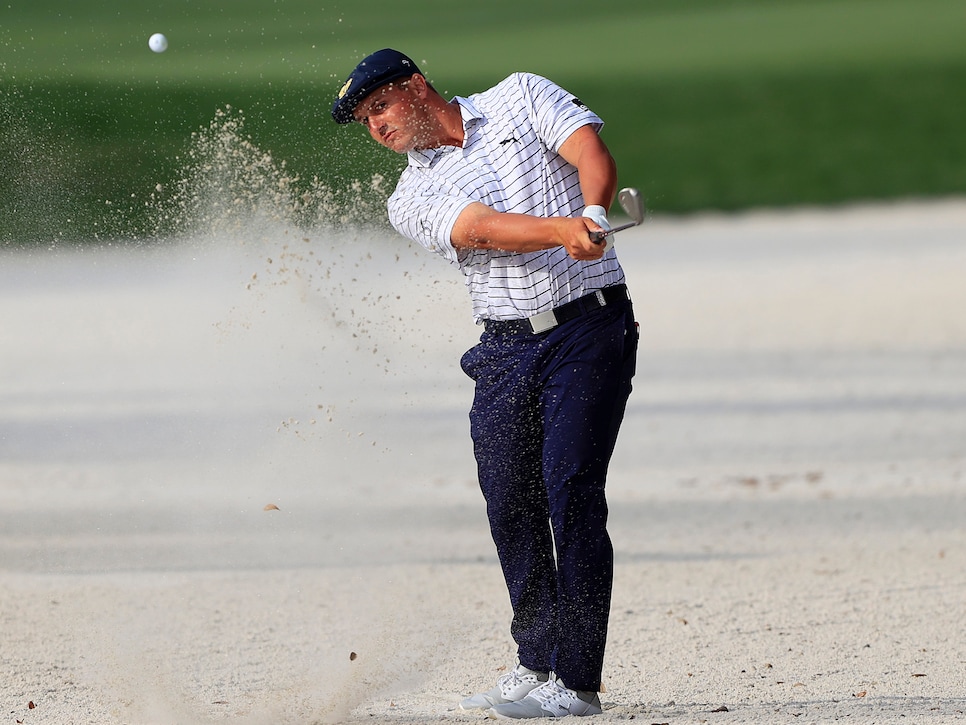 Bryson DeChambeau plays a shot from a bunker on the 14th hole during the third round of the Players Championship.
Sam Greenwood
So it'll be Westwood and DeChambeau in the final group—part deux, a week after the latter came out on top at Bay Hill.
Bryson making it look easy
Consider some of the courses that DeChambeau has won on—birdie-friendly TPC Deere Run, classically difficult Muirfield Village, Donald Ross-designed Detroit Golf Club, Winged Foot and Bay Hill among them.
The first two of those came before the added bulk. You know the rest. Now he has a chance to add a victory at the tour's crown jewel, TPC Sawgrass, where, for a moment, he actually complained that the course was "too easy" on Saturday.
"Nice green softness," he said after his 35-yard bunker shot on the 14th hole unexpectedly stopped 20 feet short of the cup. "The Players Championship, huh?"
It led to DeChambeau's first bogey in 31 holes and was his only one of the day, an afternoon that ended, like Westwood's, with a couple of big putts, first for birdie on the par-5 16th and then a par-saving 14-footer on the last to cap a 67.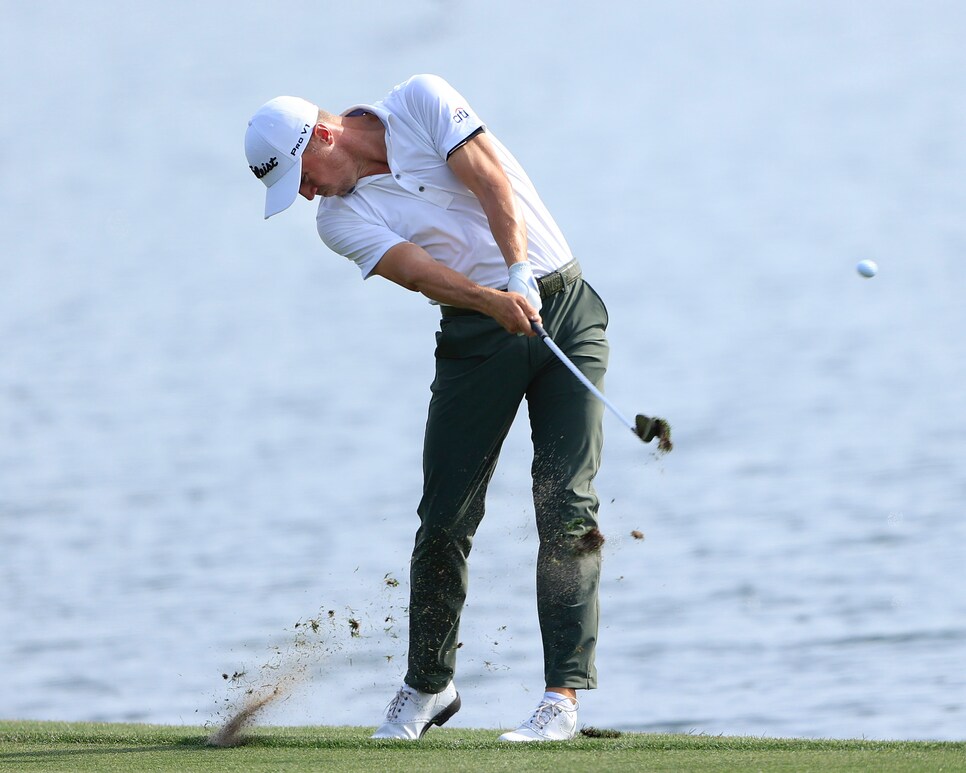 ustin Thomas plays his approach shot on the 18th hole during the third round of the Players Championship.
Sam Greenwood
Unlike Westwood, DeChambeau had a large day with the putter, gaining more than 3½ strokes on the field on the greens. But his success all week really has been about what he hasn't done—compound mistakes.
"I think there's been a couple holes where I haven't missed in the right place, but on average I've missed it in the correct places, and when I haven't I've, for the most part, been able to get up and down," he said. "That's what you need to do to win golf tournaments. Putting has always been pretty good and my driving was a little bit better today, I hope I can keep moving forward with that and working on it in the right way and giving myself a better feel for [Sunday]."
Thomas finally has some fun
It's been a while since Thomas has enjoyed himself on the golf course.
First, there was the homophobic slur picked up by on-course microphones at the Sentry Tournament of Champions. Then longtime clothing sponsor Ralph Lauren dropped him in the wake. A month later, before the final round of the Phoenix Open his grandfather, Paul, a longtime PGA pro, died.
"A lot of stuff going on mentally that I felt like I've never had to deal with and maybe taking things for granted or just not enjoying the game," he said Saturday. "Being irritable, being frustrated, emotional on the golf course is not good for me. It's definitely not good for [my caddie] Jimmy. I'm sure he likes it when I play better a little more, too."
Thomas did that and then some, torching TPC Sawgrass with an eight-under 64 that included birdies on each of his first four holes and a terrific iron from 204 yards to set up a tap-in eagle on 16.
"I wish my mood and emotions weren't so dependent on my golf, but golf is my life and it is my job, and I care a lot about it and I care a lot about how I play," he said. "So it unfortunately does depend or make and break my mood. But I'm trying to get better. I mean, I'm growing up a little bit, but at the same time it means a lot to me and playing well and winning tournaments means a lot as well.
"When you're able to get in those zones and hit those shots exactly how you see it, it's fun. It really is."
It finally looked like it. He was Kobe Bryant in golf shoes, his play electric and his walk swaggy.
Rahm feeling comfortable at TPC Sawgrass
Two years ago, Rahm had the lead after three rounds at TPC Sawgrass but imploded with a final-round 76 to tumble out of contention, finishing in a tie for 12th. This year, he'll be the one doing the chasing, four back after a 67 that included five birdies in his first nine holes on Saturday.
Two of those birdies came from long range—20 feet on No. 5 and 35 feet on 7. The others were set up by wedges hit to close range.
Now playing in his fifth Players, the 26-year-old, who has finished better each year he has played it, also seems to have found his footing at TPC Sawgrass.
"The more you play a golf course, the more comfortable you can get, especially the more times you play it well because you understand what really works for you and what doesn't work and certain strategies," he said. "I feel like I've played well in the past, I've had good rounds, and I keep learning from that experience."
One thing he learned, and he'll need to execute on Sunday: making birdies early and often.
"Starting on 14, this is not the easiest golf course in the world," Rahm said. "You've got to hit really quality shots, and I just didn't give myself the best chances. I had birdie putts but I was just too far away on all of them."