Players Championship
Players 2022: A weird and wild Monday finale caps an unorthodox five days at Sawgrass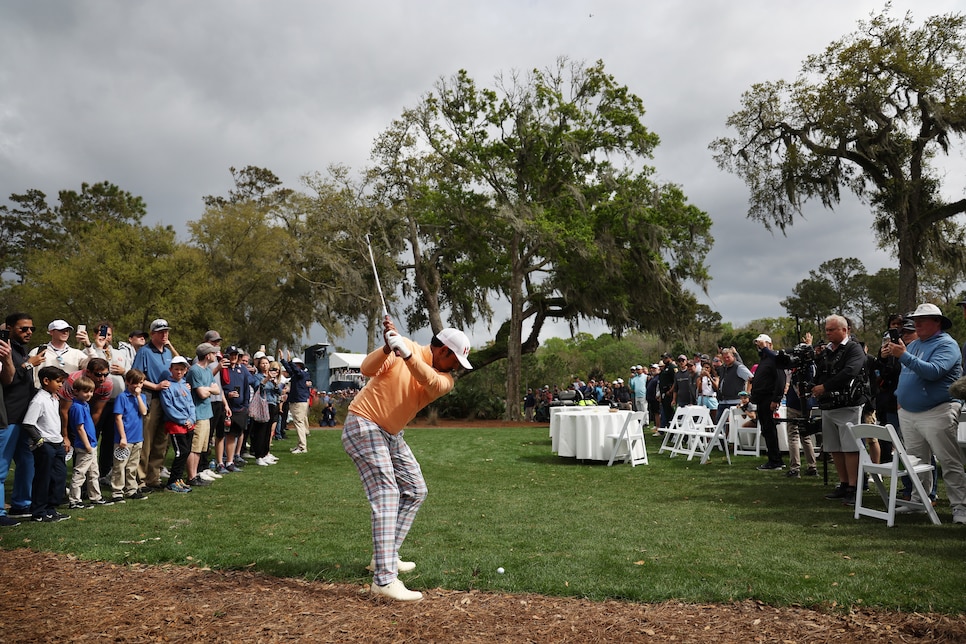 After hitting a wild tee shot and taking a penalty on the par-3 eighth hole, Anirban Lahiri plays his third shot as fans look on.
Patrick Smith
PONTE VEDRA BEACH, Fla.—The meteorologists were wrong. Perhaps we shouldn't be surprised given it's a profession synonymous with inaccuracy. But the weather reports said there was a 1 percent chance of rain for Monday, which in forecast parlance means no chance of rain, and those reports were 100 percent wrong. It poured during Round 4 on Day 5—at least we think it's Day 5, we can't say for certain—of the Players Championship. Not for long; 40 minutes, tops. Not to the severity where you looked around to see where the animals were lining up two by two. Yet the rain was steady, the rain was strong and more importantly it was raining and we were told it wouldn't. Which was sadistically fitting as this unorthodox tournament week somehow one upped itself with an uncanny finale.
"It's definitely been a week unlike I've ever experienced," said Russell Knox after a T-6 finish. "To finish my second round on Sunday and then play obviously a lot of golf in the next day and a half, super weird. I'm exhausted, that's for sure … Yeah, I'm glad it's over."
Little golf was played on Thursday and Friday, the wind swept away Saturday and Sunday felt like December. Monday was expected to be the day the Players fixed its suit and straightened its tie. Of course, "expected" left this tournament long ago. Anyone who doubts that only needs to look to the 54-hole leader, Anirban Lahiri. He is a two-time Olympian and a two-time Presidents Cupper. He also entered No. 322 in the World Ranking and 209th in the FedEx Cup and so far in the wilderness a search party had not been convened. Joining him in the final pairing were Sebastian Munoz (a fine player but far from a household name) and Doug Ghim, owner of one top-10 in 68 career starts. Not the profiles envisioned to be atop the toughest field in golf. Then the golf started and, boy, where to begin?
Let's stay with the final group. Munoz and Ghim bowed out before they reached the third, Munoz with a 6 at the par-4 first and Ghim with a 7 at the par-5 second. Lahiri was solid over the first seven holes at one under, then proceeded to hit his tee shot into a bush at the par-3 eighth. He took an unplayable, moving so far back that some very nice ladies seemed briefly miffed their picnic had to be paused so tables could be moved in order for a golf tournament to be played. Lahiri walked away with a double, although could find solace that he had delivered a nice anecdote for the ladies' Tuesday night book club.
There were the fourth-hole adventures of Jon Rahm, the World No. 1 and pre-week favorite. He wasn't necessarily in the mix heading into the final 18, but close enough to the fire to make it interesting. Instead, he made a 9 on the par-4 fourth, a number so big we'll repeat it once more—9. He sank two approach shots in the water and made a mess around the green. Amazingly, no signs or caddies were harmed as Rahm turned in his highest score (77) since the 2018 Open Championship.
There was Cam Smith, opening his round with four straight birdies and five in his first six before carding three straight bogeys only to bounce back with another four-string stretch of birds. For those keeping score at home that's one par over his first 13 holes and if that sounds odd you are correct: According to stats guru Justin Ray, that is the first time anyone has made only one par through 13 holes in the final round of a Players since Joey Sindelar in 1988. One doesn't expect to be hit with Joey Sindelar references, not in 2022 at least. On this day ... sure.
Dustin Johnson tied the course record and the only shot aired was his last, a hole-out for eagle on the par-5 ninth. Johnson began the round T-59; he finished T-9. Adam Hadwin was also way behind to start the round in T-35, but put together a run so formidable—coupled with some leader board stasis—that there was the realization the winner could finish two hours before the final group and finish on the front nine. About this time a certain announcer crooned that everyone near the lead was "looking for the biggest win of their career," only for someone to get in that announcer's ear and remind him that Keegan Bradley, just two back at the time, had won a major championship.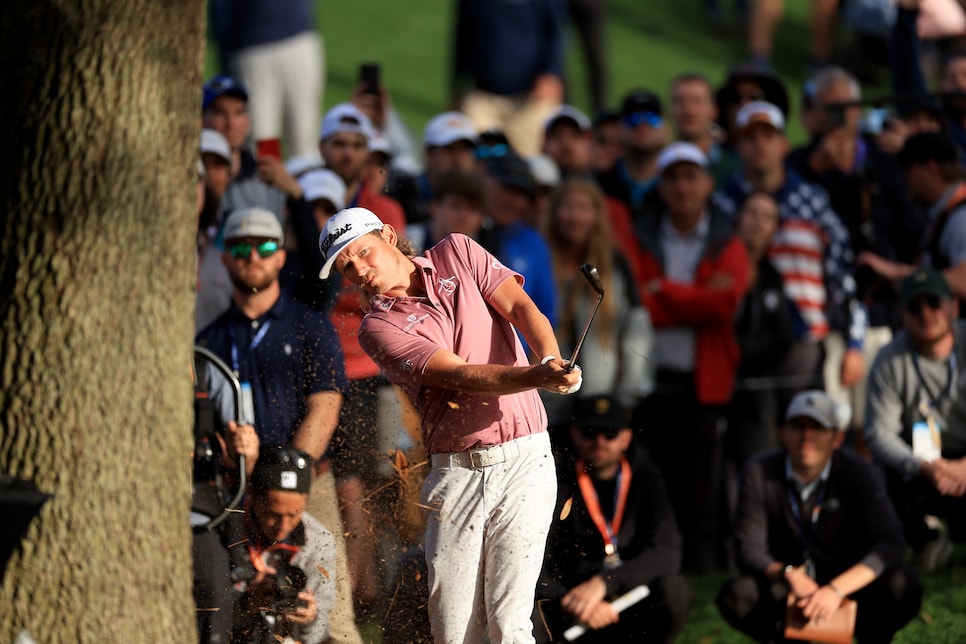 Champion Cameron Smith plays his second shot on the final hole during the final round of the Players Championship.
David Cannon
There was a testy rules exchange, with Daniel Berger asserting his approach shot that found the water on the 16th was close to the green only with playing partners Viktor Hovland and Joel Dahmen to insist otherwise, ending with Berger stating, "You know what, I'm going to drop here for the sake of you guys, but you're wrong." Speaking of Hovland, maybe it shouldn't be a surprise considering he has infamously claimed his chipping is, uh, not good, but to see the World No. 3 have the short game of a 13-handicapper continues to confound, as a handful of poor chips kept the fledgling superstar from truly contending.
There was a Paul Casey drive that found a ball-mark crater in the 16th fairway, buried so bad he needed to lay up at the par 5 when he desperately needed an eagle. There was Smith accidentally pushing his tee shot right at the par-3 17th and somehow getting away with it to make birdie and extend his lead to three.
There was sun appearing for the first time in days only to be followed by rain that caught the field by surprise that Knox may have had to borrow an umbrella from a fan. (NBC Sports' Roger Maltbie was not so lucky. When asked if he had an umbrella, Rog replied, "This was not in the forecast.") There weren't many fans at the round's start—it was a working day, after all—only for fans to show up after lunch, scatter with the rain, then return in numbers for the ending.
There was Russell Henley making an albatross, and an eagle, and a birdie, and a par, and a bogey, and a double for the scorecard grand slam. There was Patton Kizzire making 10 birdies (while also making double at 17) to tie a tournament record only to be matched by Smith hours later. There was Rory McIlroy … actually, Rory worked his usual backdoor magic, jumping 28 spots with a closing 66 because some things are impervious to chaos.
And look, maybe it's on us for assuming things would return to script. What were we thinking? Not during a week that already saw teed-up toe smacks and 17th hole shanks and an animated statue squeegeeing greens. Still, the oddness refused to cease. Even when it was over it wasn't, with Smith, up three on the final hole, hitting a punch-out into the water. He managed to save bogey, but it briefly opened the door for Lahiri, who was four under after his picnic-table excursion and had a chance to tie Smith with a birdie at 18. Alas, while the chip was true it was just short, Smith holding on, barely, for the win.
"Yeah, it was obviously a long week," Smith said afterwards. "Yeah, today I think I just kind of held in there today."
Smith was speaking about his game. He might as well have spoke for all of us.