Distance + 1
Players 2023: The Bomb and Gouge era is over. We've entered golf's '+1' era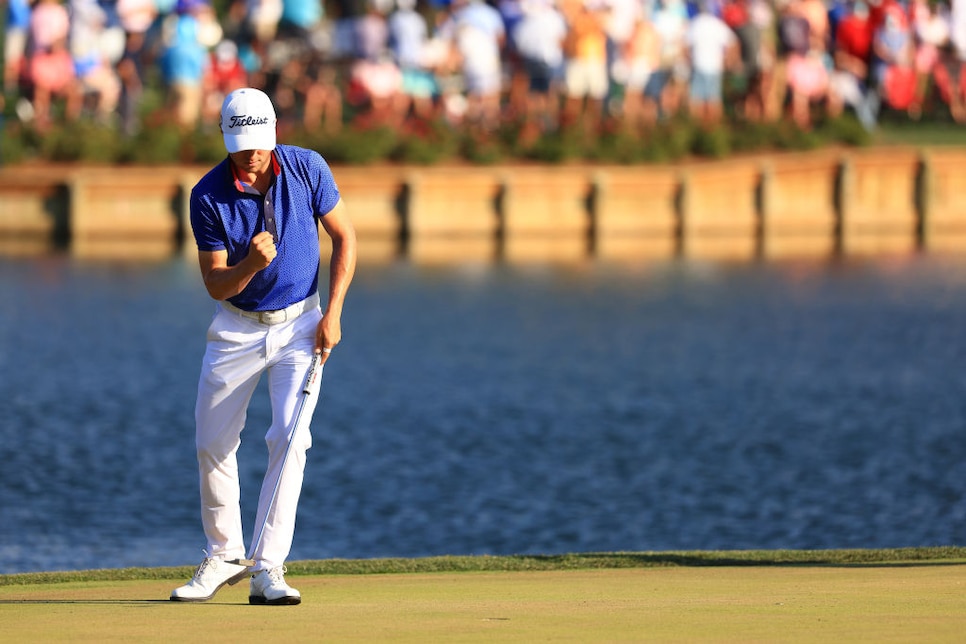 There was a time in golf when speed, and distance, was treated as a highly flammable concept among tour professionals. It was to be used carefully, and cautiously. The goal was to find just as much as you needed, and never more. Too much meant uncontrollable spin, which would send the ball away wildly. A fiery inferno you'd struggle to tame. It was only when Tiger Woods arrived that things began to change.
It's easy to spot the new world order in the late 1990s/early 2000s when a young Tiger was hitting wedges into Augusta National's par 5s, and winning majors by, at times, uncompetitive margins. Those who survived best—Vijay Singh, Phil Mickelson, Ernie Els—were unsurprisingly the ones who also chased a distance advantage. And as courses became longer, so did future generations.
"There's a new way to play, and it's all about power," the article read, emblazoned with images of the heavy hitters of the day, including future two-time Masters champion Bubba Watson.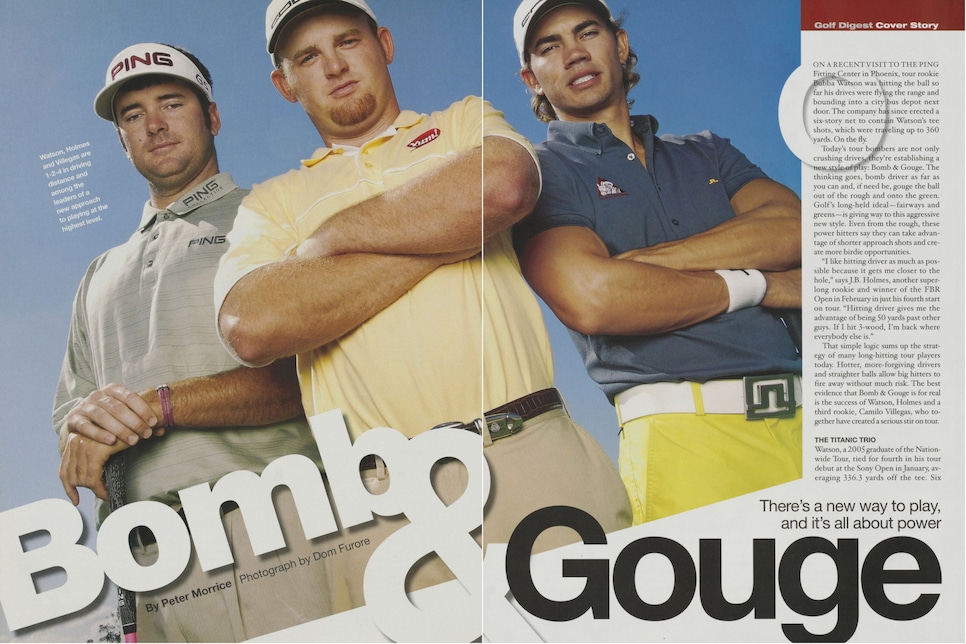 "The thinking goes, bomb driver as far as you can and, if need be, gouge the ball out of the rough and onto the green. Golf's long-held ideal—fairways and greens—is giving way to this aggressive new style. Even from the rough, these power hitters say they can take advantage of shorter approach shots and create more birdie opportunities."
Bomb and Gouge was, in essence, the lessons of Tiger taken to the extreme. Power was the singular skill that would separate a professional golfer from their peers. More is better, less is worse, and everything else is incidental. The notion was a simple and terrifying one to golf's traditionalists, who feared golf would soon recede into a game of one dimension.
In the ensuing years, the Bomb and Gouge approach became more commonplace, for sure, albeit more slowly than predicted and not categorically—which explains what's happened in the last two to three years and why there's a new era underway in men's pro golf. No players could replicate Tiger's dominance. The long hitters got longer, but they came and went. The argument lacked its definitive proof point.
Potentially, Bryson DeChambeau lifting the U.S. Open trophy in 2020 was that conclusive piece of evidence. Months earlier, DeChambeau had declared he would gain as much muscle as he could. He underwent an intensive, often two-a-day process of speed-training and re-tooled his move for maximum power. Gone was the ultra-mechanical move of a player with no major top-10s to his name. DeChambeau had looked at the data, he said, and the data told him more distance. Bryson would become Bomb and Gouge, incarnate.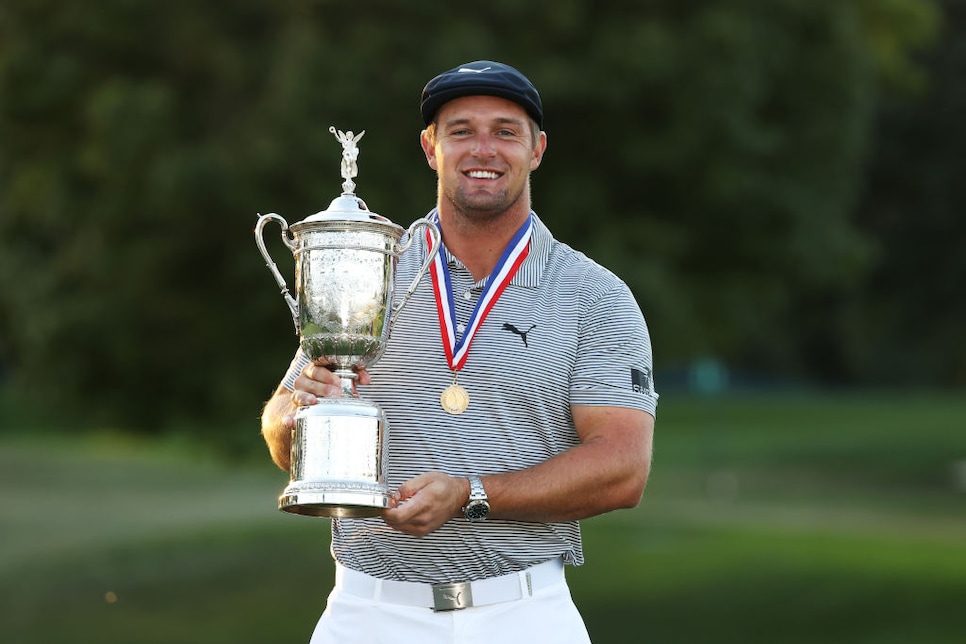 "I said to myself, OK, wait until he gets to a proper golf course, he'll have to rein it back in.' This is as proper as they come, and look what's happened," a defeated Rory McIlroy told the media in the moments DeChambeau was closing out his victory. "He's taken advantage of where the game is at the minute. Whether that's good or bad, it's just the way it is."
A new era had arrived, yet, more than two years later, as we head into the 2023 Players Championship on a course at TPC Sawgrass where distance and power would certainly seem to be valuable assets to have in your bag, the landscape is not exactly what we thought it would be. DeChambeau's win succeeded in spawned new thinking, but not a revolution. The best players in golf are not synonymous with the longest players in golf playing caveman golf.
There is something more that's needed to be elite. And if you look closely, they were even evident in Bryson's victory at Winged Foot, too: The driver grabbed the headlines, but DeChambeau finishing second on SG: Around the Greens for the week — and first in SG: Putting on Sunday — went largely unnoticed.
Of the current players in the top 20 in the world, only three sit within the top 10 of driving distance on tour. Almost as many players of those sit outside the top 70 in driving distance (five) as sit inside the top 20 (six). The average Driving Distance rank for these players is 42nd, and only four of the top 20 in driving distance on tour last season a tournament.
That's not to say distance isn't important, but rather, that distance isn't the dominant singular strategy the Bomb and Gouge moniker made us fear.
"The data proves how important hitting it further is, but with Bomb and Gouge, the discipline is in the application," Scott Fawcett, the founder of DECADE Golf, says. "You've got to have something that bails you out when Bomb and Gouge goes wrong. Speed control in putting, short game, and discipline to recognize when you're in a bad spot. That's the unicorn skill in golf."
Instead, the need for distance works more like a threshold that players need to cross. The game's current best players need enough distance, with just enough control to land inside the top third on tour in SG: Driving. That's the new baseline. Once you have that, you have the platform to use your one extra, higher-echelon skill.
And that's what separates the best from the rest.
Golf's new +1 era is perhaps best evidenced by a slate of its recent major winners …
Scottie Scheffler
+

Greens in Regulation
Scheffler ranked 19th in Driving Distance last season—an uptick from 36th the year before—and 37th in SG: Driving. It's being long enough off the tee allows him to take advantage of his elite iron play, the true strength of his game: The defending Masters champ led the tour in Greens in Regulation last season.
JT ranked 41st and 52nd in distance and SG: Off The Tee respectively, but similar to Scheffler, he's got enough horsepower in his swing to amp-up the amount of curve in his approach shots. He uses his shot-making ability to access more pins with his short irons and wedges, where he ranks first in proximity between 50 and 125 yards.
Matt Fitzpatrick + Scrambling
Fitzpatrick perhaps embodies the +1 era best. He made adding distance a priority between 2021 and 2022, and jumped from 127th on tour to 70th on tour in Driving Distance because of it. That distance boost was just enough that when combined with his already rock-solid consistency, gave him the platform to take advantage of his true strength: his short game. He led the tour in scrambling, and won the U.S. Open along the way.
Smith is the defending champion at the Players, but he'll be missing this week after jumping to the LIV Golf League last summer. En route to his victory a year ago at TPC Sawgrass, as well as his win a few months later at the Open Championship, he became another stellar example of golf's "+1" approach. The short-and-crooked driver has come slightly less short over the years. That lifted his iron game, which in turn created more birdie opportunities for his generationally good putting: Smith led the tour in Putting Average last season and in Birdie or Better conversion percentage.
Rahm hits the ball far, but the true power of his game isn't his driving distance. He's one of the most well-rounded overall ball-strikers we've seen in recent years. The year of his U.S. Open victory, Rahm finished first in Total Driving (a 50-50 average between distance and accuracy rankings) and second in Greens in Regulation.
Collin Morikawa + Accuracy
Morikawa is the shortest of the bunch, but he's also a two-time major winner. He's proved once again, that he has just enough distance to take advantage of his elite iron play. The year of his Open Championship victory at Royal St. George's, he led the tour in approaches from, 125 to 150 yards, 150 to 175 yards, and from 175 to 200 yards.
It's hardly confirmation of the drive-for-show cliche. You simply can't succeed at the highest level without a certain amount of distance. But golf requires more than that. It always has, and it always will. Launching drives into the distance may grab our attention, but it doesn't rob the game of the kind of complexity we all crave.