Tips From The Tour
Players 2023: 4 shots you need to hit at TPC Sawgrass and how to hit them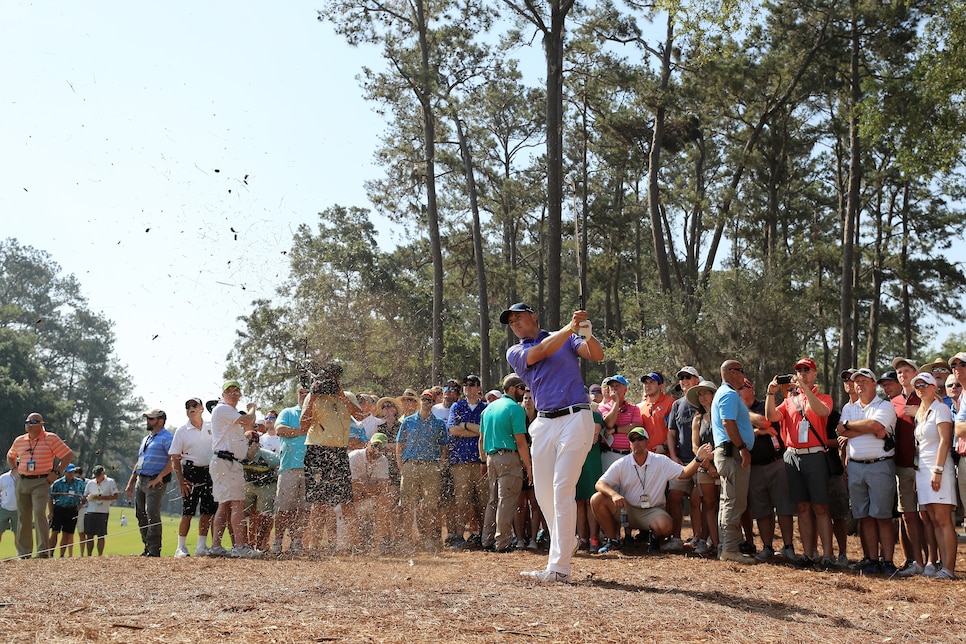 The return to TPC Sawgrass and the Players Championship brings the PGA Tour's best back to a venue that traditionally requires them to pull off a wide variety of challenging shots. Golf Digest 50 Best Teacher Tony Ruggiero has spent the last decade walking the course with tour players like Lucas Glover and Sepp Straka. Here, he goes through four of the shots you'll see contending players have to deal with at the Stadium Course—and how you can pull them off the next time you play.
Justin Thomas' Long Approach: It's More Than Carry Distance
"One of the first lessons I teach with promising junior players is that it's more than just shooting the yardage to the flag and pulling a club," says Ruggiero, who is teaches in Montgomery and Mobile, Al., along with a part-time base at the Rick Smith Performance Center at Trump Doral. "Very few players take into account what it takes to get it there—conditions, firmness of the green, wind, temperature. If JT carried this shot to the number instead of landing it in front, he would have hit it over the green, and he hits it way higher and with way more spin than you do."
Pros v. Joes: TPC Sawgrass
How difficult is the home of the Players Championship for average golfers? We have the data that says it's very difficult.
Shane Lowry's Pine Straw Recovery: Control the Low Point
"Sawgrass demands you control your ball and control the low point of your swing," says Ruggiero. "The key to playing off pine straw is making solid contact with the ball first. The only way to really get in trouble is to hit it fat, and that comes when you have a lot of extra movement up and down or side to side in your swing." The solution? A wider, more stable base, and taking more club than normal and making a smooth swing instead of a lash. "It's even OK to hit it a little thin and run it out of there."
Ryan Palmer's Drop Area Distance Wedge: Don't Quit on It
"Tour players aren't often intimidated by short wedge shots, but this one on the island hole at 17 can get to anybody," says Ruggiero. "First, you're hitting three in front of thousands of people, and you might have an eight-yard circle where you can land this. What a lot of players end up doing is stalling out their pivot in the effort to hit it shorter. That takes away your ability to control the clubhead, and you end up pulling it or making bad contact." The solution is to practice swinging aggressively but from a shorter backswing—and to know your carry distances much more intimately. "I bet you've never practiced where you hit all of your wedges with a three-quarter swing and measure exactly how far those shots go," says Ruggiero. "That alone might be the best way to take five shots off your handicap withing making any other change."
Jordan Spieth's Angled Iron Shot: Pay Attention to Spin
"It's so cool to see a player hit a shot to a par 3 that takes full advantage of the slopes to move the ball in close, like Jordan did here," says Ruggiero. "One big mistake a lot of players make on these is to pick the yardage and swing full out at it—which produces more spin and less roll out. A shotmaker knows when to use less club and a more controlled swing so the ball flies lower and lands with more release and run. This is another example of why you'd play so much better if you had a tour caddie carry just 18 holes for you. Picking the right shot saves a ton of strokes even if you don't make a single technical change."