The Loop
You won't believe these low scores that Phil Mickelson claims Charles Barkley used to shoot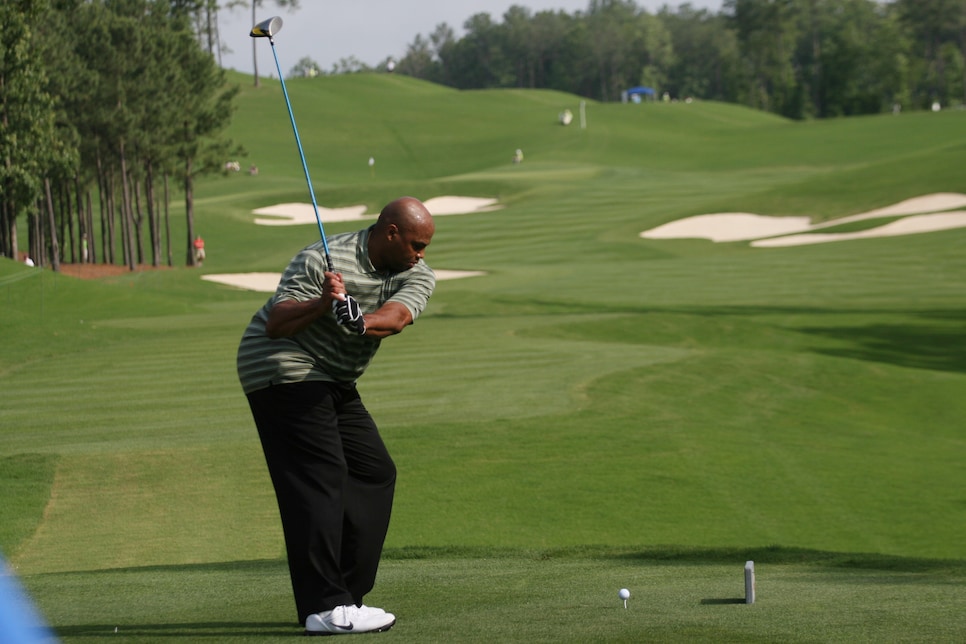 Charles Barkley sucks at golf. Charles Barkley knows this, golf fans know this, everybody on the planet knows this. But what everybody doesn't know is that it wasn't always that way. In fact, the Round Mound of Rebound actually used to get around the golf course quite well.
We've done some digging on this topic in the past and discovered that Barkley used to routinely shoot in the 80s at the American Century Championship, AKA the annual Super Bowl of Celebrity Golf at Lake Tahoe. Considering that nowadays he routinely plays the 54-hole competition without recording a single par, it's about as hard to imagine as the Knicks once being a competitive franchise.
Barkley even once fired a tidy 82 during the second round in 1995. In competition, no less! Again, we wouldn't believe it if there weren't official records kept.
But apparently, around that time he was known to go even lower. Much, much lower, as Phil Mickelson told Shane Bacon on this week's The Clubhouse podcast. You can listen to the interview in its entirety here, but here's a snippet of Phil providing the stunning Barkley details:
"However, I will point out when I first played with Charles and he was a member of the Phoenix Sunds in the 90s, Charles Barkley could play golf and he shot in the 70s almost every round," the five-time major champ told Bacon. "He had no hitch in his swing, he hit the ball plenty long, he was a normal golfer and he shot between 74-75 and 81-82 every time we played."
Absolutely amazing. So was Phil's line about making a "lateral move" in changing partners to Barkley from Tom Brady, with whom he played in the most recent edition of "The Match II" in May. That is quite the dagger to the six-time Super Bowl champ.
Mickelson, fresh off a second straight win to begin his senior tour career, will team up with the NBA Hall-of-Famer against Stephen Curry and Peyton Manning for "The Match III," which will take place Nov. 27. Perhaps Phil was just fluffing up his partner—or trying to scare his opponent. Either way, they remain the underdogs, according to oddsmakers.
"So the ability is in there," added Mickelson. "I just don't know if we'll get it out in time for The Match III."
Phil, you've only got one month to correct more than two decades of (very) bad golf. Good luck with that.