News
Phil Mickelson calls Ryder Cup course rough "almost unplayable," says similar setups are "a waste of my time"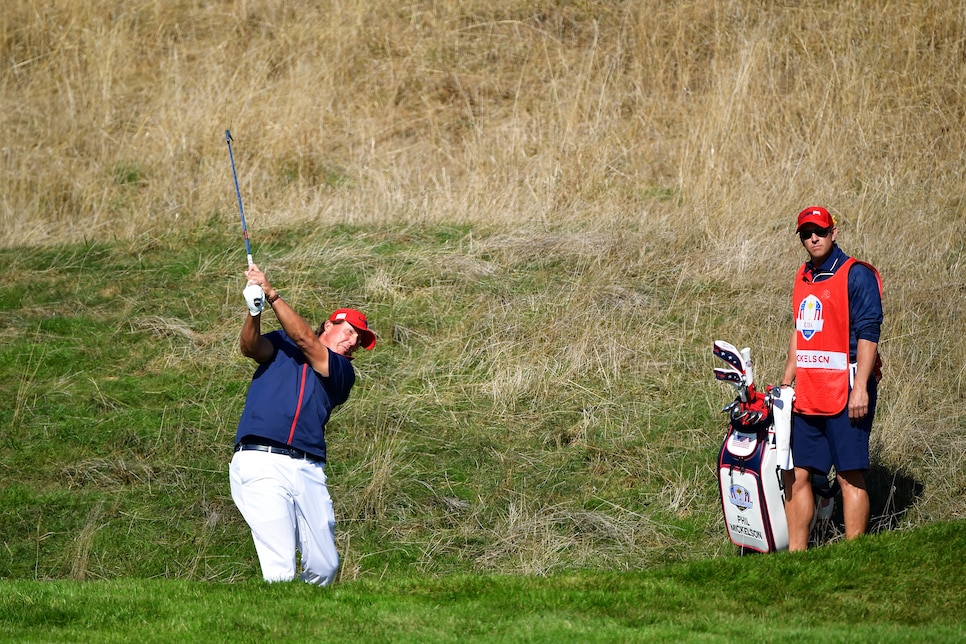 The most surprising part about Phil Mickelson criticizing the setup of Le Golf National for the 2018 Ryder Cup is that it took this long. Mickelson lost both his matches in the biennial event—badly—but waited until a strong opening round in Napa on Thursday to express his distaste for what he called "unplayable" rough in France.
"The fact is they had brutal rough, almost unplayable, and it's not the way I play," Mickelson told reporters following a first-round 65 at the Safeway Classic, the first event of the 2018-'19 PGA Tour season. "I don't play like that. And here I can miss the fairways, i can get shots out of the rough up on the green and it's playable."
But Mickelson, never known to shy away from offering his opinion, didn't stop there.
"And I'm 48. I'm not going to play tournaments with rough like that anymore, it's a waste of my time. I'm going to play courses that are playable and that I can play aggressive, attacking, make a lot of birdies, style of golf I like to play."
Mickelson was one of four captain's picks Jim Furyk chose for the event. Lefty arrived in Paris in a bit of a slump and only played in one of four team sessions, a foursome 5-and-4 loss with partner Bryson DeChambeau in which the pair was 7 down to Sergio Garcia and Alex Noren at the turn. Mickelson also lost, 4 and 2, to Francesco Molinari, who went 5-0 during the event, in a Sunday singles match that ended when Mickelson hit his tee shot in the water on the par-3 16th hole. After his ball splashed, Mickelson turned to Molinari and conceded the match, which also gave Europe the victory.
It was a question that involved that watery shot and Mickelson's turnaround on Thursday, that prompted his rant about the rough, which began with him acknowledging the Europeans setting up the course to their liking—and some math involving Ben Hogan.
"Well, it's a unique situation in that the way the—the Europeans did a great thing, they did the opposite of what we do when we have the Ryder Cup here," Mickelson said. "The fairways were 14- to 16-yards wide. Ben Hogan, who is the greatest ball-striker of all time, had a 5 percent margin of error. So if you hit the ball 300 yards, which we all hit it more than that, you need to have a 30-yard wide fairway to be able to hit it."
Many believed Mickelson wasn't the best choice to round out Team USA on a golf course that put a premium on accuracy. Mickelson's comments only bolster that argument.