News
Brooks Koepka speaks out, says there was no fight, no argument with Dustin Johnson at Ryder Cup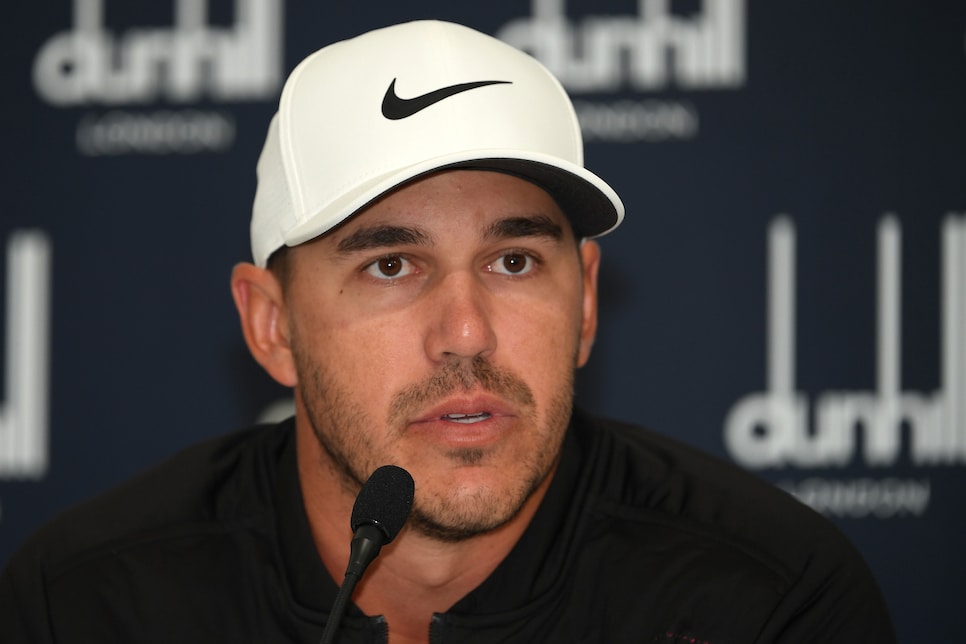 Ross Kinnaird/Getty Images
ST. ANDREWS, Scotland—The Wednesday morning outlook over the Kingdom of Fife was, in Scottish parlance, "gey dreich" (dull and damp). And, understandably, Brooks Koepka wasn't feeling too bright himself on the eve of what will be his fourth start in the European Tour's Alfred Dunhill Links Championship played over the Old Course, Carnoustie and Kingsbarns. A seven-point American Ryder Cup defeat to the European side at Le Golf National was bad enough, but the U.S. Open and PGA champion has had other matters on his mind the last few days.
Most pressing, of course, is news that Corine Remande, the 49-year-old whom Koepka accidentally struck with an errant drive off the sixth tee during his Friday morning four-ball match, says she has lost the sight in her right eye. Understandably, that news has upset the 28-year-old Floridian more than a little.
"Yesterday was probably one of the worst days of my life," Koepka said. "I haven't had too many tragedies in my family, where there has been a loss or even an accident. I've been lucky in that sense. I'm not the biggest on social media. But when I got here, there were seven missed calls and 25 text messages. I'm just really heartbroken. My stomach sank. I had a hard time trying to focus and play golf."
Koepka says that he reached out to Remande on Tuesday event "to see how things were going" but had not yet heard back from her. "I look forward to speaking with her today, or over the next few days, whatever it might be," he said. "I just want to have a conversation with her. No one feels worse about this than I do. It's a tragic accident. I'm heartbroken, and all messed up inside. It's sad, and I really am torn up about it. She's not going to be able to see out of her eye ever again. All because I hit a golf ball. This is definitely the one shot in my career that I am going to regret."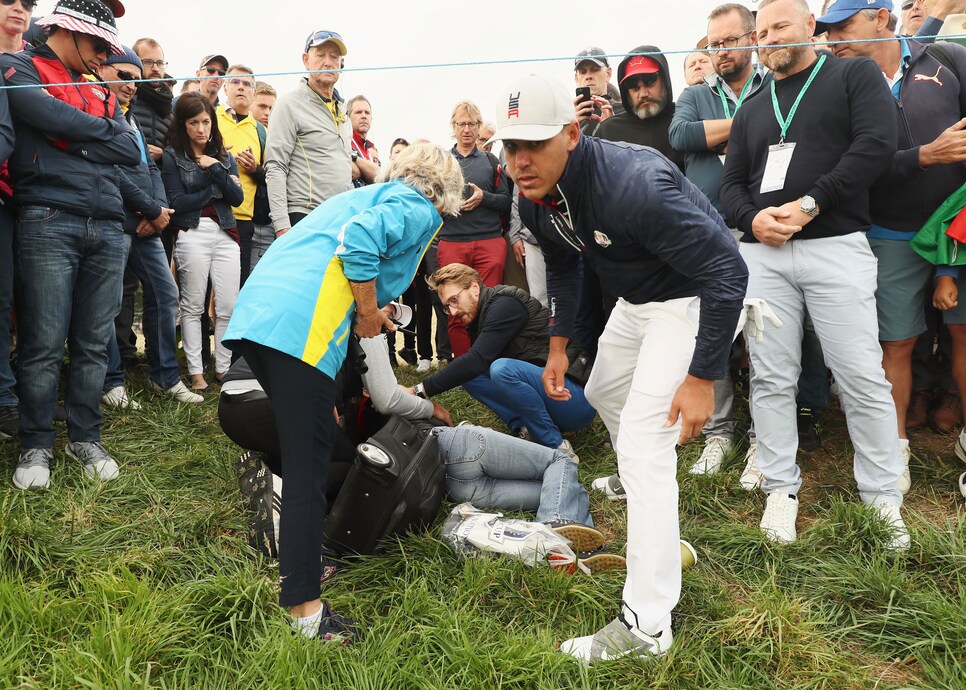 Also causing the normally stoic Koepka some mental anguish are reports of arguments between him and close friend, Dustin Johnson, both before and after last week's Ryder Cup. A story in the French publication L'Équipe reported that the pair got into an exchange on the plane flying to France. This came after several media outlets reported on Monday night that the two had to be separated for unspecified reasons during a post-Ryder Cup party on Sunday attended by members of both teams. Multiple sources have confirmed to Golf Digest that the two were separated on Sunday night.
It is a saga, however, that Koepka was quick to deny.
"This Dustin thing I don't get," Koepka said. "There was no fight. There was no argument. He is one of my best friends; I love the kid to death. We talked on the phone Monday and yesterday. So tell me how we fought? I don't know. People like to make a story and run with it. And this is not the first time a news story has gone out that isn't true.
"The whole thing is … I don't get it. It's actually quite funny to us. How could we get into a fight on the flight over? We were sleeping. It's just laughable. I'd actually be curious to see who would win that fight, though. It would be interesting. It would be rough and rowdy. But we have never fought. That's not our relationship. We are two even-keeled guys. I can't remember raising my voice to him. And I don't think he has ever raised his voice to me. Ever, in our four years of friendship. That's not who we are."
Koepka also spoke to the idea of other unrest on the U.S. team, most notably in the comments offered by Patrick Reed in The New York Times about not being paired with Jordan Spieth: "As far as camaraderie, it was fine, it was perfect," Koepka said. "The problem is you guys [the media] try to find a reason why we lost and the simple reason is we just didn't play good enough."
It wasn't all doom and gloom. Koepka, a four-time winner on the 2013 European Challenge Tour and a full-time member of the European Tour a year later (when he won the Turkish Airlines Open), has many happy memories of his time touring the Old World circuits. And this week, paired with his brother Chase and partnering with his caddie, Northern Irishman Rickie Elliott, in the pro-am section of the event, Brooks looks forward to returning to the course.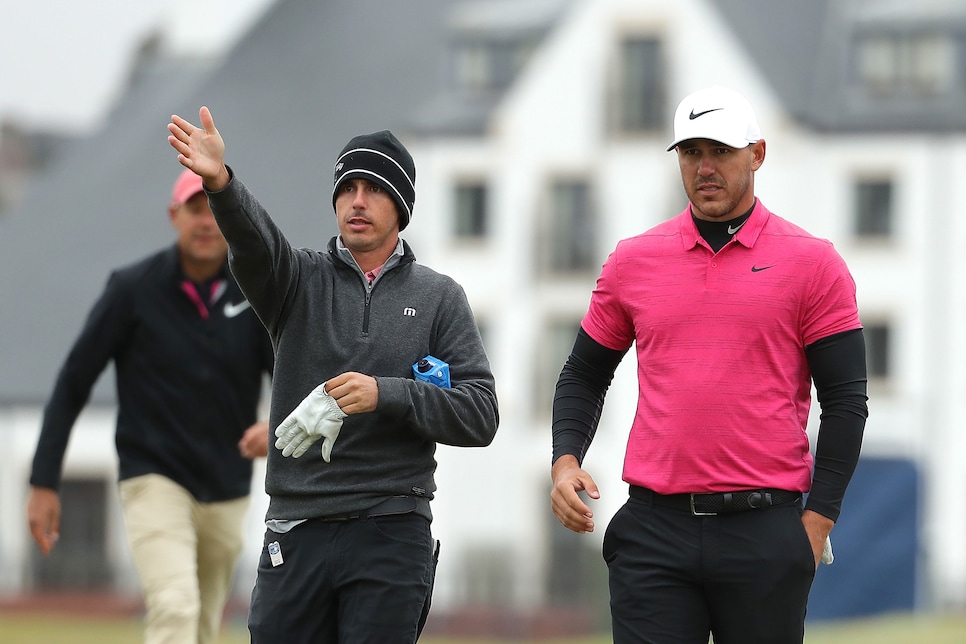 Richard Heathcote/Getty Images
"I love being here," he said. "It's where my career jumped off. This is where I got me first start on the European Tour. It's where I got my last win on the Challenge Tour [the 2013 Scottish Hydro Challenge]. So I have a lot of memories. And St. Andrews is my favorite place to play golf. I've said it many times. I love the design. I love how there is always a bunker in play. And every time you play it is always a little bit different. There are so many angles out there. It is beautifully designed. And so much fun to play."