News
Ryder Cup spectator hit by errant Brooks Koepka tee shot says she's lost sight in right eye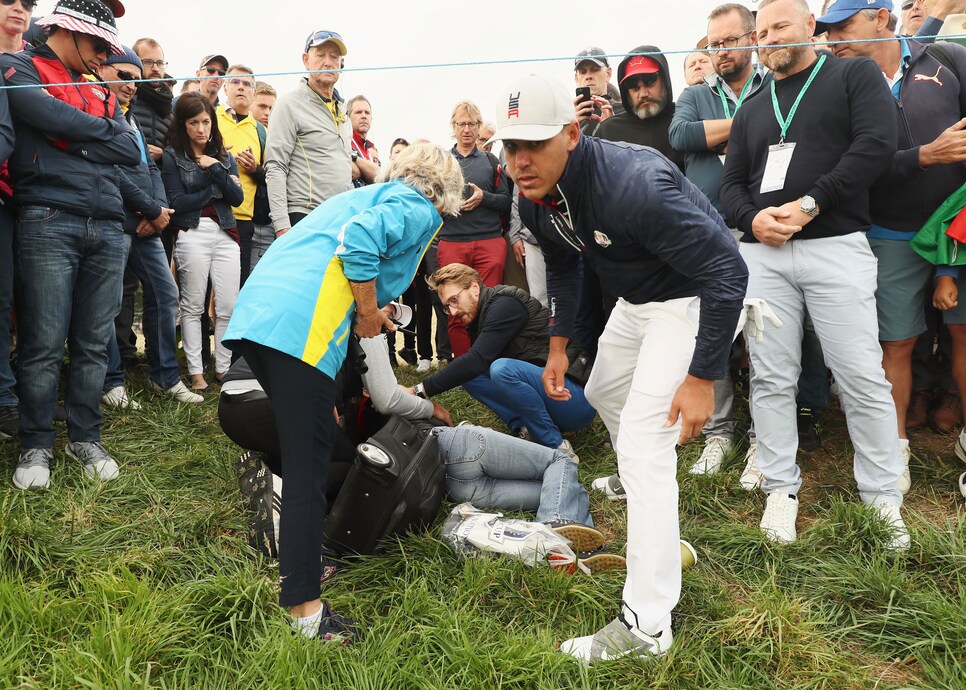 An ugly scene on Friday morning at the Ryder Cup, when a woman in the gallery at Le Golf National was hit in the face with a tee shot from Brooks Koepka, has taken a grim turn. Corine Remande, a 49-year-old from Egypt, told Agence France-Presse that she has lost sight in her right eye as a result of the accident.
"It happened so fast, I didn't feel any pain when I was hit," Remande told the press agency. "I didn't feel like the ball had struck my eye and then I felt the blood start to pour."
The result, she said, was a fracture in the right eye-socket and damage directly to the eye, which doctors, according to Remande, could not repair.
Remande was in the gallery on the par-4 sixth hole during the morning four-ball session, when Koepka, paired with Tony Finau in the first match, pulled his drive. Koepka and others on the tee yelled to alert spectators of the errant shot, but with the massive galleries in attendance (an estimated 50,000 spectators on Friday), the warning cries may well have been for naught.
Koepka at first was unaware that anyone was hit until he got closer to his ball. Once there, he saw volunteers attending to Remande, covering her face to contain the bleeding. Koepka was visibly shaken by what happened, apologizing to Remande and signing a golf glove for her as he tried to check on her condition.
"You feel terrible for them," Koepka said later on Friday. "You know exactly how they are feeling, especially when you've got to go over there and apologize, because they are in pain, usually bleeding, and then to hit her in the face is not—you don't want to hit anybody in the face, especially not a woman, and it's not a good feeling."
Remande said that she is considering taking legal action against tournament organizers to help cover her medical costs. In the AFP story, she criticized officials for not making contact with her after the incident and claimed there was no warning from officials that an ball was coming toward the gallery.
On Tuesday, the tournament released a statement: "It is distressing to hear that someone might suffer long term consequences from a ball strike.
"The spectator hit by a ball at the sixth hole during Friday's play was treated by first responders immediately and taken to hospital. We have been in communication with the family involved, starting with the immediate on-course treatment and thereafter to provide support, helping with the logistics of repatriation, including providing a transfer for the family from Paris to Lyon. We will continue to offer support for as long as necessary.
"Ball strikes are an occasional hazard for spectators but this kind of incident is extremely rare. We can confirm that 'fore' was shouted several times but also appreciate how hard it can be to know when and where every ball is struck if you are in the crowd. We are hugely sympathetic and will do everything we can to support the spectator, insofar as that is possible under very difficult circumstances."
UPDATE, Tues., 10/2, 3:15 p.m.
Upon learning about Remande's worsened condition, Koepka commented about the accident on his Instagram account: