The leader
PGA Championship 2021: Phil Mickelson has improbable chance to make career-defining history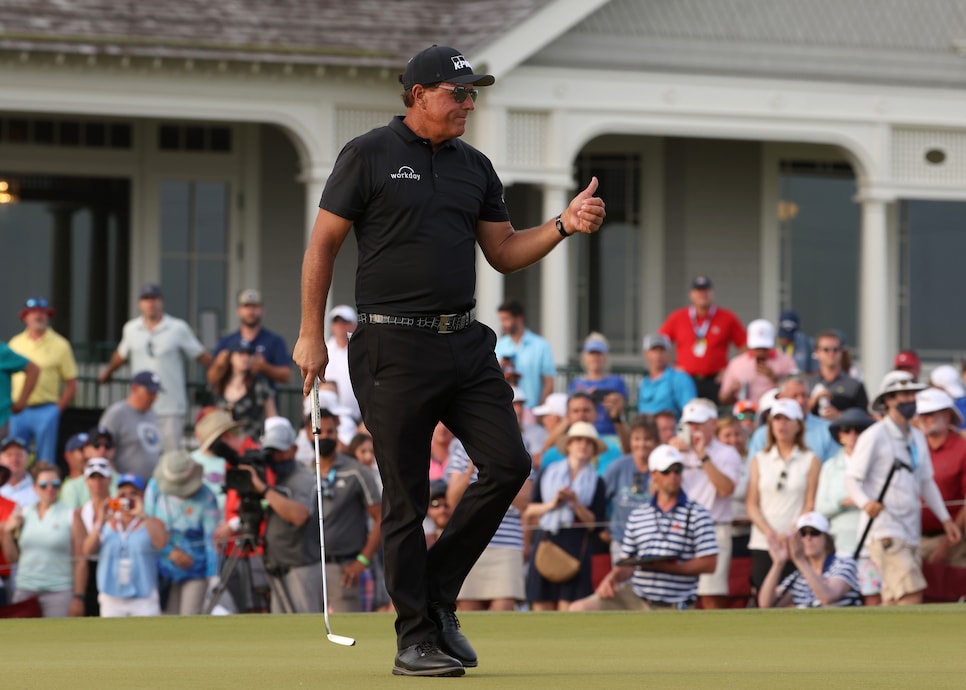 Phil Mickelson reacts after a putt on the 18th green during the third round of the 2021 PGA Championship.
Jamie Squire
KIAWAH ISLAND, S.C. — Too good to be true doesn't tell the half of it. Lefty had played 10-and-a-half perfect holes, five under for the day, four shots clear of the whippersnappers chasing him. After flushing his second into the par-5 11th, he holstered his long iron and leaned onto his right leg, admiring his work, eagerly awaiting the roar. It never came.
Indeed it was. Still, no biggie. He's Phil Mickelson, and he'd be mildly offended if you called that anything but a shoo-in up-and-down. The chip was satisfactory, the putt was not. A disappointing par. His first misstep in two hours flipped the tenor of the round. Mickelson's two-under 70 on Saturday to give him a one-shot lead heading into Sunday in the PGA Championship played out in two distinct parts: the first 10 holes, dreamland; the last eight, Armageddon.
Us being emotion-driven collections of carbon, we have a hard time wrapping our heads around a rather simple concept: In this torturous game, no one stroke counts more than any other. Narratives aside, all holes are created equal. You play 72 of them. The order of your birdies and pars and bogeys do not matter. Professional golfers pay sports psychologists heaps of money to convince them of this mathematical truth.
Had Mickelson begun his round with a bogey, then snap-hooked one into the drink for a double, and then played his final 10 in five under, Kiawah would've erupted. But that snap-hook double on the par-4 13th happened after all the birdies, and no more birdies followed it, and so now the name directly below Mickelson's on the PGA Championship leader board—KOEPKA -6—lurks entirely too close for comfort, like the crocodile waiting for a gazelle to quench its thirst on a nature documentary.
The man himself, for what it's worth, refused to ruminate on the roller coaster.
"I'm more focused on a few things that I need to work on tonight before tomorrow's round," Mickelson said. "And I'm not really dwelling back on what took place today. I just know I'm having a lot of fun and I'm very appreciative of the way the people have been supportive."
Take a page out of Lefty's book. Resist the fatalist urge. Phil may have limped in, but his leg is not broken. Brooks may be the favorite, perhaps a heavy one, but he has not won. Meditate. Slug some coffee for wellness if you have to. Flush away those last eight holes and look big picture: Phil Mickelson, at 50 years old and No. 115 in the World Ranking, holds the 54-hole lead in a major championship.
It is impossible to overstate the sheer unlikeliness of the previous sentence. On paper, you could not draw up a worse course fit for Mickelson than Kiawah. One must avoid the big miss to tame this Pete Dye beast; Phil has been a foul-ball machine this year. One must find fairways; he entered the week ranked 199th in driving accuracy and 193rd in strokes gained/off-the-tee. One must control their trajectory in the wind; he hits one of the highest and spinniest balls on tour.
There's also his recent form, or flagrant lack thereof. Phil's last top-20 finish on the PGA Tour came last July, 18 starts ago. Apart from a lone 64 in Charlotte a few weeks back—which he followed up with 75-76-76 to finish 69th—the only attention his game's gotten has come from Saudi financiers. Phil's been the butt of jokes. A Twitter meme. Off to the PGA Tour Champions. Most sportsbooks had him somewhere around 300-1 to win this week, an implied probability of 0.3 percent, roughly the same as Dylan Frittelli and Thomas Pieters.
To his immense credit, and to paraphrase Churchill, Lefty has gone from failure to failure without a loss of enthusiasm. He practices more than most players two decades his junior, frequently trudging straight to the range after yet another demoralizing 75. He kept insisting he was close, that the issue actually wasn't physical but mental, and that he'd identified tangible methods for improvement.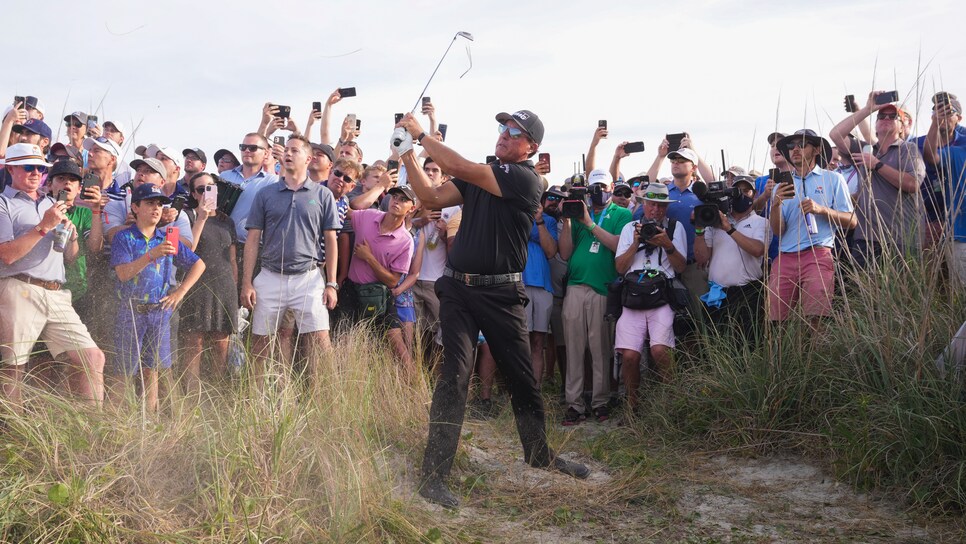 Phil Mickelson hits his second shot on the 16th hole during the third round of the 2021 PGA Championship.
Darren Carroll/PGA of America
"I'm working on it,'' Mickelson said Friday. "I'm making more and more progress just by trying to elongate my focus. I might try to play 36, 45 holes in a day and try to focus on each shot so that when I go out and play 18, it doesn't feel like it's that much. I might try to elongate the time that I end up meditating. I'm trying to use my mind like a muscle and just expand it because as I've gotten older, it's been more difficult for me to maintain a sharp focus, a good visualization and see the shot."
There can be no harsher crucible for a focus-challenged player than the Ocean Course, a ruthless test that commands your attention and then commands it some more. Mickelson passed every single test on the front nine: a solid par at 1, a two-putt birdie at 2, a genius bunker shot from 98 yards to kick-in range at 3, a short-sided save at 4, a no-stress par at 5, a birdie from the rough at 6, a two-putt birdie at 7, a gutted six-footer for par at 8, another save at 9.
After he hit three perfect shots at the par-4 10th to reach 10 under, a fan yelled: "This is your tournament, Phil!" And he was right, gosh darnit. You caught yourself indulging: Holy hell, he might just run away with this thing, Rory-style. Then came the bungled up-and-down at 11, the bogey at 12 and the disaster at 13 when he had to re-tee after driving into the water. Now he has a fight on his hands. A man in Koepka who feasts on major championships with Darwinian fervor nips at his heels.
"It just feels good, feels normal," Koepka said of his position. "It's what you're supposed to do, what you practice for. I'm right where I want to be, and we'll see how tomorrow goes. Just be within any within three of the lead going into the back nine and you've got a chance."
Knowing this, Mickelson stayed on the practice green, rolling putts under a floodlight, well past sunset. When the sun rises Sunday, Mickelson will awake with a legacy-shifting victory in his reach. He is, of course already an all-time great. He does not need this. Plus, he already has a last-grasp major championship, an added bonus out of nowhere that came eight years ago across the Atlantic.
But he really, really wants this. With a win, Mickelson would become just the 14th member of the six-major club. That's cool, but even cooler: He'd become the oldest major champion in history—an accomplishment that, for once, Mr. Woods likely won't be able to overshadow.
We pause here to acknowledge the facts. This tournament is only 75 percent over. Phil could win by three or he could be out of it by the third hole. He could shoot 69 and lose to someone other than Koepka. To dip into Clicheville, anything can happen. Need proof? Phil Mickelson holds the 54-lead in the 2021 PGA Championship at Kiawah Island's Ocean Course.
MORE PGA CHAMPIONSHIP 2021 STORIES FROM GOLF DIGEST: